Nintendo Switch Online app for iOS now available on App Store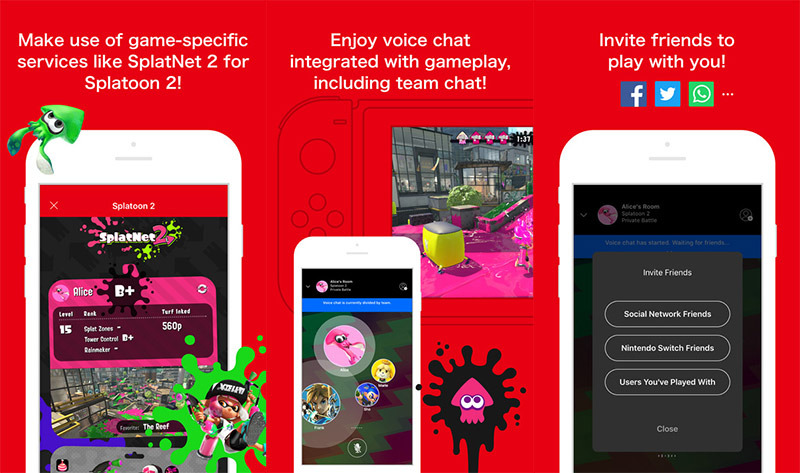 Nintendo on Tuesday launched a hotly anticipated companion iOS app for the Switch console, offering owners access to online game services, social media integration, in-game voice chat and more.
The Nintendo Switch Online app enhances the Switch gaming experience by adding special in-game features and services to supporting titles.
Splatoon 2, for example, will take advantage of Switch Online by granting access to the SplatNet 2 lobby, where players can set up and invite other users to games, as well as check match results, stages and rankings. Importantly, the app enables in-game voice chat using a connected headset, a key feature that was missing from early Switch launch titles.
Interestingly, Nintendo says voice chat operates differently depending on the type of game users are playing. For example, cooperative games might include all players in a single room, while head-to-head competitive titles split participants into separate voice chat teams. The company also plans to market an audio accessory that combines input from an iPhone and the Switch into the same headset, so users can hear voice communications and gameplay simultaneously.
In addition to voice chat, users can invite friends to join games via social media platforms like Facebook and Twitter.
Switch owners can download the app now and sign up using their existing Nintendo Account. The service will remain free until a $20 per year paid version launches some time in 2018.
Nintendo was initially slated to release Switch Online this Friday in time for the launch of Splatoon 2, and the company appears to be working out some server-side bugs. At the time of this writing, the app is largely non-functional and displays a message saying the service is not yet available.
Nintendo's Switch Online app is available as a free download from the iOS App Store.