Hands on: Due 2.5 for iPhone bolsters Apple Watch reminders and fixes more sync issues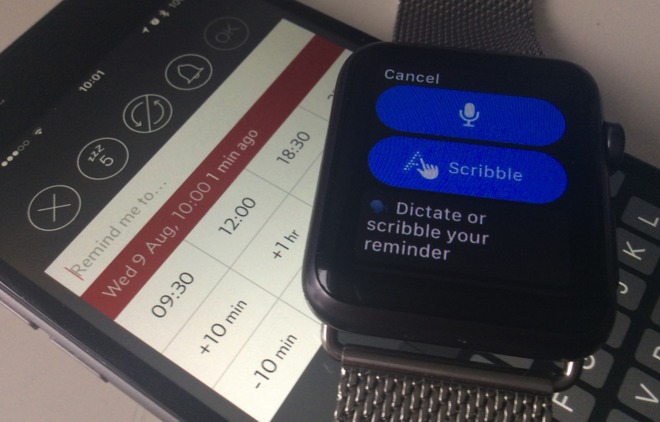 AppleInsider may earn an affiliate commission on purchases made through links on our site.
The persistent, nagging To Do app Due adds watchOS 3 features in its latest version 2.5 update to keep you working, and focused on your critical task at hand.
Due does many things — but what it's known for is not letting you go. If you've told it you want to be reminded to do something, it is a terrier at your ankles until you do it.
This latest version, Due 2.5 for iOS doesn't let up and it now gives you new options for adding these reminders.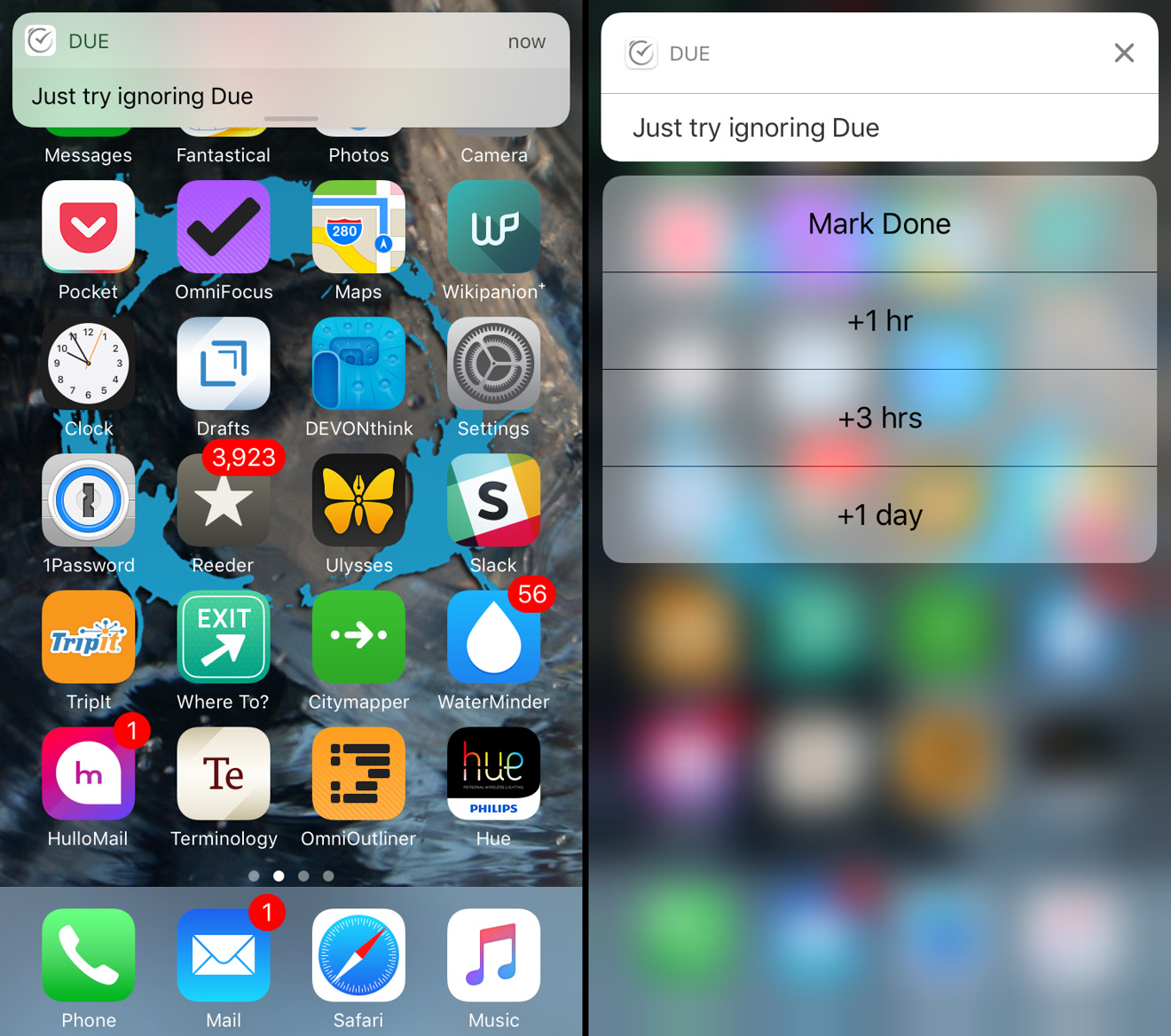 What Due does is just remind of a task by a notification on your iPhone, iPad or Apple Watch. You can snooze the reminder, you can mark it as having been completed, but if you don't do either, it goes away for a few minutes and comes right back.
Every few minutes. Forever. Until you're done, or the battery dies.
Due is a very simple To Do app. Without question, apps like OmniFocus and Things are so very much more powerful that Due should feel like a toy.
It would, but that one thing of nagging, nagging, nagging you is so well done. It is so good at its job, that Due is really meant to be used right alongside those more powerful apps. So if you are an OmniFocus or Things devotee, get Due too.
It's surprising that the more heavyweight To Do apps don't have this stubborn persistency, though the makers of OmniFocus have hinted that something like it is coming.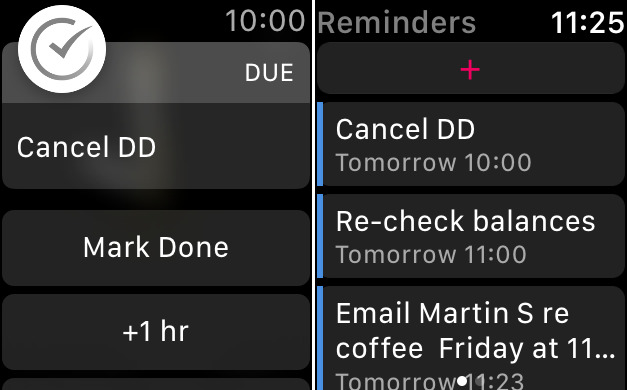 If you did use Due for all of your tasks then you'd start to become inured to it and shake off those notifications as easily as you do your Watch's activity updates.
The same thing happens if you use Due as your only To Do app. It's tempting to use just one app as then you always know where to put your tasks and where to look for them. The Getting Things Done (GTD) productivity method even insists on this, calling your one app or your one paper diary a "trusted system" that must be used exclusively and for everything.
If you use the GTD method or even if you just have a moderately complicated job, then you will find in moments that Due isn't enough for you on its own. You can't set up repeating tasks, for instance.
You can't divide your tasks into groups or projects so that you can ignore work ones at the weekend. There's no adding notes, no giving yourself a start date as well as a deadline. The list of what Due can't do goes on and on.
Yet if you use it for just the most important things you've got to do, its strident notifications will genuinely make sure you do them. That's the true point of a To Do app and Due nails it.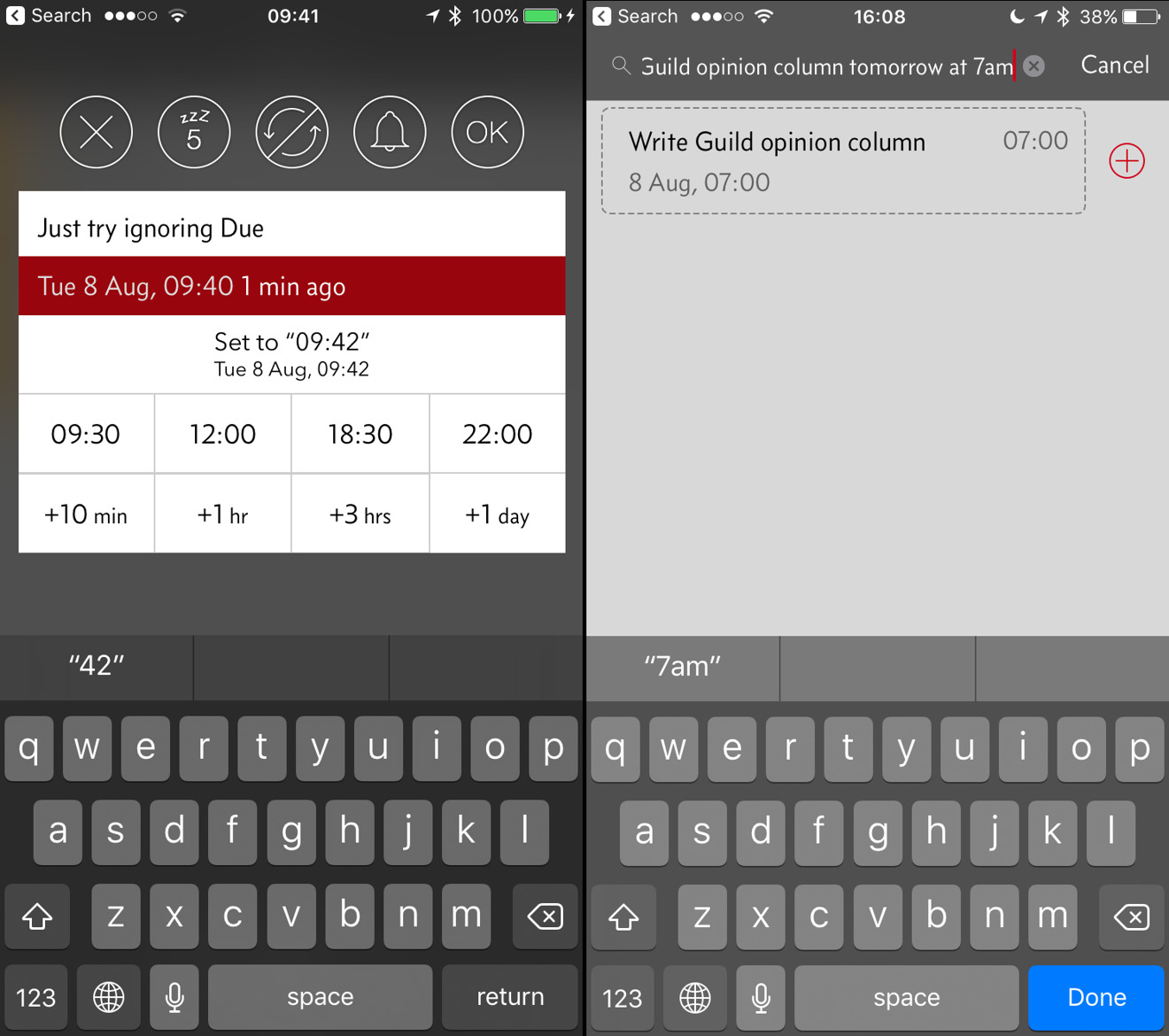 To tell it about an urgent task, you can tap a plus icon to get a full editing dialog as shown on the left. That dialog centered on a text field where you type what the task is and can then say things like "tomorrow at 8:00 am". Due understands that and sets the time and date.
It's also got four buttons for setting specific times such as 9:30 AM, 12:00 noon and so on. You can change those in the settings but whatever four times you've got, you just tap on one and it's set.
Even if you bother to set up the buttons for specific times that most suit you, there will be tasks you need to do at other times. Due also has buttons for adding or subtracting ten minutes, an hour, three hours, or a day.
If even that isn't fast enough, though, you can also forget the plus button and create a new task by swiping down on your list of them. This gives you a more concise task entry dialog as on the right above. It lacks the buttons for adding or subtracting time but you can still type "tomorrow at 8am".
Whichever way you do this, that task is now in and it will remind you on your iPhone, iPad and Apple Watch at the right time.
Several versions ago, we did have issues with it failing to sync properly, so tapping Done on our iPhones wouldn't always stop it hammering on us on our Apple Watch. That was cleared up for us around a year ago. This month's new update includes further syncing fixes, so it appears to have continued to be a problem for some.
The update is really notable less for the various fixes and improvements to syncing and more for how it's brought a new watchOS 3 app. There's now a complication you can tap to open the app on your Watch and within it there is a new way to add reminders. Due 2.5 now lets you scribble your tasks as well as dictate them.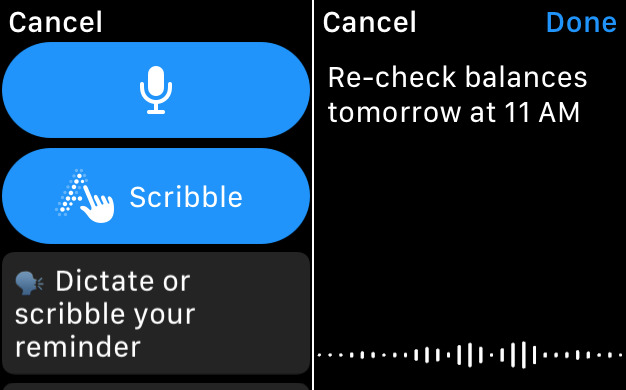 It's still handier and quicker to dictate but when you're in a place where you can't speak or when you're just more of a knotted-hanky person, you can scribble a quick mark.
Due also now improves how it takes in tasks from Apple Reminders so you can use Siri to dictate them. Many To Do apps have this feature and it's really a workaround rather than a way to directly dictate tasks into them. It's a fudge that will go away with the release of iOS 11 as you'll get more direct access from Siri into apps like OmniFocus.
Still, the workaround fudge works, though Due isn't as good at it as other apps. The maker recommends that you set this up on just one device. Other apps let you dictate a task via Siri using any device you have.
That could be better — but again we're comparing Due to fuller To Do managers and it is very specifically not meant to be that. Due is aimed laser-like at urgent tasks, and the motivation to do them. It's meant for those few ones where you really have to be conscious of when they must be done — and Due handles those superbly.