Interview from 1988 about the Macintosh Portable leak shows how far Apple leaks have evolved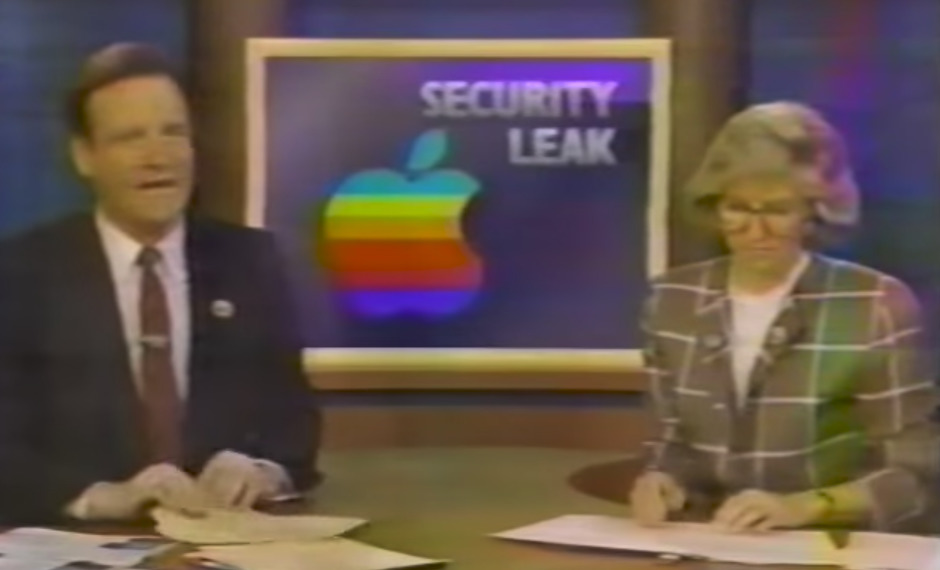 AppleInsider is supported by its audience and may earn commission as an Amazon Associate and affiliate partner on qualifying purchases. These affiliate partnerships do not influence our editorial content.
A clip from a local news program discussing the then-unreleased Macintosh Portable has been unearthed and uploaded to YouTube, with the news item from 29 years ago serving as a reminder that Apple leaks are certainly not a new phenomenon, and are largely easier to spread now than ever before.
The news item centers around the leak of a 160-page internal document for the Macintosh Portable that was acquired by Macintosh Today, the clip discovered by Fast Company reveals. In the clip, news anchors identified as Pete Wilson and Suzanne Saunders Shaw of San Francisco's KGO interviewed Macintosh Today editor David Bunnell, revealing the document was acquired by a freelance journalist working for the magazine via someone "associated with Apple."
Unlike current rumor and leak reports that reveal information about potential future products, the video steers clear of details relating to the unreleased Apple hardware, with the anchors instead discussing with Bunnell about how the leak was a security risk for Apple, and how it could affect the company. Wilson suggests the leak gives competitors "an advantage in planning their own new products," allowing them to plan ahead to combat Apple's later release.
"I really don't think it hurts them, because people are not able to create clones of the Macintosh. There is no clone of the Macintosh, so how this may help an Apple competitor is beyond me," said Bunnell in response. Instead, Bunnell insists it could help Apple as it's "such an exciting product," and is "something people are really looking forward to."
Pressed on publishing the leaked information, Bunnell suggested Apple "liked to control the information that comes out" from the company, and that it didn't like to pre-announce a product six months away from release. When accused of collusion with Apple, suggesting it would be "nice advertising" for the company, Bunnell insists it is "not the case" at all, as Apple would want to "release information closer to the delivery of the machine."
The interview ends with Bunnell explaining the reason behind publishing the confidential information was based on providing "what's best for the readers," instead of protecting Apple's corporate secrets.
Nearly 30 years on from that interview, the fundamental nature of Apple-related leaks have changed considerably, in part caused through the development of new technologies like smartphones with cameras, as well as the rapid distribution of information via the Internet. Apple's corporate secrecy has vastly improved since then, but the source of the leaks has instead moved to the supply chain, where in some cases components for unreleased products are being photographed or recorded on video, and then shared over social media for all to see.
Apple's Macintosh Portable was ultimately released on September 20, 1989 for $7300, with a 9.8-inch black and white active matrix display at 640x400 resolution, a 16MHz 68000 processor, and 1MB of RAM. A large amount of its size was from the 5W, 13A lead-acid battery, and full-size mechanical keyboard. It weighed 16 pounds, and was over four inches thick.
It was replaced by the $2300 PowerBook 100 in 1991 alongside the PowerBook 140, and PowerBook 170.