Apple discontinues annual London music festival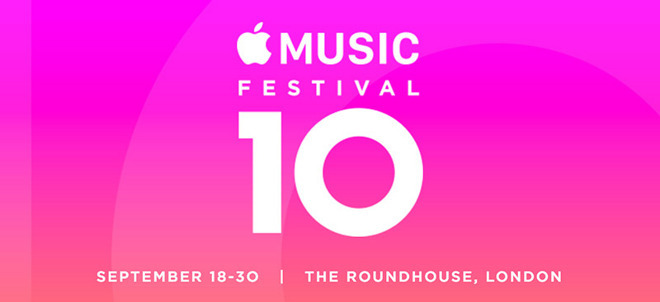 AppleInsider may earn an affiliate commission on purchases made through links on our site.
Apple's annual UK music festival, most recently rebranded as the Apple Music Festival, is no more. According to a report on Monday, the company said it will no longer host the event that over the past decade has drawn big-name acts in promotion of Apple's digital music services.
Apple confirmed the decision to end its storied concert series to Music Business Worldwide, which speculates the company is focusing on tour sponsorships, one-off shows and smaller gigs featuring "Up Next" artists.
Normally held in September, the Apple Music Festival leveraged Apple's influence as one of the world's largest purveyors of digital music to bring together an eclectic slate of musical acts. The annual fall event, marketed under the iTunes banner until 2015, marked its 10th anniversary last year.
Apple launched the iTunes Festival in 2007 as a month-long series of nightly performances featuring top recording industry artists. The first festival, for example, featured Amy Winehouse at the Institute of Contemporary Arts in London. KOKO later served as a concert venue before Apple moved its event to the Roundhouse.
Under the auspices of Apple Music, the festival calendar was condensed to under two weeks, with multiple performances squeezed in each day.
From 2007 to 2017, Apple provided free festival access to fans and UK locals. Tickets were doled out to contest winners through iTunes, and later Apple Music, as well as regional radio stations.
Apple's concert series featured a who's who of music over the past ten years, with performers ranging from industry legends like Sir Paul McCartney and Elton John to contemporary stars including Lady Gaga and Pharrell. The event also threw a spotlight on up-and-coming acts.
Last year, for example, headliners included Alicia Keys, Bastille, Britney Spears, Calvin Harris, Chance The Rapper, Elton John, Michael Bublé, OneRepublic, Robbie Williams and The 1975.
Apple's decision is likely in response to recent music buying trends, which over the past two years have shifted away from one-time purchases and toward streaming. Instead of sinking funds into a single massive event, Apple is distributing sponsorship cash to standalone shows like July's Arcade Fire performance, an event live-streamed to Apple Music subscribers.