Crowdfunded HomeKit smoke detector Birdi marred by late and low-quantity deliveries, silence from company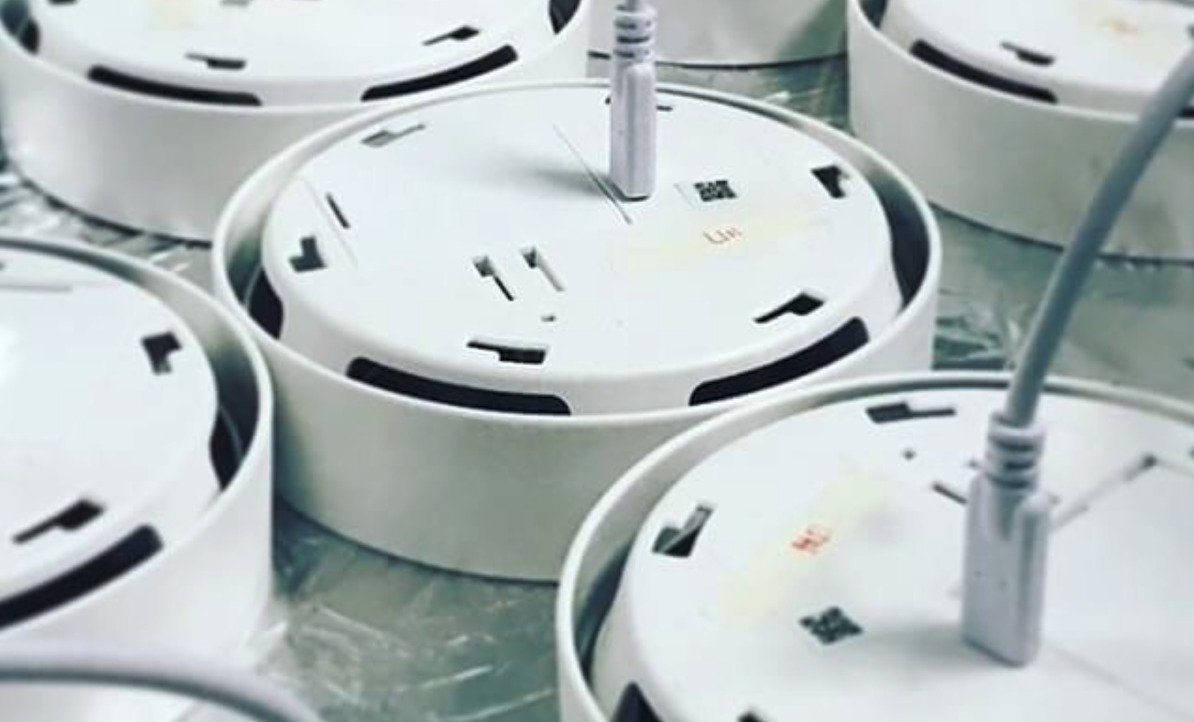 AppleInsider is supported by its audience and may earn commission as an Amazon Associate and affiliate partner on qualifying purchases. These affiliate partnerships do not influence our editorial content.
Birdi had a promising start with a successful crowd funding campaign for a HomeKit smoke detector. But, the tale of the company after taking customer's money for a product that appears to have not delivered in any real quantity is clouded in secrecy.
Start from the very beginning
The Birdi campaign started in the middle of December, 2013. By Jan. 28, it had reached 97 percent of its goal, with 11 days left in the campaign. On Feb 9, the campaign completed with $72,199 raised by 486 backers.
The company promised that Birdi wasn't a typical smoke alarm. It would provide details about air quality, alert the user to dangerous fumes, and notify the user on a connected smartphone.
Technical specs included an array of sensors, Wi-Fi connectivity, to be powered by the house's electrical or AA batteries, and the ability for several to operate in concert in the same location.
Early purchasers could get in for $89. A "10-hour final countdown pack" promised a Birdi for $99, with a coupon for $50 towards the purchase of two additional Birdi devices — when available in Oct. 2014. Beyond the Indiegogo funding, the company also garnered $1.2 million from four rounds of funding from 12 investors.
Post-campaign
On Dec. 30, 2014, manufacturing had started, according to CEO Mark Belinsky. On May 14, 2015, the company declared that it had a ship date — which was missed. On Oct. 18, Belinsky demonstrated the product at the Launch Festival for that year. Social media complaints of non-receipt started at about this time on Twitter and Facebook.
On April 8, 2016, Belinsky promised "10 years of service, guaranteed" to customers. Finally, on Dec. 8, 2016, the company noted that it was "Manufacturing our Holiday Batch." Social media complaints started escalating at this point.
Another update on Indiegogo noted on March 13, 2017 that "over the last few months" the company had begun shipping — well over three years since the crowdfunding campaign.
"Smart Detectors are piling up," Birdi wrote on the company's Tumblr blog, and on Instagram. "They're starting to look like wallpaper here at HQ!"
All of these updates were made in more detail than Indiegogo's on the Birdi blog — which no longer exists at the previous links on the Indiegogo page. The blog has been moved to the company's new site, and the Indiegogo page has the summaries retained.
Confusion over a buyout
On June 6, Belinski pitched Birdi to Carl Fritjofsson of Creandum and Greg Castle of Anorak Ventures, and it was captured on a podcast. That was basically the last official contact from the company as a matter of public record.
At some point, Belinski's status on Twitter changed, suggesting that Birdi had been purchased. AppleInsider has attempted to contact Belinski through several different avenues, and no response has been received.
Chief Technical Officer of Birdi Justin Alvey has responded to our queries, and directed us to communicate with the company through "correct channels." He also said to us that he couldn't speak towards the acquisition.
Sorry I can't And if I could announce things like that it would be loud and clear.

— Justin Alvey (@justLV) August 31, 2017
We attempted to contact everybody listed on the Birdi team on the Indiegogo page, and received no responses of any value.
Crunchbase notes that Luma purchased the company on Aug. 11, 2017. Luma has not responded to our requests for comment.
Failure to communicate
The Birdi website goes up and down. During the last month of examination, the site has been down six times that we spotted — not a good sign for a product that requires a cloud-based component. The official Birdi Twitter account has been silent since the WWDC, after Apple name-dropped the company.
During the course of our investigation, Belinksi emerged from his quiescence on Twitter, remarking that the Nest Thermostat E is reminiscent of the Birdi. However, Belinski is still is not responding to users complaining that they don't have a Birdi smoke detector, nor does anybody else appear to be doing so.
Complaints continue to pile up on Facebook, and other social media venues. A very small percentage of users claim to have received early shipments, but we couldn't find any reports of the device functioning as advertised for any extended period of time.
In fact, we confirmed with sources inside Apple not authorized to speak with the company that the TestFlight app used for early purchasers has expired, leaving any users possessing the Birdi without a functional device.
Where does Birdi go from here?
Birdi has been saying that shipments have been arriving for months at the base of operations. Like we mentioned, at one point, the company declared that there were so many of the devices on hand, it was like wallpaper. Shipment dates have come and gone, and there doesn't appear to be many actual devices in the hands of consumers.
Plus, the fact that the app is still hosted by Apple's TestFlight is bothersome. It takes very little effort for a developer to update a TestFlight app to extend the usable period — and even after the purchase of the company, nobody has chosen to do so.
Executives from the company, and venture capitalists that invested in the project in the early days, have chosen to not respond to AppleInsider. That, plus the social media tumult about non-delivery doesn't speak to a positive future, or any resolution for customers who plunked down money years ago at this point.
Birdi is still taking reservations for the device it said would ship in October of 2014.
Crowd funding is perilous. After a few high-profile collapses, the assorted groups modified terms to make it abundantly clear that there was no guarantee of delivery. However, now that three years is coming up since the campaign, purchasers probably don't have any option to get their money back.