Qualcomm says Android always first to new technology, takes aim at iPhone X features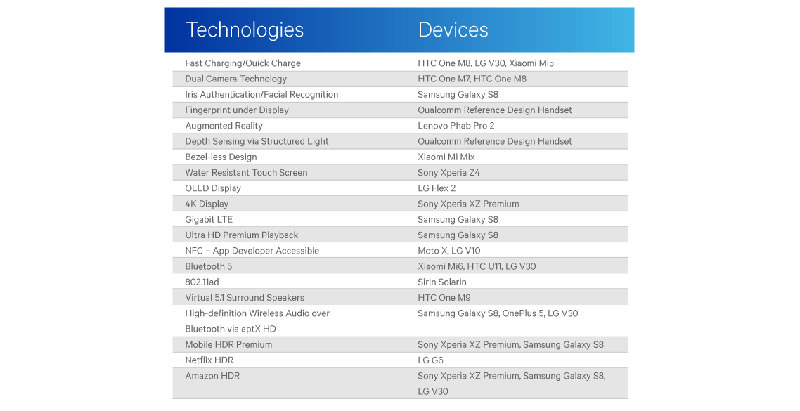 In a post to its website on Monday, cellular industry pioneer Qualcomm claims it helped Android roll out a number of industry firsts, like edge-to-edge OLED displays, augmented reality and facial recognition, many of which are expected to debut as tentpole features of Apple's upcoming iPhone X.
While Qualcomm stops short of referencing Apple by name in its complacent screed, the firm's list of "world firsts" reads like an iPhone X rumor roundup.
For example, among the first items mentioned by Qualcomm is facial recognition, expected by many to be a standout iPhone X feature. Samsung got there first with its Galaxy S8. Qualcomm fails to note the Galaxy S8's face unlock function was defeated at its launch event using nothing more than a digital photo displayed on another S8 screen.
Qualcomm goes on to say it was first to achieve depth sensing via structured light, widely rumored to be an integral component in Apple's so-called "Face ID" system. With iPhone X, Apple is expected to integrate a depth-sensing camera powered by a vertical-cavity surface-emitting laser (VCSEL), technology that affords highly accurate facial recognition for user authentication.
Augmented reality, another feature primed for launch this fall with ARKit in iOS 11, was first seen in Lenovo's Phab Pro 2, Qualcomm says.
Qualcomm takes direct aim at Apple's reported failure to integrate under-screen Touch ID into iPhone X, noting it was able to integrate the solution into a "reference design handset." The firm also cites this unreleased "reference" platform as the testbed for its structured light system.
The inclusion of research and development hardware is perhaps a tad disingenuous considering Apple, and perhaps others, have likely implemented their own designs in test hardware, but are reticent to share those successes on a public stage.
"We're working on inventing the next set of world firsts and collaborating with partners across the industry to get them into your hands, on a band around your wrist, or with lenses for over your eyes. Here's to the next generation of mobile device start-ups and innovators, competing to bring you the next wave of class-leading Android devices," Qualcomm says. "As before, they'll continue to pave the way for others to come."
The post comes amid a heated court battle between Apple and Qualcomm over the latter's alleged anticompetitive behavior and questionable patent licensing practices. Apple has so far filed a total of 11 international lawsuits against the chipmaker, as well as U.S. litigation, with the first volley fired in January over royalty payments.
Qualcomm has since countersued, claiming Apple's legal barrage is a gambit to secure lower licensing fees.