AT&T, Verizon will charge $10 per month for Apple Watch Series 3 cellular data plans [ux2]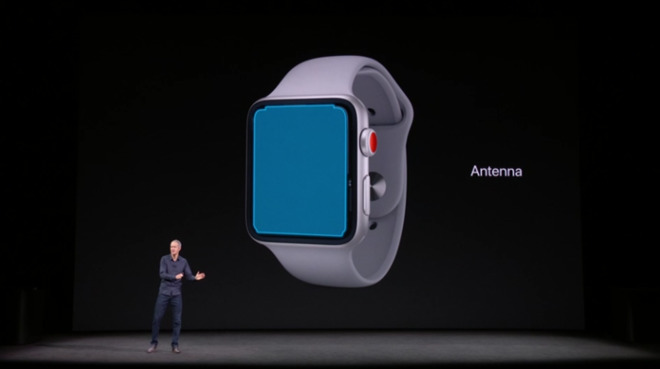 Though the Apple Watch Series 3 with cellular hardware costs just $30 more than its predecessor, it will run users an additional $10 per month for mobile data access on America's two largest wireless carriers.
Both AT&T and Verizon will charge $10 per month to add an Apple Watch Series 3 to a data plan, falling in line with plans for competing devices, according to The Street.
It also noted that Verizon plans to offer customers three free months of service up front. No such introductory offer was mentioned for AT&T — the carrier used to demonstrate Apple Watch Series 3 calling during Tuesday's keynote.
However, carrier data plan costs were not detailed during the presentation, nor was such information available on Apple's website following the keynote.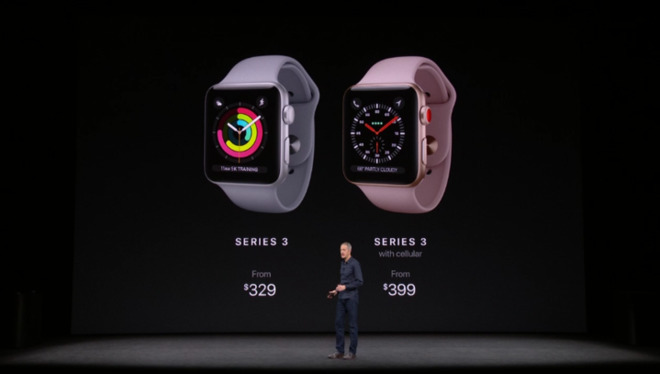 The Apple Watch with cellular will also support U.S. carriers T-Mobile and Sprint, but neither has announced pricing. T-Mobile has historically undercut its larger rivals, charging $5 per month for wireless access from wearable devices.
Apple Watch Series 3 starts at $399 for a 38-millimeter model with cellular connectivity. The larger 42-millimeter variant is $429, and both prices clock in at $30 higher than the Apple Watch Series 2, without cellular, launched for last year.
Versions of the Series 3 without cellular connectivity will also be available starting at $329, while the Apple Watch Series 1 is $249. Cellular-connected models across the Apple Watch lineup — including the Nike+ Sport, stainless steel and Edition versions — are signified by a red dot on the Digital Crown.
Preorders for the Apple Watch Series 3 begin this Friday, Sept. 15. The product officially launches a week later on Friday, Sept. 22.
Update: AT&T has clarified its Apple Watch plan, saying that adding the device to an eligible wireless plan costs $10 per month. The telco is offering a $25 activation fee credit and $30 service credit for customers who add the device to a wireless plan costing at least $50 per month. Watch must be synced with a compatible iPhone via AT&T NumberSync for the credit to apply.
Update 2: T-Mobile has announced an Apple Watch offer identical to those presented by AT&T and Verizon.