Procreate 4 delivers drag and drop, Files app support, other iOS 11 enhancements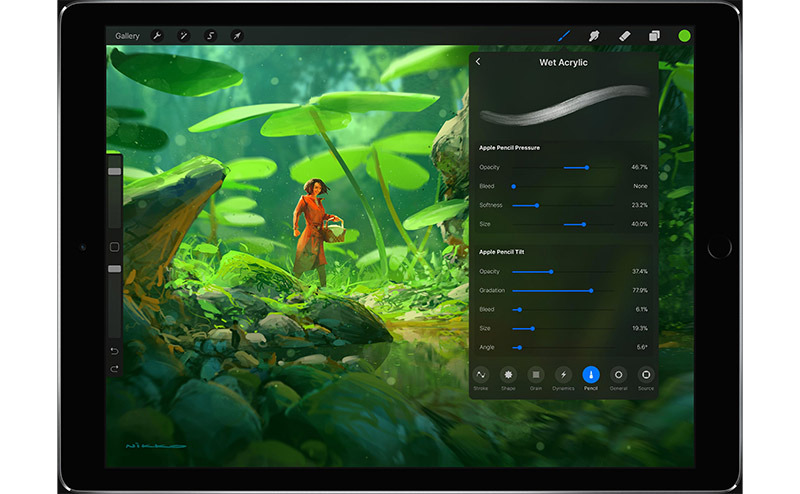 One of the App Store's best third-party illustration apps, Procreate, received a massive update on Tuesday with an all-new imaging engine and iOS 11-specific features like drag and drop, Files app support and more.
Procreate 4 delivers a slew of new features and under-the-hood enhancements, starting with a redesigned user interface that promises quick access to tools and controls.
Backing up the UI is a new painting engine called Silica M. Built entirely on Apple's Metal 2 API, with help from Swift 4 and Accelerate, Silica M draws on iPad's raw processing power to deliver a fluid and accurate painting experience.
The engine powers a new smudge tool that lets users mix and smudge paint with fast and accurate results. According to the developers, smudge is now 250 times more accurate than previous Procreate builds.
Also new is a wet painting feature that provides illustrators the option of mixing and combining paint on Procreate's digital canvas in new ways, including texture and color blending.
Layer masks make their debut in Procreate 4, allowing non-destructive edits much like desktop-class image editing and creation software.
Brushes have received a number of enhancements, including a new interface that supports iOS 11 drag and drop functionality for sharing items from Procreate's brush library. New brush blend modes can be applied to any brush, while new bleed settings provide greater material control for artists taking advantage of Apple Pencil.
In addition, Apple Pencil's tilt capabilities have been updated to feel more responsive, while all drawing tools feature refinements for a smoother experience.
As for iOS 11-specific features, Procreate 4 supports drag and drop and compatibility with the Files app, the latter being an especially useful tool for sharing work through the app's all new Gallery.
Other additions include P3 wide color support, an AirPlay Canvas feature, updated copy/paste menu, more canvas information, import and export support for TIFF and performance and stability improvements.
Further, Procreate is doing away with in-app purchases, meaning all brush sets, tools and other extras are now offered as part of the standard App Store price. The update is also free for existing users.
Procreate 4 is available for $9.99 from the iOS App Store.
AppleInsider has affiliate partnerships and may earn commission on products purchased through affiliate links. These partnerships do not influence our editorial content.