Photos show nearly completed Apple retail outlet in Austin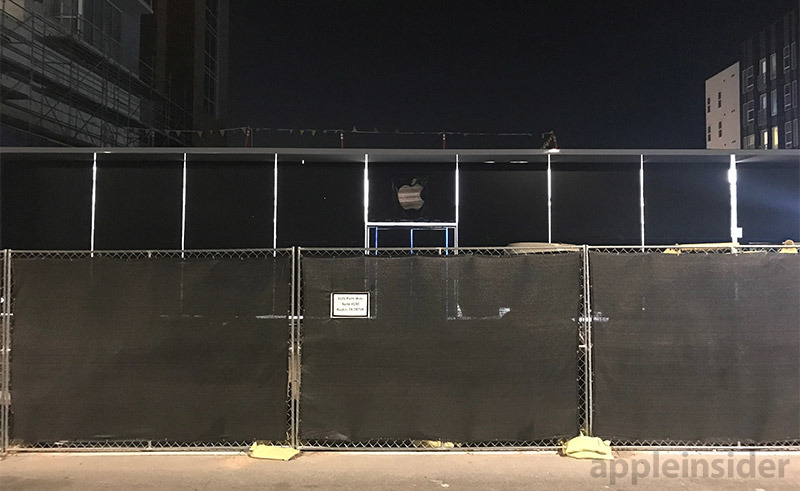 Apple appears to be nearing completion of a soon-to-be-relocated mall outlet in Austin, Tex., that looks to feature exterior — and likely interior — design elements consistent with the company's "Apple store 2.0" aesthetic.
Spotted by an eagle-eyed AppleInsider reader, barricades now surround the construction site of what will soon be Apple's new store at The Domain in Austin. Though signage is largely masked, a protective tarp blew off the store's facade earlier this week, revealing an Apple logo above its main doors.
Public records filed earlier this year attach the project to Apple and put the job's total valuation at $7,500,000. Earlier filings peg floor space at more than 10,000 square feet.
Located on the corner of Palm Way and Rock Rose, the upcoming building will likely replace Apple's existing retail space in the same outdoor mall, a smaller location that boasts Apple's legacy aluminum-themed exterior store design.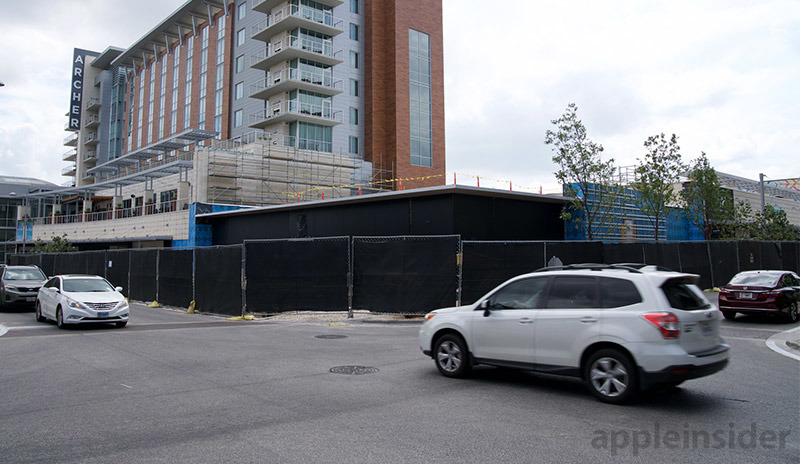 As seen in the photos, the new structure is a single-level facility with panoramic windows and a high-flung ceiling. A view inside was not available, but the store should come with the usual "Apple store 2.0" trappings, including a wide-open sales floor, custom-built wooden product display furniture and floor-to-ceiling television display.
Considering the existing Domain location already supports Today at Apple sessions, ranging from Kids Hour coding classes to Sketch Walks with iPad, the new outlet should feature similar lessons.
During last week's iPhone event, Apple retail chief Angel Ahrendts detailed the company's efforts toward broadening customer shopping experiences, saying newer stores benefit from open layouts with product "avenues," newly designed display furniture and a special area for "Today at Apple" sessions. Instead of stores, Apple now refers to its retail locations as "town squares," as customers visit not only to sample new products, but also take part in classes and connect with others.
Exactly when Apple plans to open the new Domain mall outlet is unknown, but construction and exterior landscaping work looks to be progressing at a rapid pace. Apple's website for the current store notes extended hours for Friday, Sept. 22 — iPhone 8 launch day — and the company normally updates its retail website with relocation information when a move is imminent. Whether the new store will open by the end of 2017 is unclear.
Most recently, Apple last week opened Apple Summit Sierra, a relocated mall outlet in Reno, Nev.