Apple's iPhone 8 survives harsh scratch and bend test in new video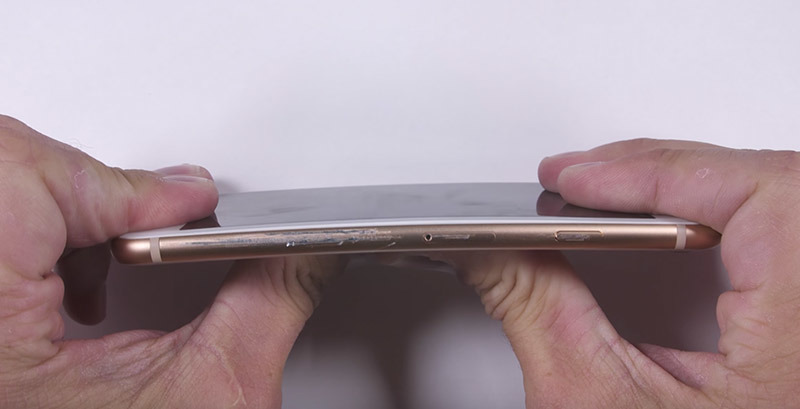 As it does every year, Apple's latest iPhone model is being put through a battery of stress tests for the viewing pleasure of YouTube, with a new video showing off the handset's ability to withstand bends and all but the most brutal scratches.
Like last year, YouTube channel JerryRigEverything unboxed one of the first production iPhone 8 models on Thursday and immediately proceeded to destroy the display, back glass and metal chassis with an assortment of metal objects.
Apple touts the glass on this year's iPhone as the strongest ever employed in a smartphone, and today's video seems to back up that claim, at least to a certain degree. The front cover glass passed tests designed to simulate everyday activities, like leaving the phone in a pocket with keys. It even withstood light scratching from a utility knife.
A mineral test pick equivalent to a level 6 on the Mohs hardness scale left a permanent gouge in the screen, while a level 7 pick achieved an even deeper groove. The performance is on par with other smartphone displays, JerryRigEverything said. Unfortunately, the new glass back was not evaluated using the same tools.
The channel points out, as it did last year, that Apple seems to be using a lower grade sapphire material instead of "pure sapphire" on the protective element covering iPhone's rear camera. While most sapphire resists scratching until a level 8 or 9 pick, Apple's material exhibited visible marks when exposed to a level 6 pick.
Apple's 7000 series aluminum took some punishment from the utility knife, revealing a natural silver interior after the top anodized layer was stripped away, but this is to be expected from the material.
Moving on to the perennial bend test, the new iPhone passed with flying colors, showing no sign of flex even with the glass sandwich design. Notably, JerryRigEverything said the bend test failed to affect the phone's adhesive, which came undone in an identical evaluation of the iPhone 7.
Apple's iPhone 8 is shipping out to pre-order customers today alongside iPhone 8 Plus, Apple Watch Series 3 and Apple TV 4K. The new products debut ahead of this fall's big iPhone X launch, which is being prepped for preorders on Oct. 27 ahead of shipments on Nov. 3.