Inside watchOS 4: New app dock scrolls vertically, offers access to all apps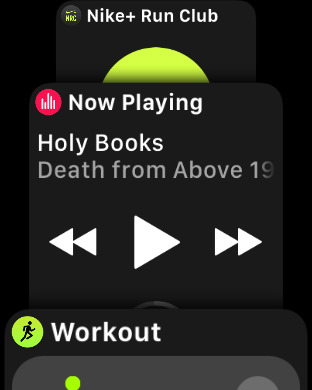 After being introduced in watchOS 3, the app dock for Apple Watch has already been redesigned in watchOS 4, with a new ferris wheel-like vertical scrolling interface that lets users view multiple apps at once.
Upon updating to watchOS 4, users can find the new dock as before, by simply pressing the side button next to the Digital Crown. One pressed, users are greeted with the new design, which scrolls up and down rather than left to right.
The new scrolling method matches the way users rotate the digital crown to sort through apps stored in the dock.
By default, the first slot in the dock is occupied by the most recently opened app. The rest are apps pinned in the dock by the user.
Users can press and hold on the most recently opened app to pin it to the dock. Sliding a pinned app to the left offers a "remove" icon as well.
There is not a way to reorder items in the dock directly from the watch — for this, users must open the "Watch" app on their iPhone, choose "Dock," then "Edit," which allows pinned items to be dragged into a new order.
Scrolling down to the bottom of the dock offers a new "All Apps" button that jumps to the app home screen (which can now be viewed as the traditional honeycomb layout or in an alphabetical list).
watchOS 4 is a free download for all Apple Watch models, and it's available now.