Apple execs reap more than $19M each in vested stock bonus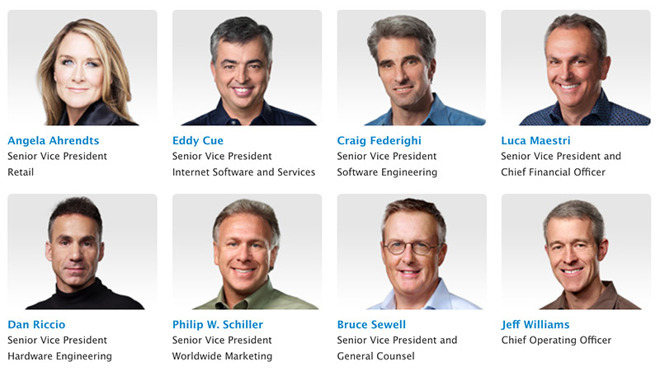 Apple's executive team, including head of retail Angela Ahrendts and SVP of Internet Software and Services Eddy Cue, on Sunday saw batches of performance based restricted stock unit awards vest, netting each common shares worth more than $19 million.
According to a series of U.S. Securities and Exchange Commission filings made public on Tuesday, the RSUs vested on Oct. 1 originate from an Apple incentive plan dating back to 2014.
Along with Ahrendts and Cue, Apple SVP of Software Engineering Craig Federighi, CFO Luca Maestri, SVP of Hardware Engineering Dan Riccio, SVP of Worldwide Marketing Phil Schiller, SVP and General Counsel Bruce Sewell and COO Jeff Williams each saw awards converted into 125,494 common shares. At the start of trading on Monday, the package was worth nearly $19.4 million.
As is standard operating procedure, Apple withheld 68,686 shares from awards received by Ahrendts, Maestri, Schiller and Williams to satisfy tax laws. Cue, Federighi, Riccio and Sewell saw 62,929 shares withheld for the same reason.
Under terms of the award, a percentage of 68,576 RSUs were scheduled to vest based on Apple's total shareholder return relative to other companies in the S&P 500 from Sept. 28, 2014 through Sept. 30, 2017. TSR is calculated based on AAPL share priced during the three-year period, with initial value pegged at $100.66. Adjusted for dividends, Apple's ending value as of Sept. 30 was calculate to be $166.62, meaning the TSR was 65.53 percent.
Apple's TSR ranked the company in 92nd of the 451 entities included in the S&P 500 during the evaluation period, good enough to place in the 80th percentile. The plan called for 200 percent of the 68,576 RSUs to vest had Apple stock placed in the 85th percentile. Instead, the executives saw their award vest on a straight line basis calculated off the next vesting percentage, which was 100 percent for the 55th percentile.