Google Home Mini preview hardware defect causes near-constant listening, uploads to servers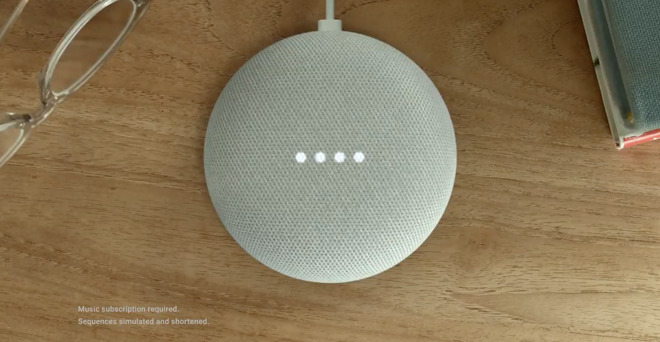 The first batch of Google Home Mini hardware distributed at assorted release events had a serious flaw that caused the device to listen in on every noise generated in a house — and has since been pinned down as a hardware problem with a key feature now temporarily disabled after a firmware update.
A multi-day account from Android Police detailed experience with a Home Mini given out at the Google launch event. After installation, the Google Home Mini provided to the author was turning itself on several times a minute, listened to what was going on in the background or on the television, and attempted to respond — generally saying that it didn't understand.
However, following examination of the upload logs, author Artem Russakovskii discovered "thousands of items" uploaded to Google's servers, all attributed to the development codename for the device, "Mushroom."
Google's approach to voice recognition is different than Siri's. Google stores everything you tell your assistant on its servers, unless the user explicitly disables the feature. If the feature is disabled, Google claims that there is a negative impact on recognition and parsing.
With the feature enabled, Google sends not only what the user says when a keyword is spoken or a device is activated — but the sound recorded a few seconds before the actuation.
"The Home Mini quietly turns on, flashes its lights, then shuts off after recording every sound. When the volume increases, it actually attempts to respond to random queries," wrote Russakovskii. "I was even able to get it to turn on just by knocking on the wall."
Following a return of the unit at Google's request, the company determined that the touch sensor on the device was faulty — and wasn't an isolated incident. Google rolled out a software update on Oct. 7 to temporarily disable the long-press on the device to activate Google Assistant functionality.
On Oct. 10, Google declared that the flaw was limited to the 4,000 Home Minis distributed by Google at pop-up events, and to attendees of the launch event. Google says that it has deleted all activity generated by the spurious touch control hardware — and assures pre-orderers that their hardware is unaffected by the flaw.
AppleInsider contacted Google support on Wednesday morning, and was told that the feature would be enabled for customers that have pre-ordered the device without elaborating any further — suggesting that another firmware update is imminent.
Google unveiled the Google Home Mini at an event on Oct. 4. The pebble-shaped speaker was designed as a lower-cost way for users to get a Google Home into more homes, and offers 360-degree, room filling sound according to Google.
At $49, the Google Home Mini is a direct competitor with Amazon's Echo Dot — and arrives on Oct. 17. It also significantly undercuts Apple's HomePod, which will launch this December for $349.