Top iPad apps adding Drag and Drop support within the first month of iOS 11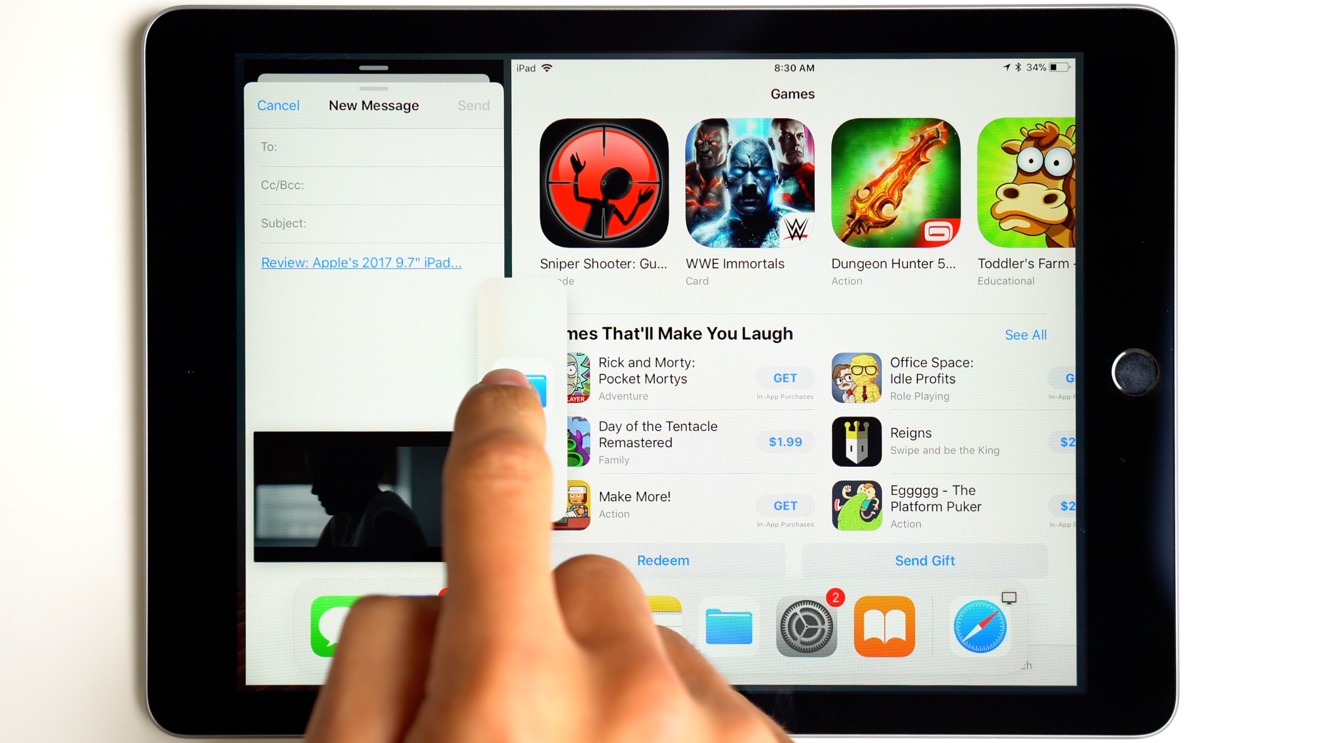 This summer, Apple unveiled a series of new iOS 11 features specific to iPad, including new Dock navigation and support for Drag and Drop, enabling sophisticated new ways to work with documents between apps. Within its first month of availability, scores of third party developers have already added support to their iPad apps.
Right after making iOS 11 available last month, Apple itself updated its own Pages, Numbers and Keynote productivity apps to support the new features.
Apple has also highlighted third party developers who have added support for iOS 11 in their own iPad apps in the App Store in a new section titled "Do more with Drag and Drop"
Productivity apps
Calendar app Fantastical 2 lets you drag scheduled events within the app or share to other apps, and drag text items into the app. OmniFocus 2, OmniGraffle 3 and OmniPlan 3 also now support Drag and Drop within the apps and with between apps.
You can also Drag and Drop items from Safari and other apps into Pocket for later, and 1Password now lets you drag in information from Contacts or drag out usernames, passwords, credit cards, addresses and more out to other apps.
Presentation and meeting apps Ingage by Scrollmotion, FlowVella and join.me can also now use Drag and Drop to insert content.
Creative graphic and music apps
iPad apps for working with photos, sketches and animations are a natural fit for Drag and Drop, and there's new support in Affinity Photo by Serif (demonstrated below), Pixelmator, Pret A Template, Dribbble, Polarr, Procreate (which lets you drag artworks, brushes, and palettes between apps), Core Animator, Autodesk SketchBook and Sketchbook Motion, and Adobe Illustrator Draw, Capture CC and Photoshop Sketch.
The award winning Lake coloring app lets you Drag finished drawings directly into text or email for sharing.
Among music apps, you can now Drag song files into djay Pro. Shown below, forScore now supports Drag and Drop to add files, import and add tracks to the current score; create, add to and rearrange setlists; create image annotations; upload items and setlists and more.
Remixlive now lets you export and import samples, packs or recordings by dragging in or out of the Files app. You can isolate a loop in the Cross DJ app & drag it to Remixlive, and Drag tracks from Files onto Cross DJ's decks & retrieve imported tracks in the collection.
Social media and Education apps
Twitter and Pinterest now support Drag and Drop of images, links, GIFs for sharing, or to pull in pins from Safari.
Momento GIF Maker adds support for Drag and Drop, and OpenTable now lets you Drag and Drop restaurants from the OpenTable app into iMessage, or Drag upcoming reservations into iCal or Apple Maps.
Drag and Drop features add obvious value to users, and Apple has worked to make adding support relatively simple for developers. On top, the rapid upgrade cycle that brings new iOS features to millions of users within weeks of a new release also encourages developers to invest in platform improvements.