Apple's Ahrendts in Chicago ahead of Michigan Avenue flagship opening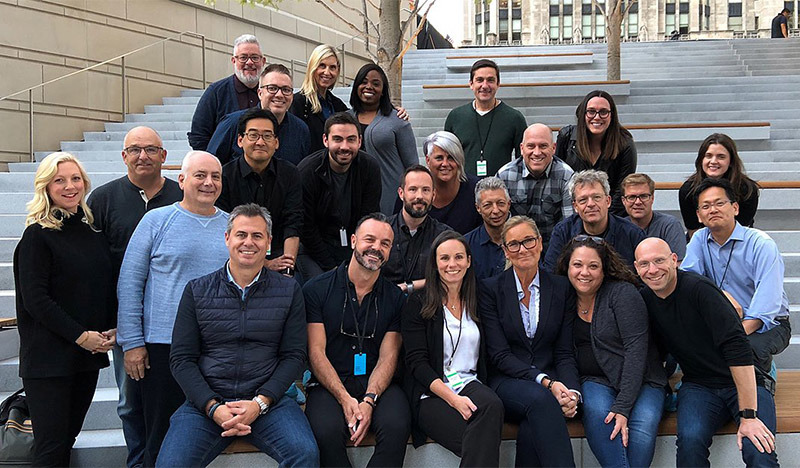 AppleInsider is supported by its audience and may earn commission as an Amazon Associate and affiliate partner on qualifying purchases. These affiliate partnerships do not influence our editorial content.
Apple SVP of Retail Angela Ahrendts was in Chicago this week as her team makes final preparations for the grand opening of the company's latest flagship store, a huge riverside "town square" that will anchor one end of the city's North Michigan Avenue shopping district.
Ahrendts posted a photo of her retail team to Twitter on Wednesday, thanking them for their work on the new Chicago store ahead of its opening on Oct. 20. The location will replace Apple's existing outlet at 679 N. Michigan Ave.
"Thank you to this wonderful team and the many more who are bringing #AppleMichiganAve to life for our customers this week!" Ahrendts said.
Ahrendts and her team posed for pictures on an exterior staircase leading down to the Apple Michigan Avenue location's riverwalk foyer. The south face of Chicago's iconic Tribune Tower, a heavily ornamented neo-Gothic structure that houses the Chicago Tribune and tronc, can be seen in the background.
Like other recent Apple flagships, Michigan Avenue features improvements to the surrounding area. As seen in Ahrendts' photo, Apple has included benches and trees in the staircase's design, which was created to serve the two-story retail outlet that takes the place of an abandoned food court.
Exterior work on the 20,000-square-foot glass, steel and wood building was recently completed, as was construction of major interior features including two grand staircases flanking a large sales floor. Large glass windows serve as walls, offering customers views of the Chicago River, and enticing passersby to come in and test out the latest Apple hardware.
Similar to recent international Apple store architecture, the Chicago location boasts a unique design element in an expansive silver roof. With only a few pillars holding the canopy in place, the mostly-glass structure provides a wide-open, tent-like feel.
The interior is expected to feature all the trappings common to next-generation Apple outlets, including custom-built wooden product display furniture, an accessories avenue, Genius Grove and space for Today at Apple sessions.
Initial build cost for the new Chicago flagship was placed at $62 million, roughly triple the cost of Apple's Union Square store in San Francisco. More recent filings show actual cost to be around $26.9 million.
Apple Michigan Avenue is set to open its doors on Oct. 20. In celebration of the event, Apple collaborated with two local artists to create "Where Ideas Sing." The project involves a song written and performed by hip-hop artist Saba, whose lyrics were translated into visual art by Matthew Hoffman. Hoffman will present one of the first Today at Apple sessions at the new Michigan Avenue store on Oct. 21 at 11 a.m.
Whether Ahrendts will be on hand for the grand opening is unknown.