Roof of Chicago's North Michigan Ave. Apple Store resembles MacBook Air lid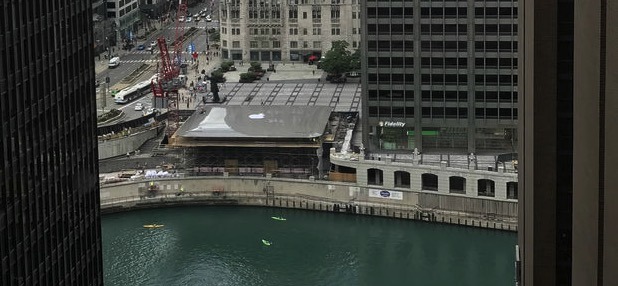 With construction on the new Chicago outlet winding down, construction workers briefly put an Apple logo on the top center of the building, making it resemble an enormous MacBook Air, at least temporarily.
The addition, first spotted by local Chicago publication DNAinfo, was in place for about an hour. The logo wasn't in any previous renderings of the location, and it remains unclear whether it will be reinstalled.
"Our store on North Michigan Avenue has welcomed more than 23 million customers since it opened in 2003," said Apple spokesman Nick Leahy in 2015. "We're now creating something even more remarkable for Chicago."
When ready, Apple will shift its 679 N. Michigan Ave. store to the new location. Development analysts say the move will refresh flagging foot traffic and boost retail sales in the area surrounding the store.
The new store takes the place of an abandoned food court, and anchors one end of the North Michigan Avenue shopping district. Plans and architectural renderings filed by the Zeller Realty Group, in 2015 detail a 20,000-square-foot glass, steel and wood building.
The initial build cost was pegged at $62 million, about triple the cost of the Union Square, San Francisco location. However, documents filed just a few weeks later trimmed the cost down to $26.9 million, more in line with other Apple stand-alone locations.