Microsoft revamps Cortana app for iOS with new look, streamlined UI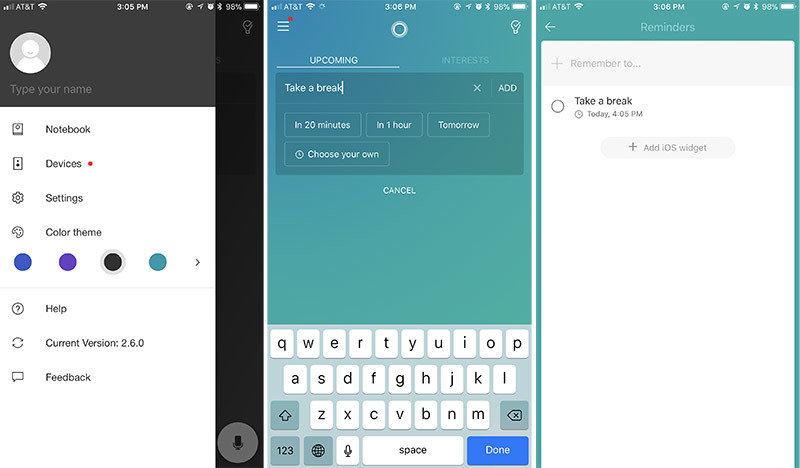 Microsoft on Thursday updated its Cortana virtual assistant app for iOS, delivering a redesigned user interface that streamlines access to key features like reminders and daily calendars.
Cortana version 2.6.0 slaps a fresh coat of paint on Microsoft's Siri competitor, with frameless graphics and bold colors reminiscent of modern Windows UIs.
According to Microsoft, the new look was designed to facilitate faster interaction with Cortana. For example, a new reminder interface lets users create notes with a few quick taps. The system works by tapping into Cortana's AI backend, which suggests reminder topics and a range of completion times for user selection.
A redesigned profile and setting page is also offered for easy management over app preferences. Other functions carried over from past versions include calendaring features like traffic monitoring for commuters, as well as standard weather and news integration via Bing.
Microsoft claims under-the-hood improvements make the new Cortana faster than previous versions. Specifically, the latest app iteration sports faster page transitions, while general app responsiveness has been goosed.
The latest version also contains an assortment of bug fixes and unnamed performance improvements.
Microsoft introduced Cortana to iOS via a Windows 10 Phone companion app in 2015. The virtual assistant was ported to its own app later that year, offering users cross-platform data syncing with Windows PCs.
Prior to today's update, Cortana for iOS saw its most recent refresh in March, introducing quick action buttons and an information card UI.