Israel-based Corephotonics sues Apple over iPhone 7 Plus and iPhone 8 Plus dual-lens camera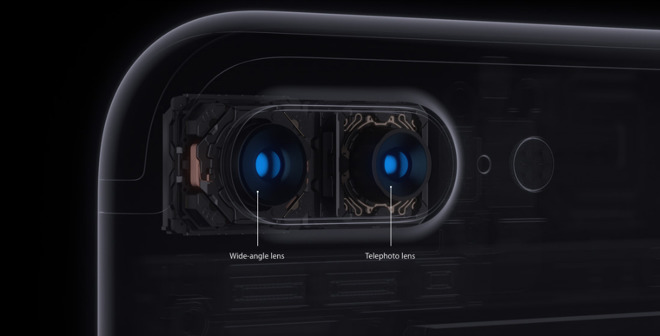 Israel-bases company Corephotonics has sued Apple, alleging that the iPhone manufacturer has used four of its patents surrounding dual-camera technology in the iPhone 7 Plus and iPhone 8 Plus without permission or licensing.
The suit was filed on Monday in San Jose, Calif. federal court, and was first spotted by MacRumors. Allegedly, Apple stands in violation of patents filed in 2013 regarding dual-aperture zoom digital cameras, two patents regarding miniature telephoto lens assemblies, and high-resolution multi-aperture imaging systems.
In the filing, seen in part by AppleInsider, Corephotonics claims that Apple was approached regarding a partnership. Apple allegedly praised the technology, but refused a license, and "expressed contempt" about Corephotonics patent filings.
Corephotonics CEO David Mendlovic was informed that it would take "years and millions of dollars in litigation" before Apple might have to pay anything to the startup. A quick scan of the U.S. patents database shows well over a thousand patents in the system related to dual-lens digital camera arrays, with a number of them attributed to Apple.
The suit names the iPhone 7 Plus, and iPhone 8 Plus. It is unclear why the iPhone X was omitted, and it seems probable that it will be added in an amendment at a later date.
Quinn Emanuael Urquhard & Sullivan represent Corephotonics — the same firm that Samsung utilized in its design and utility battles against Apple.
Apple has not responded to the suit yet, nor has it issued any public comment regarding the matter. It is not known when any hearings regarding the matter will take place, and scheduling is unlikely in 2017 given the court's heavy schedule.
In 2015, Apple purchased multiple camera lens manufacturer and designer LinX. While the terms of the deal are still not known, the two companies were said to be discussion an acquisition price of around $20 million.
Prior to acquisition, LinX's website touted that its dual- and quad-lens arrays set new standards for low-light performance, HDR, refocusing, and color fidelity.