Apple releases iOS 11.1.1 update with 'i' autocorrect fix, 'Hey Siri' bug repair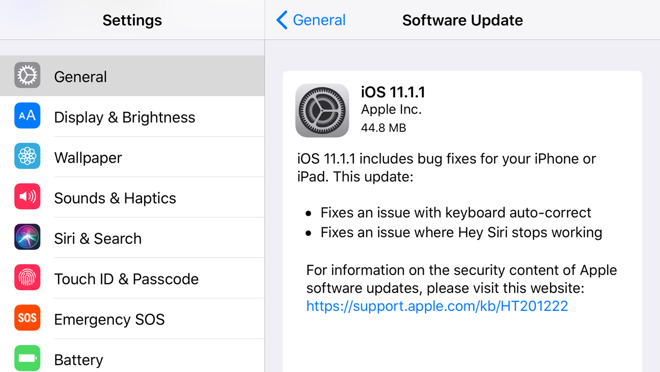 AppleInsider may earn an affiliate commission on purchases made through links on our site.
Apple has released another "sub-point" update to iOS 11, with iOS 11.1.1 addressing the "i" bug that caused the letter to be autocorrected to "A" and a question mark.
Apple claims that the update fixes an issue with keyboard auto-correct, and also solves an issue where "Hey Siri" stopped working. Following installation, one AppleInsider device experiencing the "i" autocorrect bug had no issues — and all instances of it in past messages were eradicated.
The latest update is available through the traditional update method in the Software Update settings option. It is a 44.6MB download on an iPhone 7 Plus.
Apple's iOS 11 features includes ARKit, a revamped Control Center with deep 3D Touch support, Do Not Disturb When Driving, a new look for the App Store, a new voice for Siri, and more. It saw three "sub-point" updates before the iOS 11.1 update.
The iOS 11.1 update implemented a fix for the KRACK wi-fi, repaired an assortment of accessibility options, added more emoji, and rectified some issues with Photos.