Sonnet ships Thunderbolt 3 eGFX Breakaway Box 550 with sufficient power for Vega 56 PCI-E card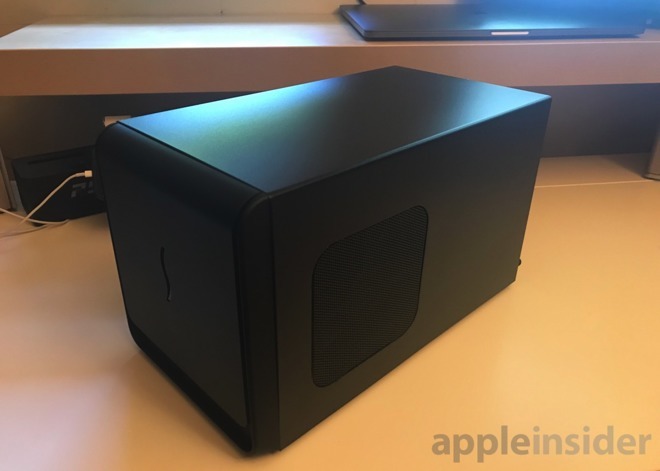 Sonnet has added to its line of external GPU enclosures with the new 550W version of the eGFX Breakaway Box, with the heftier power supply able to handle a wider array of PCI-E video cards.
The eGFX Breakaway Box 550 provides a single PCI-E slot for connecting nearly any size Thunderbolt-compatible GPU card, and has enough room for high-performance water cooler cards. The unit is equipped with a single 40Gbps Thunderbolt 3 port that enables data transfers up to 2,750MB per second.
The Breakaway Box 550 includes two eight-pin auxiliary power connectors and provides 87 watts of power to the host computer, sufficient for maximum power supply to a 15-inch MacBook Pro.
The earlier eGFX Breakaway Box 350 includes one 8-pin and one 6-pin auxiliary power connector, plus a 350-Watt power supply capable of supporting cards requiring 300 Watts of power or less, and up to 15 Watts of power to a host computer.
Apple used the Breakaway Box 350 for the eGPU Developer's Kit that it shipped in June, in conjunction with an AMD RX 580 PCI-E graphics card. AppleInsider has been using the case for some time, and has found High Sierra native support of the technology to be improving over time with the very quiet enclosure.
The new version of Sonnet's eGPU enclosure has sufficient power to drive a Vega 56 PCI-E GPU card — the same chipset used in at least one configuration of the iMac Pro. Vega 56 support is not yet available out of the box — but is expected with the introduction of the iMac Pro in December.
The eGFX Breakaway Box 550 with part number GPU-550W-TB3 is now available from Sonnet Technologies at a retail price of $349.