Rumor: 2018 iPad Pro with Face ID will be powered by 8-core 'A11X' chip
In a move that would follow Apple's usual strategy, it's expected that new iPad Pros due in 2018 will feature a beefed up version of the A11 Bionic chip found in the iPhone 8 and iPhone X lineups, adding two more processing cores into the mix.
The current A11 Bionic features two performance cores and four high-efficiency cores, as well as an Apple-designed graphics processor. The same chip powers the iPhone 8, iPhone 8 Plus, and iPhone X, though the 8 is limited to 2GB of RAM while the 8 Plus and X have 3GB.
According to the latest rumor from MyDrivers, an "A11X" chip set to debut in next year's iPad Pro models will add two more cores, bringing the total to eight.
Three of those are said to be high-performance cores dubbed "Monsoon," while the five remaining energy-efficient cores are branded "Mistral."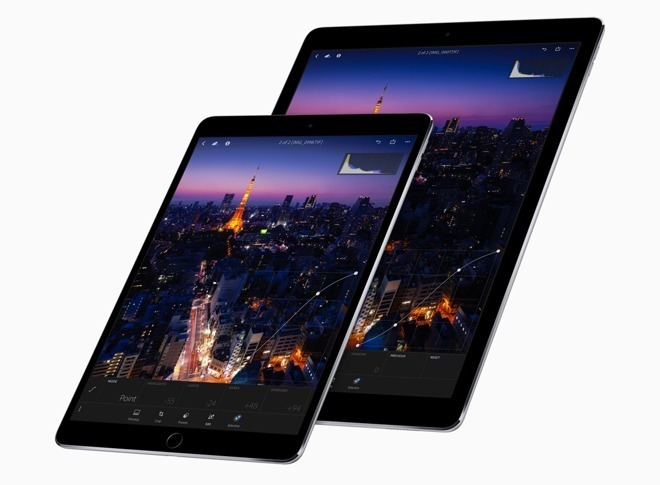 In another potential change from the standard A11 Bionic, it was said that the "A11X" will boast a 7-nanometer manufacturing process from chipmaker Taiwan Semiconductor Manufacturing Co. In contrast, the iPhone X and iPhone 8 chips are made with a 10-nanometer process.
Apple's 2018 iPad Pro refresh is expected to ditch the home button for Face ID, just as the iPhone X has done. Accordingly, the "A11X" would likely include the same neural engine found on the iPhone X for quickly authenticating a user based on biometric facial recognition.
According to analyst Ming-Chi Kuo, the 2018 iPad Pro models will have greatly reduced bezels with the elimination of the home button, potentially allowing for smaller and lighter iPads. The devices are not, however, expected to feature costly OLED displays like the iPhone X, and will instead stick to LCD.
That means an edge-to-edge display is probably not in the cards — Â something that will help keep costs down with the large 10.5- and 12.9-inch iPads, but will also allow for a small bezel that would house the TrueDepth camera. In other words, the 2018 iPad Pros are not expected to feature a camera notch like the iPhone X.