Honor's new View 10 phone brings iPhone X-style Animoji to Android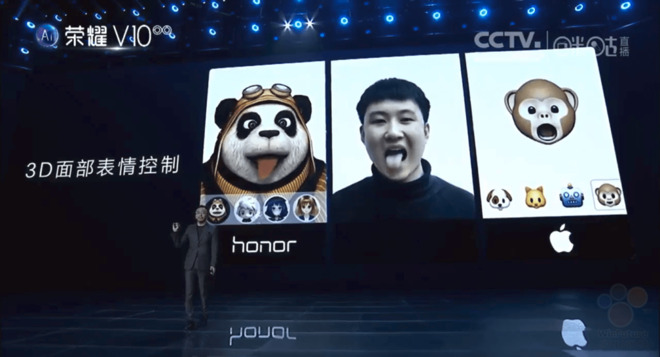 AppleInsider may earn an affiliate commission on purchases made through links on our site.
Huawei's Honor brand on Tuesday revealed the Android-based View 10, a new flagship phone that features a direct imitation of the Animoji feature available on Apple's iPhone X.
The View 10's equivalent is simply called "3D Facial Animation," The Verge noted. Like Animoji, the technology pairs facial tracking with several animated characters, such as a panda with aviator goggles.
The phone also supports facial unlocks similar to the iPhone X's Face ID, although the basic concept isn't new and has previously been offered on some Android and Windows devices.
Huawei and fellow Chinese phonemakers Oppo and Xiaomi are expected to adopt 3D sensors on upcoming 2018 models, following in the footsteps of the iPhone X's TrueDepth camera. That could mean that features like Animoji will quickly spread under different names and varying levels of quality.
Honor's custom user interface also resembles iOS 11, but there are some significant differences in the View 10, which ships Jan. 8. While it has a large display, for instance, it isn't completely edge-to-edge. At the bottom is a Samsung-style home button, whereas the iPhone X completely ditches a physical home button in exchange for touchscreen gestures, Face ID, and miscellaneous combinations of the volume and sleep/wake controls.