Apple CEO Tim Cook talks Chinese supply chain, censorship and more in interview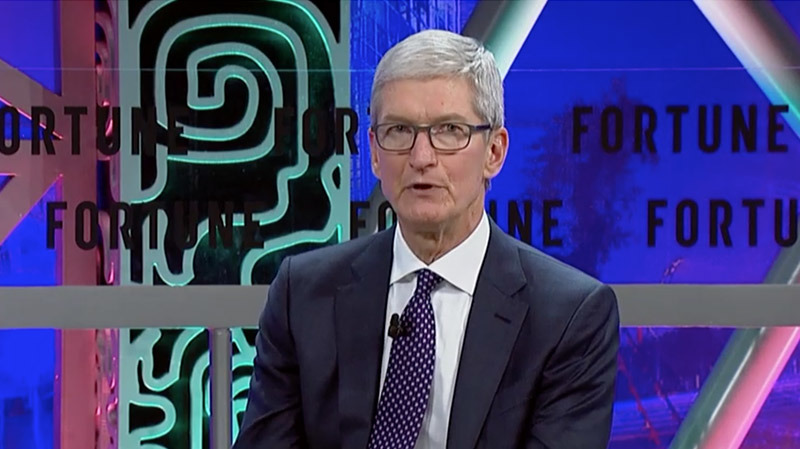 Apple CEO Tim Cook continued his China tour on Wednesday with an appearance at the Fortune Global Forum, where he discussed a range of topics from supply chain strategy to burgeoning markets to censorship.
This year's conference, held in Guangzhou from Dec. 6 to 8, kicked off with a day of interviews featuring Cook, Tencent co-founder Pony Ma, Ford Motor Company executive chairman Bill Ford and Foxconn founder and CEO Terry Gou. Highlighting the event was a special session with Alibaba founder Jack Ma.
In his interview, conducted by Fortune's Adam Lashinsky, Cook said China is a much different country than the developing nation he first visited some 25 years ago. Investments in education and infrastructure have propelled the world's most populous nation into a leadership position when it comes to advanced manufacturing.
Apple does not simply develop its products in the U.S. and hand over those designs for production. The process requires a "hand and glove" kind of partnership, Cook said. Aside from breakthroughs on the design side, manufacturers like Foxconn need to come up with innovative solutions to meet Apple's demanding standards.
It is a marriage of traditional craftsmanship and advanced technology that makes China's supply chain assets desirable, not pricing, according to Cook.
"There's a confusion about China," Cook said. "The popular conception is that companies come to China because of low labor costs. I'm not sure what part of China they go to, but the truth is China stopped being the low labor cost country years ago. That is not the reason to come to China from a supply point of view, the reason is because of the skill."
He went on to say the number one attraction is the "quality of people," a reference to highly skilled engineers who work hand-in-hand with counterparts in the U.S. to bring Apple products to market.
During his stay in China, Cook visited a number of Apple partners including ICT, a firm founded by a former Hon Hai line worker. The company initially supplied cables to Apple, but is now tasked with producing AirPods, a key product in the tech giant's lineup. Cook took time to point out that ICT treats its workers very well, an important consideration for Apple which is consistently hounded over its handling of supply chain partners who abuse labor laws.
Cook also visited a manufacturer that takes care of iPhone's front-facing camera, a few app developers and a company involved in gaming and e-sports.
On the topic of iPhone, Cook said competition in China is fierce, but reiterated Apple is focused on making the best, not the most. The oft-repeated refrain was followed by another frequently heard phrase.
"I could not be happier," Cook said about early iPhone X demand in China.
Apple currently holds about 15 percent of the smartphone market, a share Cook hopes to grow with an increasing number of Android switchers. When asked whether ubiquitous apps like Tencent's WeChat are detrimental to future growth, Cook said the opposite is true. Tencent is a great partner, Cook said, noting that WeChat in particular makes switching more manageable as user data is tied to a third-party platform, not an operating system like iOS or Android.
Lashinsky inevitably brought up the World Internet Conference, a state-sponsored event in which Cook and a number of other high-ranking Silicon Valley executives took part. Cook caught flak for attending the gathering, a move which critics equate to being complicit in the Chinese government's surveillance and censorship policies.
Cook, on the other hand, viewed the event as a chance to listen and learn about China's stance on hot button issues. In other words, he was there to participate.
"The thing that's missing in our society is there's not enough people that want to listen and understand and participate," Cook said. "They have a litmus test of, 'Do I agree with every single thing that person believes, and if not I don't want to talk to them and they're a bad person.' I've never seen the world that way."
Cook believes participation is key to effecting change. While the executive made clear he holds American tenets like freedom of expression in the highest regard, he understands that other countries view the same subjects in a different light. To smooth out differences, one must first find commonality, and that requires participation.
"Your choice is: do you participate, or do you stand on the sideline and yell at how things should be," he said. "And my own view very strongly is you show up and you participate, you get in the arena because nothing ever changes from the sideline."
Cook alluded to similar themes earlier in the interview. Specifically, Apple has been criticized for pulling certain apps from the Chinese App Store at the behest of government agencies. Apple maintains it was adhering with Chinese regulations, as it would the laws of any country in which the company operates.
Still, critics assert Apple and other firms are merely appeasing the government of a hugely important market, one that has no qualms about blackballing those who step out of line.
In addition to setting the record straight, Cook added he is optimistic that the apps Apple was forced to pull will one day return to the App Store.