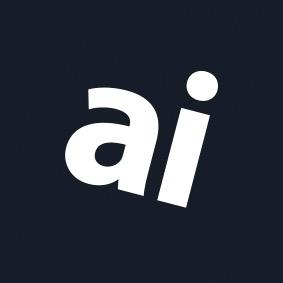 Why you can trust AppleInsider
Review: Sonos One brings high fidelity to smartspeakers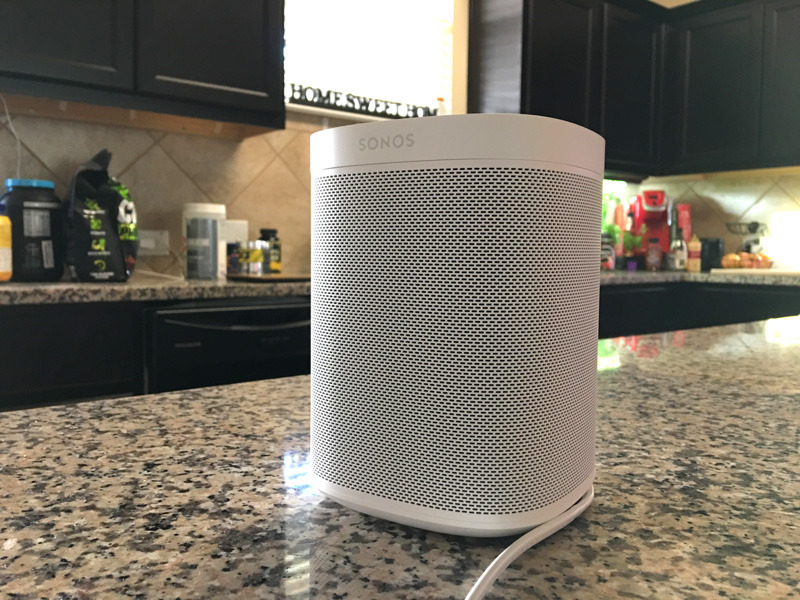 ---
The Sonos One may be the best smartspeaker you can buy — and with its pricetag and upcoming features, will probably pose a serious threat to Apple's HomePod.
Just about anyone familiar with gadgets has heard of the Amazon Echo line and knows that it's absurdly popular. It helps of course that the Echo Dot, meant to connect to an external speaker, costs less than $50. Competition is only now beginning to heat up, thanks both to the upcoming HomePod and an expanded line of Google Home products.
One thing most smartspeakers have lacked until this point though is sound quality. The standard Echo is certainly good enough for casual listening, but it's not meant for audiophiles or home theater integration.
Enter the Sonos One, which adds Amazon's Alexa voice assistant to the template of Sonos's high-end Play:1 speaker. The main hardware changes are six far-field microphones, and new touch-sensitive buttons such as a mic mute.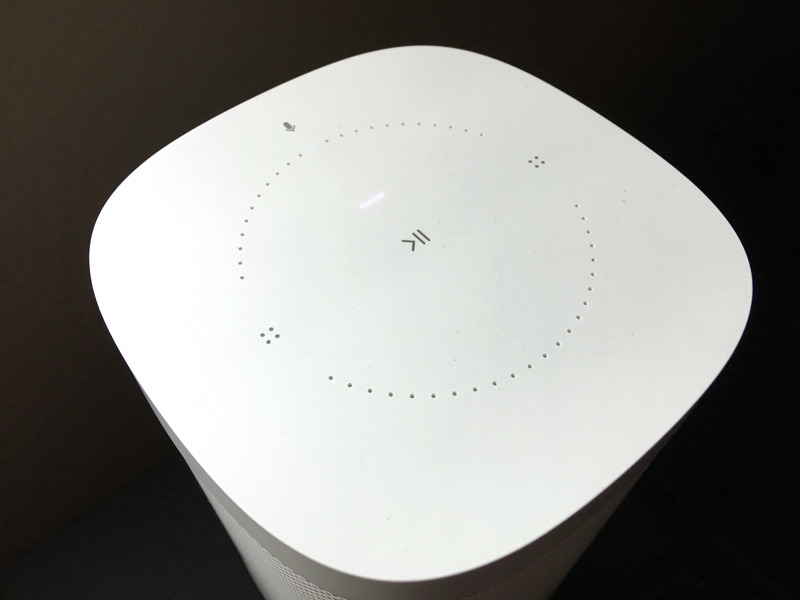 Setup is largely similar to any other Sonos speaker, handled through the company's iOS app. After connecting the One to Wi-Fi you'll probably do Trueplay tuning, which involves walking around a room with an iPhone or iPad while the One emits a series of pulses. You'll also want to connect as many music services as possible, like Apple Music or Spotify, since while the app can play local files it's really meant to serve as a kind of universal remote.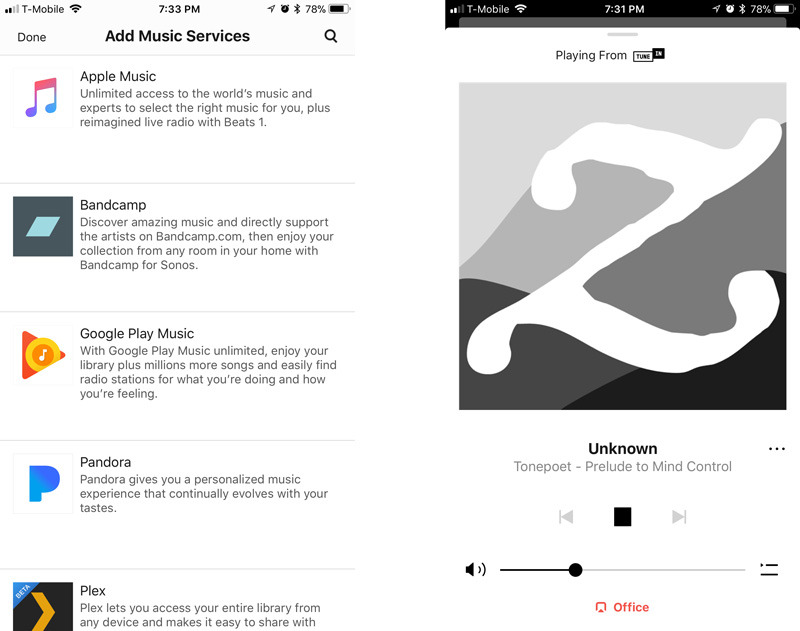 Making things a little more complicated is the need to configure Alexa. You'll have to have an Amazon account and the Alexa iOS app, making sure Alexa likewise recognizes which music services you use.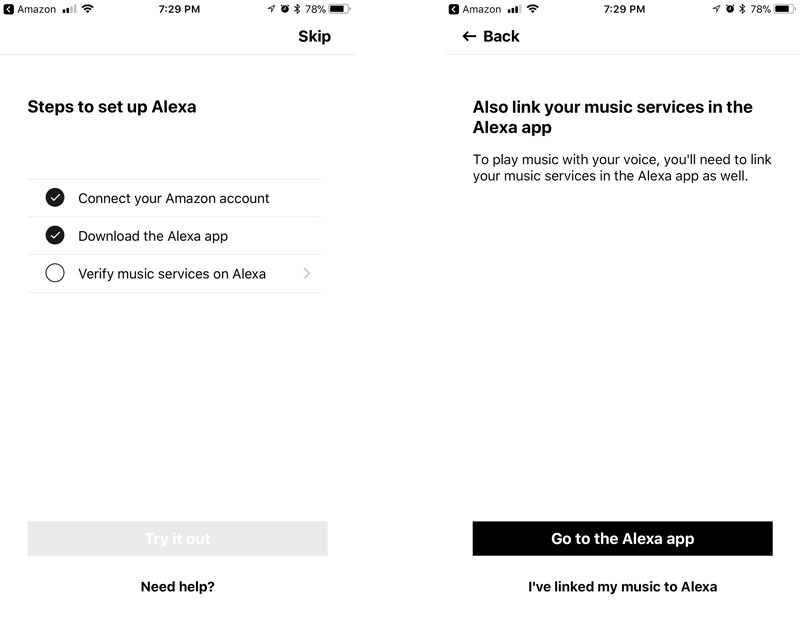 At the moment, the One's music-related Alexa commands apply only to a small subset of services: Pandora, Spotify, TuneIn, Amazon Music, iHeartRadio, and SiriusXM. No Apple Music. And while the speaker supports most other Alexa functions, such as smarthome control and IFTTT integration, some exceptions include calling and messaging, setting reminders, grouping rooms, or moving music to another room. For the last two you'll need the Sonos app once again, though naturally you can always start music fresh anywhere you choose.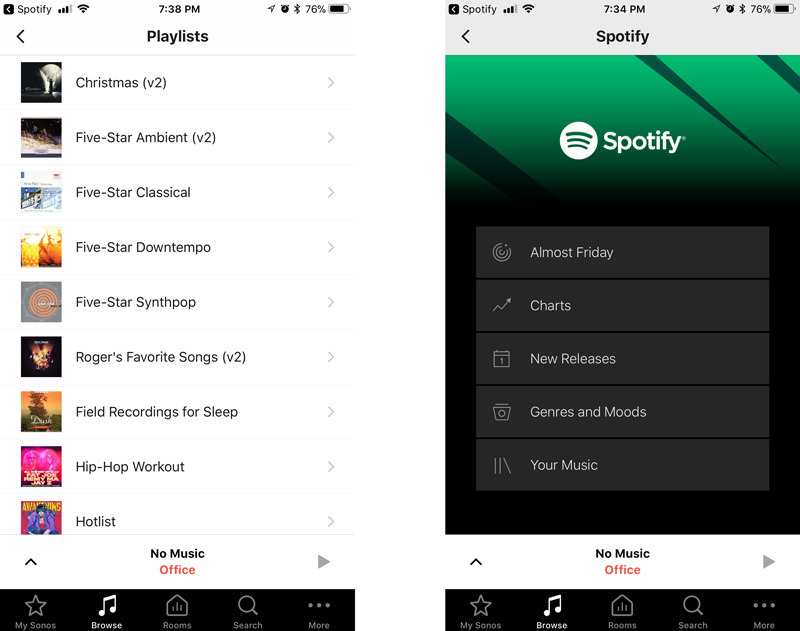 In testing we found that the speaker was fairly adept at hearing and interpreting us, and actually a little snappier in wake-up and reply than an Echo Dot. There was an instance when it failed to hear us when we were facing the opposite direction, but that didn't repeat.
More importantly, the One sounds like the Play:1: fantastic. It's a single-channel speaker, but even on its own it's balanced and clear with punchy bass. You can pair it with a second unit for stereo, and with a Playbase, Playbar and/or Sub as part of a home theater setup. The catch is that every speaker has to come from Sonos, and a One can't do stereo pairing with a Play:1.
Limitations & the future
Any further downsides are the same ones that affect other Sonos and Alexa products. There's no Bluetooth receiver or 3.5mm jack, which is inconvenient and ultimately feels like a cash grab. And while Alexa is easily the industry's best-supported voice assistant, it has its quirks. Its "skill" system and iOS app are awkward, and unlike Google Assistant, it has trouble with some knowledge-based questions.
Speaking of which, the One will eventually support Assistant, and even Apple's Siri and HomeKit by way of AirPlay 2. Those will make it truly unique — but don't hold your breath, since Sonos has only promised those upgrades sometime in 2018.
Conclusions
Most people using an existing speaker system — from Sonos or otherwise — should probably just connect an Echo Dot. The One is better than many other mono speakers, but it won't replace any "serious" audio gear on its own.
It's also best to steer away from the product if you're paranoid about privacy, and in the short term, if you're counting on Siri support. We don't yet know how well that will work.
If you're looking to dive into the Sonos ecosystem however or only need enough juice for a small room, the One is tough to beat. During much of our testing we had the speaker sitting on an office desk, and it filled the space with extremely pleasing sound — in some ways surpassing a mid-range, 2.1-channel Logitech setup.
It's so good that at $199, it's bound to divert some people away from the $349 HomePod. Sure, the HomePod will likely sound even better, but a $349, Siri-only speaker that's biased in favor of Apple Music will face an uphill climb.
Score: 4.5 out of 5

Where to buy