Apple tops device activations during holidays, iPhone X handily beating iPhone 8 and iPhone 8 Plus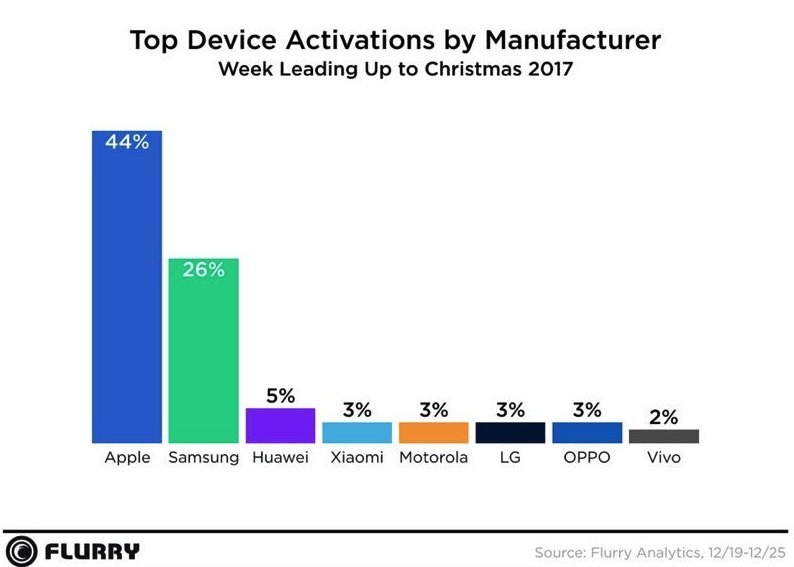 Apple once again leads the industry in smartphone and tablet activations during the week before Christmas, with very strong sales of the iPhone X leading the iPhones released in 2017, with the iPhone 6 and iPhone 7 availability both overseas and as used devices adding to the lead.
The iPhone X hit 14.7 percent of all activations during the holiday season, according to a report published by Yahoo's Flurry Mobile. Fellow 2016 releases, the iPhone 8 and iPhone 8 Plus came in at 8.1 percent and 8.7 percent respectively, leading to the new iPhone releases encompassing 31.5 percent of all activations.
The iPhone 7 accounted for 15.1 percent of all iPhone activations, with the iPhone 6 hitting 14.9 percent. Flurry's data includes new units, hand-me-down devices, and resold used devices. Additionally, the prevalence of older models can be attributed to their affordability outside the U.S., Flurry noted.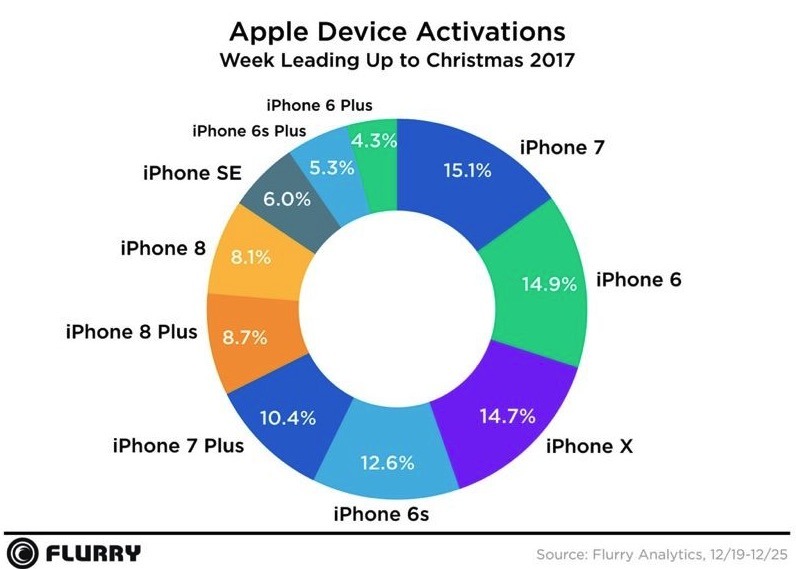 In some countries, like China and India, a new iPhone 8 or iPhone X can be prohibitively expensive, sometimes costing as much or more than someone's monthly salary.
"The prominence of the iPhone 6 is particularly interesting, as Apple only relaunched that model to resellers in select international markets in the spring of 2017," the report said. "It's apparent that the consumer concern for cost is still significant, as the iPhone 6 is often marketed as the most affordable option in the regions where it is available."
As with 2016, Apple claimed 44 percent of combined global phone and tablet activations during the week. Chief rival Samsung rose 5 points to 26 percent, keeping smaller rivals like Vivo at bay.
Google's Pixel phones failed to make a dent on the worldwide level. This is because there are only four models so far, and they haven't captured much "consumer mindshare," Flurry suggested.
Flurry notes that it measures smart device activations through more than one million mobile apps that use the analytics service that the company provides.