Amazon begins selling iPhone 6 with 32GB storage in India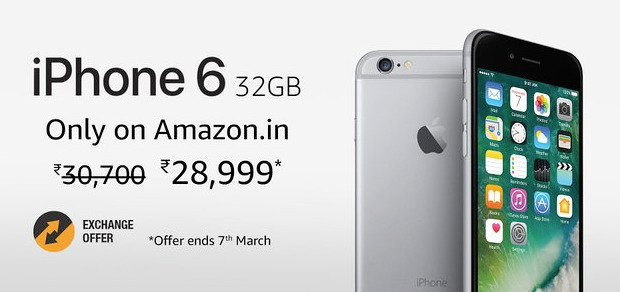 A version of the iPhone 6 that includes 32 gigabytes of storage has resurfaced in another country, with Amazon exclusively selling the smartphone in India from Monday, following similar sales in China and Taiwan offering the device with the new storage capacity.
Amazon's regional store is advertising the 32-gigabyte iPhone 6 on the front page, along with a two-day deal that ends on March 7. Customers are able to acquire it for Rs 28,999 ($435), discounted from Rs 30,700 ($460) though it can be reduced further with an exchange of an old smartphone, with free delivery also available.
The offer price also makes the 32-gigabyte model cheaper than the 16-gigabyte variant also on sale from the online store, at Rs 29,799 ($447). Unlike the lower capacity version, the 32-gigabyte iPhone 6 is only being offered in Space Grey, with no other color options available for that capacity.
It appears that the iPhones being sold are brand new, and not refurbished devices. Last month it was reported Apple was hoping to push the government to allow it to import and sell refurbished iPhones in the country, as a condition for the company to start manufacturing iPhones locally.
The sale of a 32-gigabyte model of iPhone 6 arrives in India shortly after Taiwan Mobile started offering pre-orders of a Gold version online and in-store, with a release date in Taiwan slated for March 10. In mid-February, it was made available in China with the same storage capacity.
It appears that there is a level of exclusivity for the 32-gigabyte iPhone 6's availability, with only one retailer or carrier in each country offering it for sale. This exclusivity also extends to Apple's own sales, with no sign of this version of the iPhone 6 being marketed at all through Apple's regional sites.
The iPhone 6 was discontinued in September 2016, as part of the iPhone 7 launch. The iPhone SE became the entry-level iPhone at that time, while the previous generation iPhone 6s and 6s Plus became mid-tier devices.
Apple has previously offered the iPhone 6 with 16-, 64-, and 128-gigabyte capacities, but the 32-gigabyte model has only been made available recently as part of these regionally-exclusive sales. Considering the range of iPhones currently available, it is unlikely Apple will be bringing the 32-gigabyte variant to Western markets in the near future, if at all.