Spotify secretly files for IPO as it reaches 70M paid users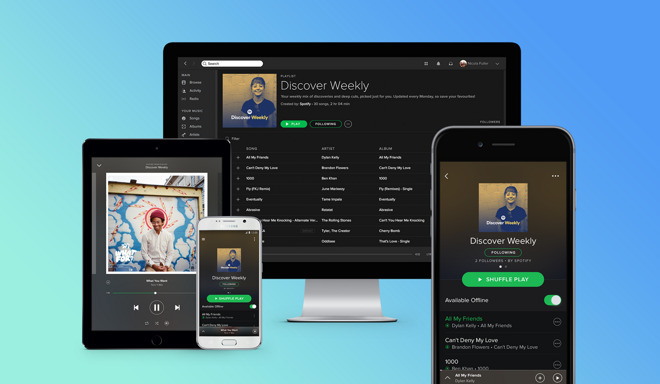 As Spotify grows its user base to over 70 million paid subscribers, the company has also filed in secret for public offering of shares of the company's stock, but will make the shares available to the public in a non-traditional manner.
The company took to Twitter to announce the milestone. The last time it had made a public declaration of paid subscribers was in July, when it said that it had 60 million paid subscribers, with around 140 million paid subscribers plus ad-supported users at the time.
In contrast, Apple said during the 2017 WWDC that Apple Music had 27 million subscribers — all paid or on the three-month trial.
Should the Security and Exchange Commission approve Spotify's plan, reports suggest that at some point in the first half of 2018, the stock will be available on the open market, without the initial public offering for investors to gage pricing and demand for the stock. This will allow investors and those granted shares of the company to not be bound by lockups, preventing sale for a set period of time, and theoretically allow early shareholders to cash out whenever they want.
The unusual method of stock sale will allow the company to go public, without needing any additional funding to do so prior to the sale.
According to Bloomberg's analysis of what is known about Spotify's documents, Google's IPO period was similar, but not identical. The search engine giant took a hybrid approach to it's initial offering, and issued over 14 million new shares in 2004, followed by 5.4 million sold by investors at an $85 per share offering price.
Spotify is facing a lawsuit from music rights management company Wixen, who administers music by Tom Petty, Zach De La Rocha and Tom Morello of Rage Against the Machine, Dan Auerbach of The Black Keys, Steely Dan's Donald Fagen, Rivers Cuomo of Weezer, David Cassidy, Neil Young, Sonic Youth's Kim Gordon and Stevie Nicks, among others. Wixen's suit alleges that a $43 million settlement that Spotify agreed to pay to settle a 2015 class action suit was insufficient, and is seeking $1.6 billion dollars to put things right.
It is not clear what effect, if any, the Wixen lawsuit will have on the public stock offering planned by Spotify.