DJI 'Mavic Air' drone leak ahead of launch reveals foldable legs, 4K camera on 3-axis gimbal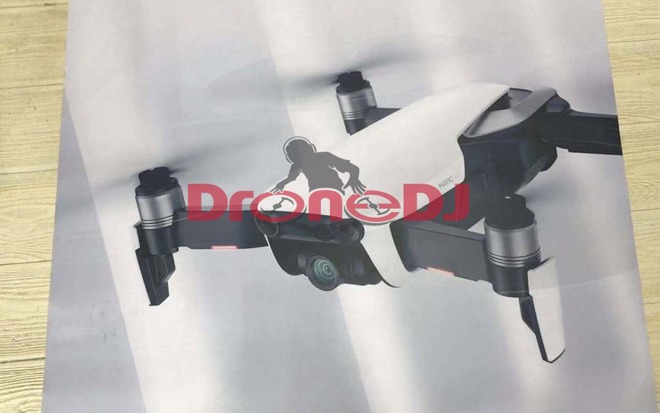 AppleInsider may earn an affiliate commission on purchases made through links on our site.
A drone expected to be released by DJI on Tuesday has reportedly leaked ahead of its public unveiling, with alleged images and specifications said to reveal the 'Mavic Air' as a smaller and lighter drone compared to the Mavic Pro, while still offering 4K resolution video and similar functionality to its predecessor.
The "Mavic Air" is reportedly equipped with a 32-megapixel camera with a 1/2.3 CMOS sensor and a new image signal processor, capable of recording 4K-resolution video at 60 frames per second, reports DroneDJ. The camera is attached to a three-axis gimbal, similar to the one used on the Mavic Pro rather than the two-axis version equipped to the cheaper DJI Spark drone.
Like the Mavic Pro, it has four foldable arms that allows it to be packed into a small bag for easier transportation. The external styling appears to be a mix of both the Mavic Pro and the Spark, taking the physical form of the first but with more rounded corners and smoother curves for the casing itself.
On the front, rear, and base of the "Mavic Air" are sensor arrays, which are used for obstacle avoidance. A Visual Positioning System will allow the drone to work better when flown indoors, without access to GPS, with sensors said to help keep control of the craft in the air and to keep its position when hovering in place.

The Spark's gesture control system is also said to be used in this drone, allowing users to perform certain functions using hand gestures aimed at the camera, such as hand signals to take a photograph or change position in the air. The reported flight time for the device will be 21 minutes, though it is unknown what range the "Mavic Air" will be able to safely fly from the pilot in use, but it will apparently be compatible with the DJI Goggles to provide a first person viewpoint while flying.
It is believed the "Mavic Air" will ship in a choice of white, black, and red matte colors. Pricing and a release date are unknown, but it is currently speculated to ship for $699.
AppleInsider will be at DJI's launch tomorrow in New York City, and will try out the drone producer's new devices and accessories during the event.