Video: See DJI's iOS-connected, foldable Mavic Air drone in action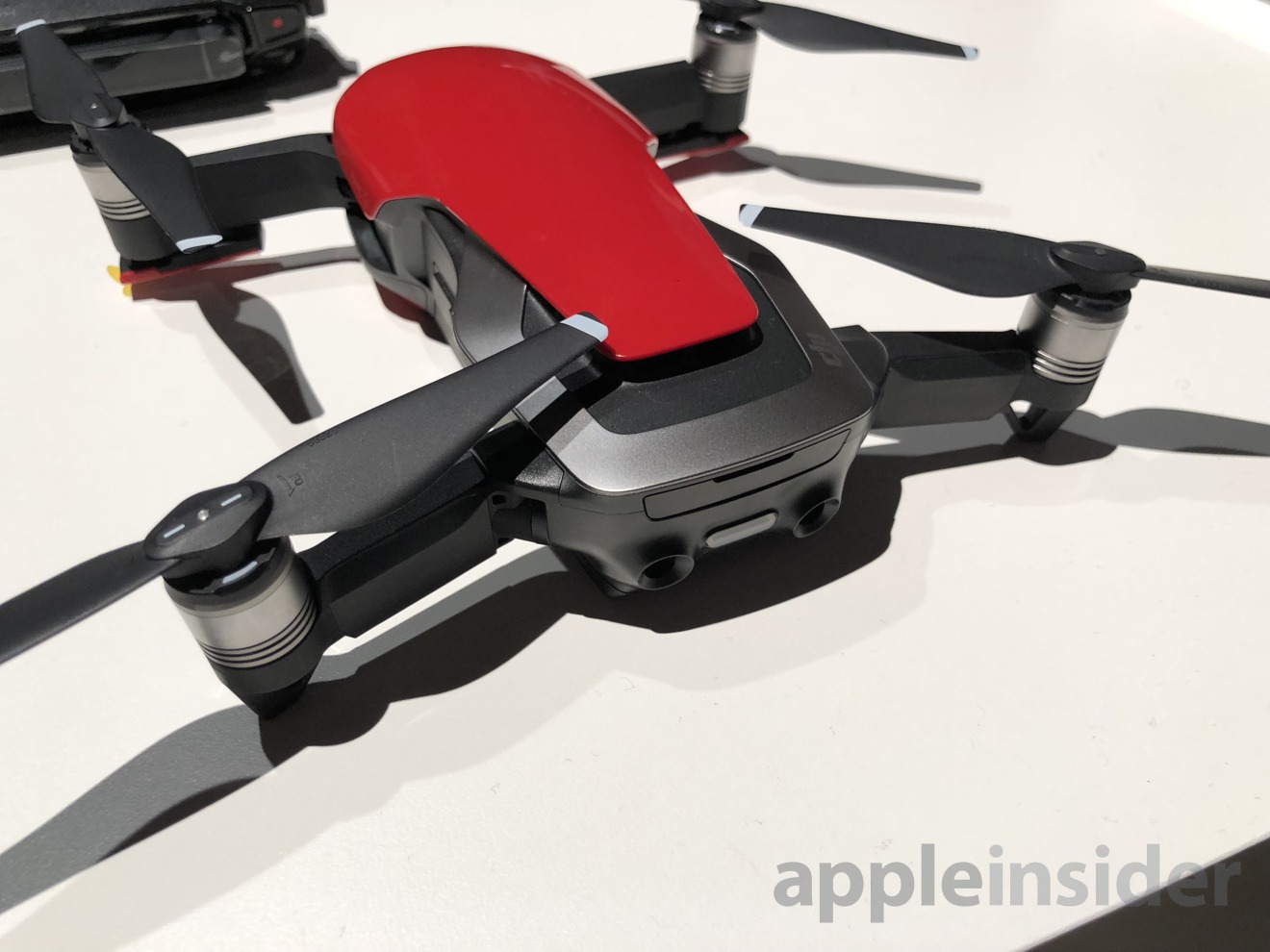 AppleInsider is supported by its audience and may earn commission as an Amazon Associate and affiliate partner on qualifying purchases. These affiliate partnerships do not influence our editorial content.
With GoPro exiting the drone market entirely, the dominant name in aerial photography, DJI, unveiled its latest product on Tuesday: the Mavic Air. It's a $799 foldable model that can fit inside of a jacket pocket. AppleInsider was on hand for the announcement and went hands-on with the new flying camera, which you can see in action in our new video.
In terms of design, the Mavic Air is impressive. It takes what DJI already pioneered with the fantastic Mavic Pro and further miniaturizes it, tweaking the collapsible design and shrinking the components inside.
When completely folded up and sitting on a table, the Mavic Air takes up about the same two-dimensional footprint as Apple's iPhone X. That's a pretty impressive accomplishment, considering the device has a three-axis gimbal that shoots 4K HDR footage.
It's hard to say with certainty how the Mavic Air will perform in the real world, given that Tuesday's keynote was indoors and hands-on and eyes-on opportunities focused on gesture controls, obstacle avoidance, and foldability. But the sample 4K footage DJI showed, including stunning shots from Patagonia by photographer Chris Burkard, gave an excellent first impression.
But first, a few notes about Tuesday's event itself.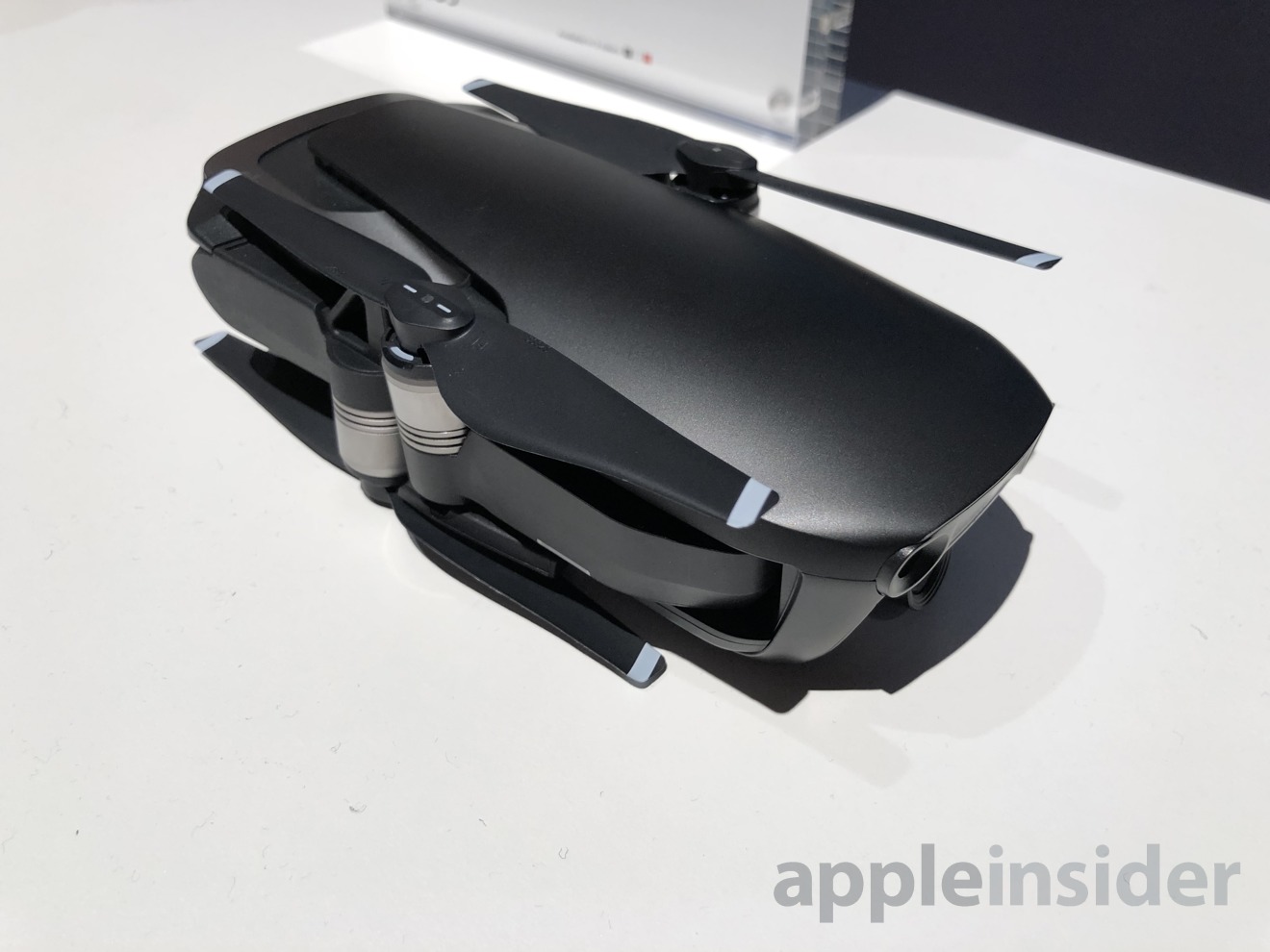 It's almost a foregone conclusion that any tech company's keynote presentation will take cues from the granddaddy of silicon showmanship, Apple. But DJI's imitation-to-flattery ratio in New York City on Tuesday was really something.
The unveiling of the Mavic Pro kicked off with three key features — powerful, intelligent and portable — borrowing a bit from the iconic first iPhone unveiling. There was also a grand debut where the presenter pulled not one, not two, but three Mavic Air drones out of his jacket pockets (he had a lot of pockets on his vest). Even the keynote-capping video shown by DJI had a British voiceover waxing about design, giving Apple's own Jony Ive grounds to claim gimmick infringement.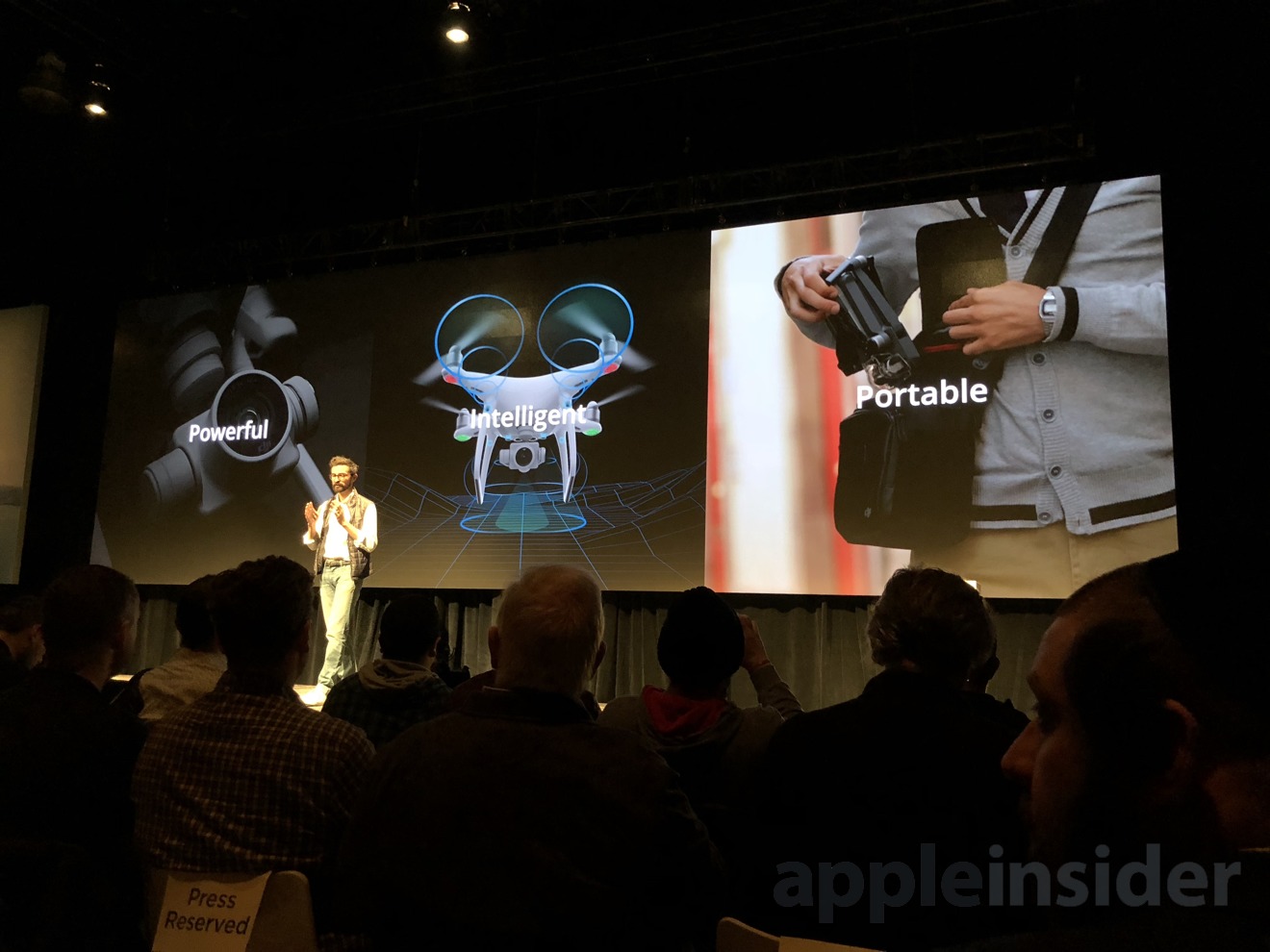 Of course, DJI isn't the only company that so clearly takes its inspiration from Apple in product launches. But if it works, it works, and Tuesday's event was largely a success in pitching the new Mavic Air as a new segment squarely between the entry-level Spark and the not-quite-as-portable Mavic Pro, though it did raise questions about the future of the Mavic Pro.
At $799, the Mavic Air makes sense. Without folding propeller arms, the Spark (while very portable) is best transported in a case. The Mavic Pro, meanwhile, folds to a nice compact size, but it's still bulky and its $999 price point may be too much for someone looking to dip their toe in the "prosumer" drone space.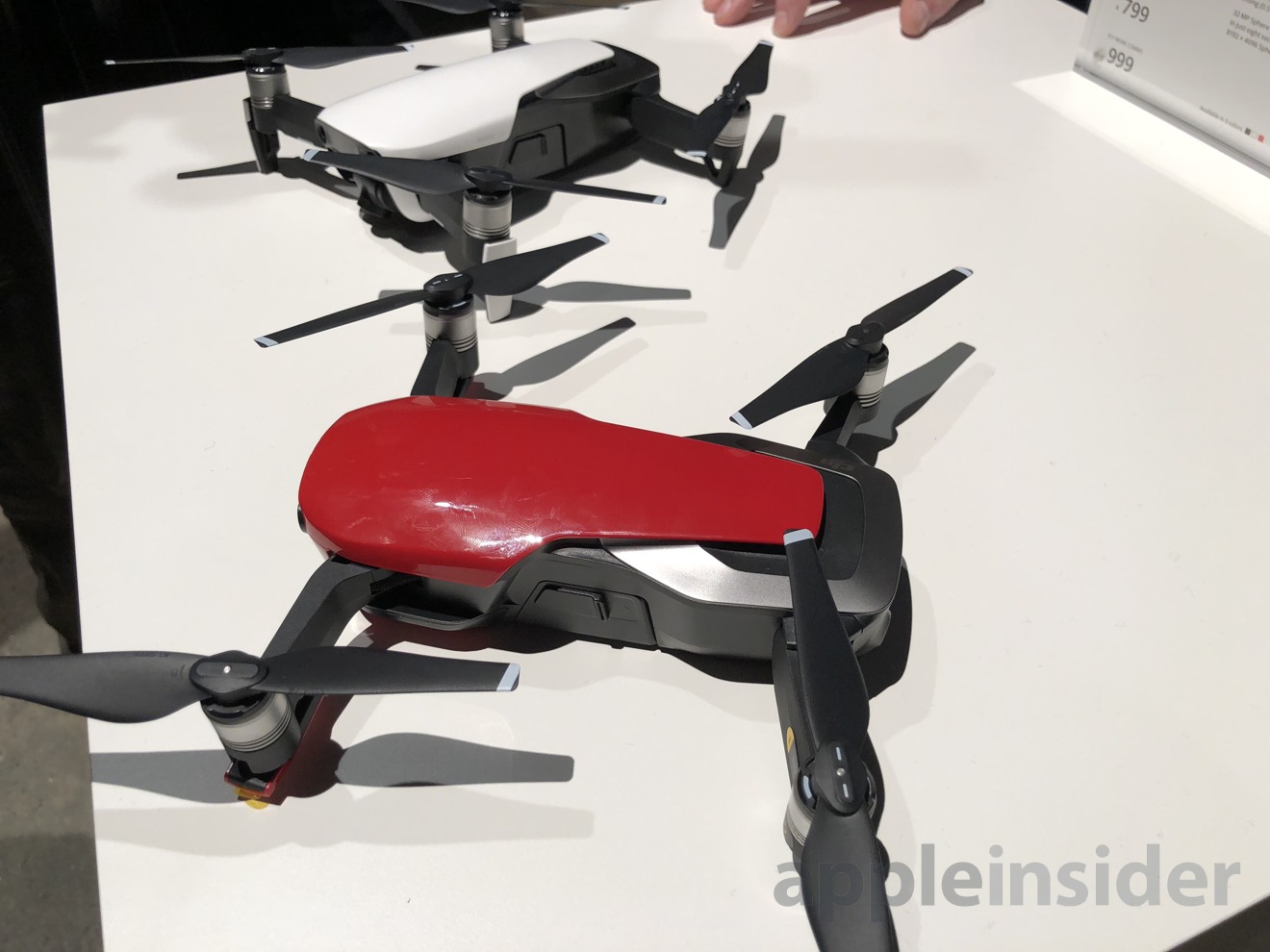 One key and interesting difference about the design of the Mavic Air is that the propellers themselves do not fold. Instead, the full-size propellers must be positioned to be flush with the drone's body when collapsed to ensure they do not break in transport.
For years, DJI has been working to make capturing aerial footage as simple as possible. It's because of those efforts that arguably the coolest features of the Mavic Air are two new "QuickShot" autopilot camera modes dubbed "Asteroid" and "Boomerang."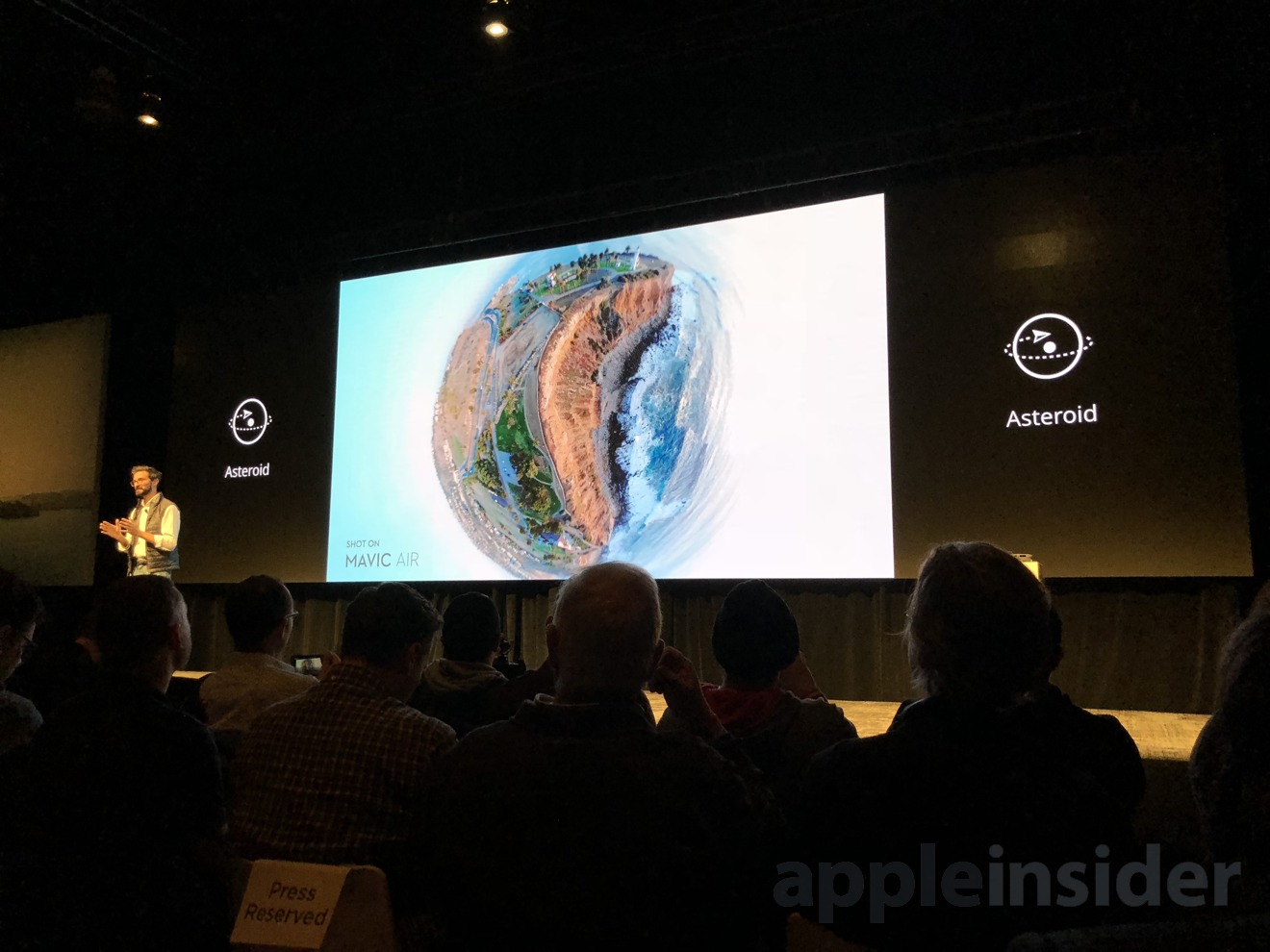 Boomerang is somewhat simple, flying around a subject on a set path (but avoiding obstacles with onboard sensors), giving a sort of cinematic shot that might take someone with a controller multiple tries to get right. It's a basic shot but a stunning result that requires no real skill in flying a drone to achieve.
But it was Asteroid that generated audible oohs and ahhs from the crowd at Tuesday's presentation. Asteroid is a combination of the autopilot capabilities of the Mavic Air, as well as its spherical panoramic 32-megapixel image capabilities. The end result is pretty neat: The video starts flying away and looking back at the subject, before transitioning into all-encompassing view of the world around the drone.
The Mavic Air also piggybacks on the simplicity of gesture controls introduced with the Spark. But unlike the Spark, the Mavic Air also comes with a dedicated physical controller, offering the best of both worlds at its $799 price point.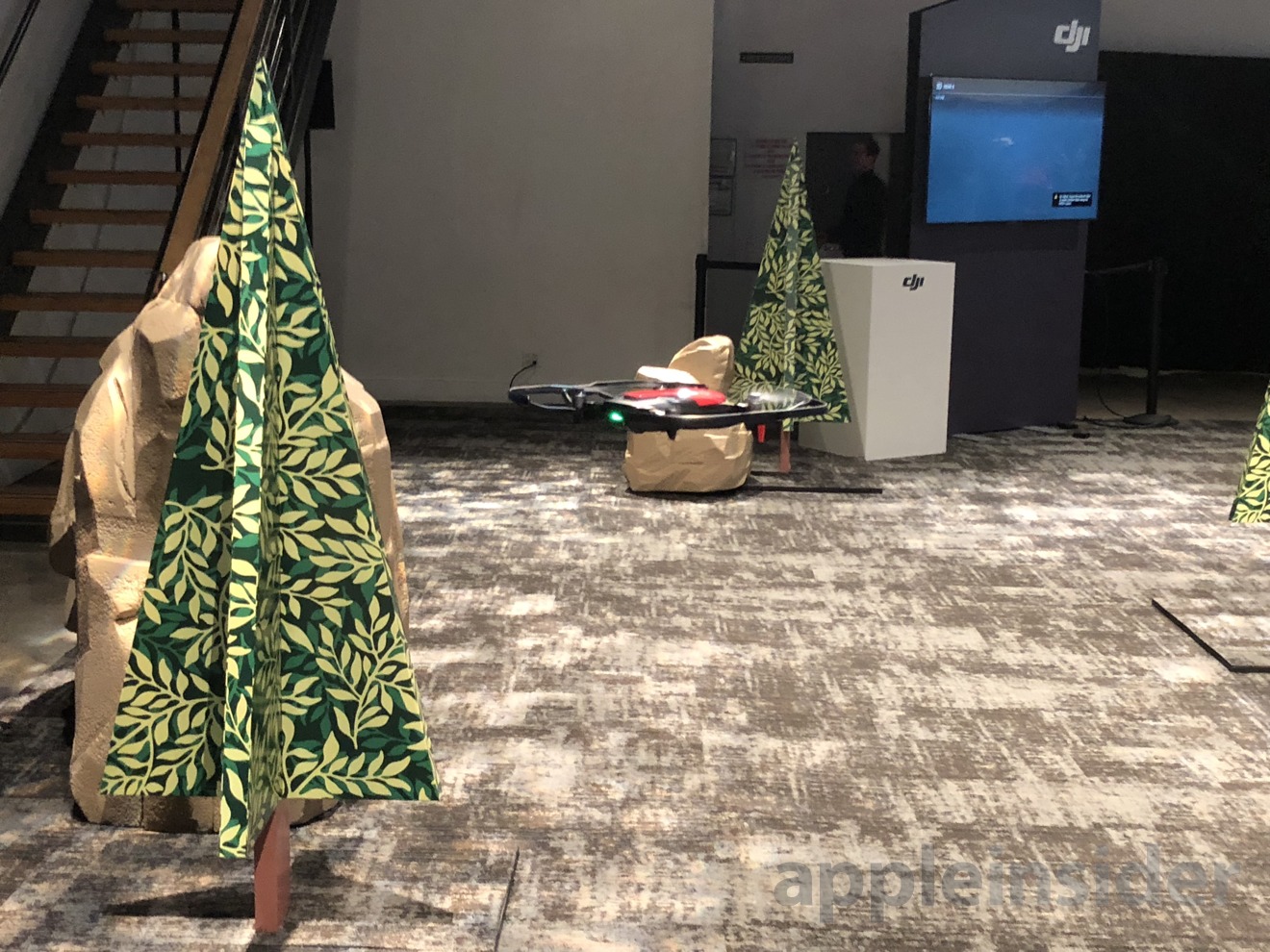 And if you're worried about crashing it, the Mavic Air also includes new "Advanced Pilot Assist Systems" that not only recognize and avoid obstacles, but can bypass them both vertically and horizontally.
The device also has 8 gigabytes of storage built in, meaning you don't actually need an SD card inserted to fly and capture footage (though 4K-resolution images will likely fill up those 8 gigs rather quickly).
If it sounds like the Mavic Air is actually better than the pricier Mavic Pro in many areas, you're right. The Mavic Pro has a few key advantages, including a higher resolution "cinematic" 4K mode and greater 4.3-mile range from the controller. But otherwise, at a cheaper price, the Mavic Air offers better features than its year-and-a-half-old big brother.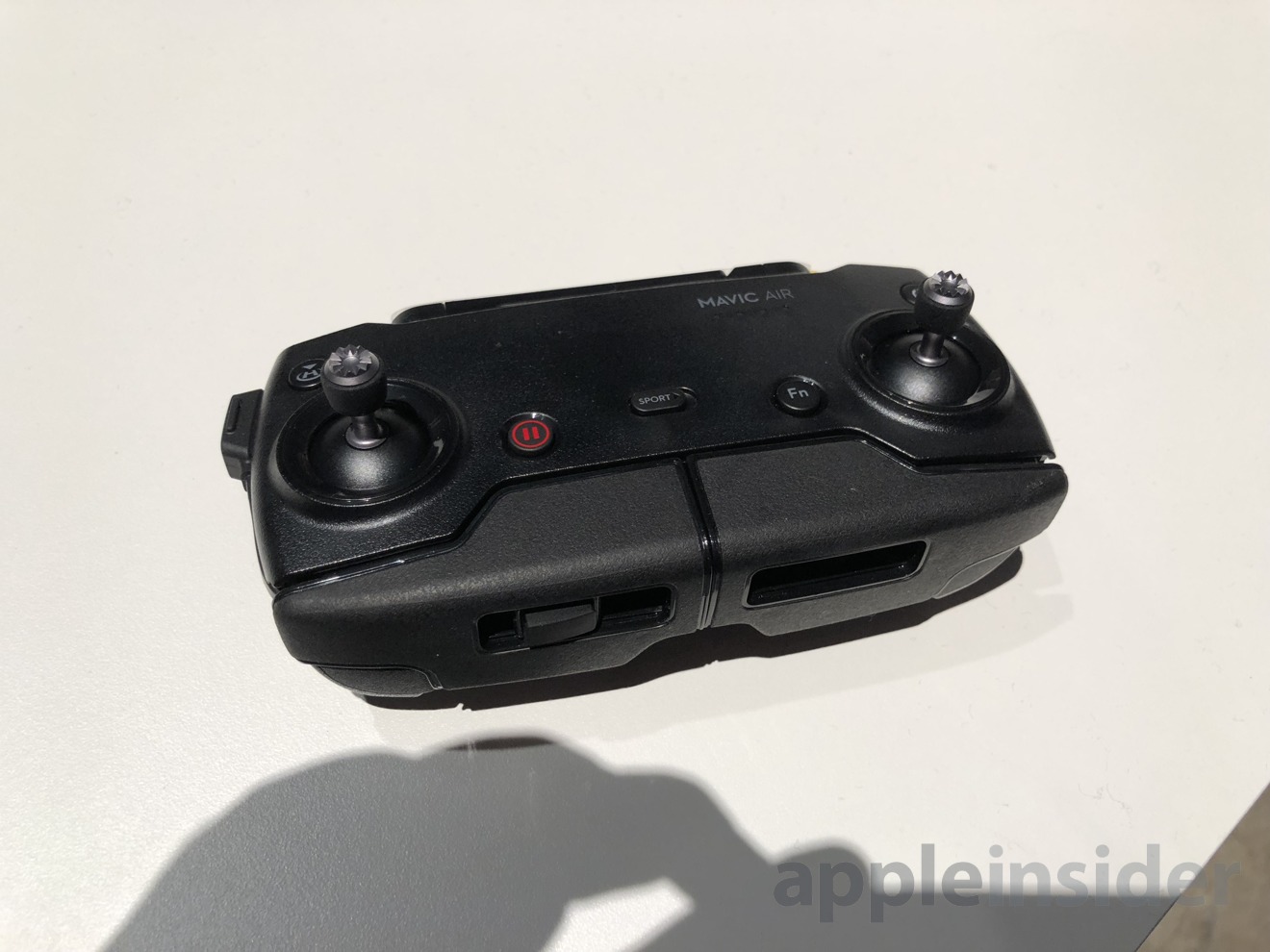 That's good news for anyone who was eyeing the Mavic Pro and couldn't stomach the price tag, or who didn't think the Spark was powerful and capable enough. But it does raise a question of when — or if — the Mavic Pro will be updated to get feature parity with the Air. It's also possible that the impressive Air will simply supersede the larger model, and DJI will push true "pros" toward the pricier Phantom lineup.
Taking another cue from Apple, consumers won't have to wait long for the Mavic Air. DJI is already taking preorders ahead of a launch next week, on Jan. 28. AppleInsider partners B&H and Adorama are also accepting preorders, and do not collect tax on those shipped outside of New York and New Jersey.