Apple Pay finally coming to Brazil later in 2018 [u]
By Roger Fingas
Thursday, February 01, 2018, 02:59 pm PT (05:59 pm ET)
In Apple's Q1 results call, CEO Tim Cook confirmed that Apple Pay will reach the biggest South American market —Brazil —sometime later this year. [Updated with official webpage]




Cook didn't provide further details, such as possible card issuers or compatible merchants. In December, however, people trying to add Itau Unibanco's Visa Platinum Personnalite card to the iOS Wallet encountered a terms-of-service agreement.

Rumors of Apple Pay coming to Brazil date back to 2016, when Mastercard was expected to be Apple's regional partner. Apple has sometimes partnered directly with credit card companies instead of banks for overseas rollouts.

Apple Pay is now in over a dozen countries, such as the U.S., Canada, China, France, Taiwan, Australia, and the United Arab Emirates. It could potentially arrive in Poland in early 2018.

Update: Apple has launched an official webpage, signalling that people will be able to add Visa and Mastercards, including ones from Itau.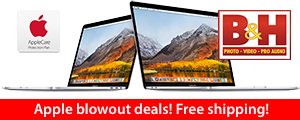 2017 12" MacBooks
Price
Save
1.2GHz/8GB/256GB (Gold)
$799.00+
$500
1.2GHz/8GB/256GB (Rose Gold)
$799.00+
$500
2018 13" Touch Bars
Price
Save
2.3GHz/8GB/256GB (Gray)
$1,649.99+
$150
2.3GHz/8GB/512GB (Silver)
$1,879.00+
$120
2.3GHz/16GB/256GB (Gray)
$1,949.00+
$50
2.7GHz/16GB/512GB
$2,449.00+
$50
2.7GHz/16GB/1TB
$2,849.00+
$50
2018 15" MacBook Pros
Price
Save
2.2GHz/16/256GB/555X
$2,549.00+
$50
2.2GHz/16/512GB/555X
$2,575.00+
$225
2.9GHz/16/1TB/560X
$3,199.00+
$300
2.9GHz/32/2TB/560X (Gray)
$3,999.00+
$700
2.9GHz/32/4TB/560X (Gray)
$5,999.00+
$700
Click here for dozens more configurations
+ Free shipping within the contiguous U.S.
Lowest Prices Anywhere!

13" MacBook Pros
Price
You Save
3.1GHz/8GB/256GB Gray
$1,679.00
$120.00
3.1GHz/8GB/256GB Silver
$1,704.00*
$95.00
3.1GHz/8GB/512GB Gray
$1,849.00*
$150.00
3.1GHz/16/512GB Gray
$2,099.00
$100.00
15" MacBook Pro
Price
You Save
2.8GHz/16/256/555 Silver
$2,199.00*
$200.00
2.8GHz/16/256/560 Gray
$2,299.00
$200.00
2.9GHz/16/512/560 Gray
$2,599.00
$200.00
2.9GHz/16/1TB/560 Gray
$2,999.00
$200.00
3.1GHz/16/512/560 Gray
$2,799.00
$200.00
3.1GHz/16/2TB/560 Gray
$3,899.00
$300.00

*

price with Promo Code:

APINSIDER

prices.appleinsider.com for more configurations