Slack is latest major service to drop standalone Apple Watch app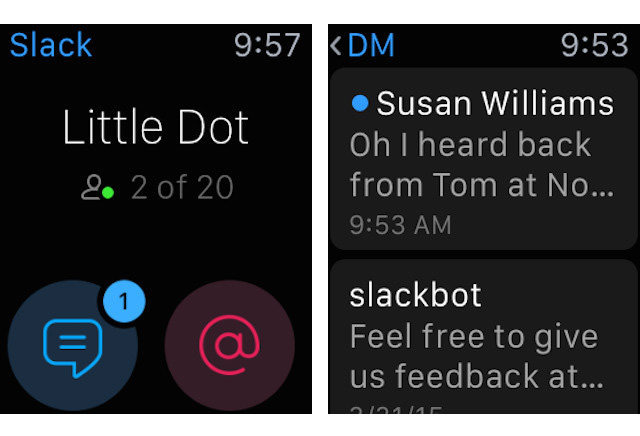 Enterprise messaging platform Slack updated its iOS app on Wednesday and in doing so announced the deprecation of its standalone Apple Watch app, marking the latest major service to dump Apple's wrist-bound wearable.
In release notes furnished alongside Slack version 3.36, the company said it will not longer support standalone Watch software. Instead, users will have to rely on notifications pushed to the wearable by the Slack iOS app.
Apple Watch users, there's now one iOS app for all of your needs. We've removed the standalone Watch App, but rest assured, receiving and replying to messages from your wrist works the same as before. It's like two for the price of one, but with apps.
Without a native Apple Watch app, Slack users will have to rely on the iOS app to read direct messages. Previously, the Watch version allowed users to interact with DMs, switch workspaces, view the number of unread messages in a given workspace and more.
Slack is the latest major vendor to pull its Apple Watch development assets. Last May, AppleInsider discovered a number of high-profile app makers, including Google Maps, Amazon, eBay and Target ended support for Apple Watch. Google later said it expected Apple Watch support to return, but the current version of Google Maps is still iOS only.
Developers have only offered vague answers to questions regarding the deprecation of their respective Apple Watch assets, but some cite a lack of interest from users. For Slack and products like it, wearable apps are loss leaders as such software can only hope to offer a fraction of the features presented by corresponding smartphone or tablet apps. In such cases, dedicating time and money to developing a Watch app becomes a questionable endeavor.
Apple Watch is a relatively new hardware format, and Apple itself is still attempting to find an optimal position for the device within its ecosystem. With the latest Series 3 versions, Apple is placing heavy emphasis on health and fitness, connectivity and first-party services like Apple Pay. New cellular capabilities untether Watch from a paired iPhone, but the device is still very much an accessory.