NYPD begins rolling out 36,000 iPhone 7, 7 Plus handsets to Manhattan cops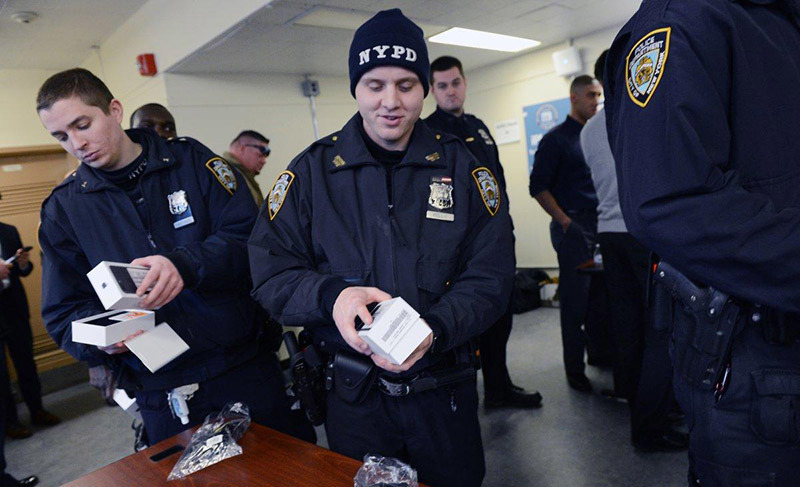 AppleInsider is supported by its audience and may earn commission as an Amazon Associate and affiliate partner on qualifying purchases. These affiliate partnerships do not influence our editorial content.
As part of a planned switch away from Microsoft's defunct Windows Phone platform, the New York Police Department recently began issuing officers their choice of iPhone 7 or iPhone 7 Plus handsets, devices some cops are already lauding as the "ultimate tool" to fight crime.
Officers from Patrol Borough Manhattan South lined up outside an old police academy in Gramercy Park on Sunday to pick up their new standard issue equipment, and are among the first to receive iPhone as part of a hardware upgrade strategy, reports New York Daily News.
Announced last year, the shift will see some 36,000 Nokia handsets replaced over the coming weeks. Initially purchased in 2014 as part of a $160 million program to modernize police operations, the Nokia phones running Windows Phone will be collected, wiped and sold back to the company.
The move to iPhone 7 comes at no cost to the NYPD, as the handsets are considered upgrades under the agency's contract with AT&T.
NYPD's rollout began last month when officers patrolling the Bronx and Staten Island swapped their obsolete Nokia smartphones for Apple devices. The department is handing out about 600 iPhones per day, according to NYPD Deputy Commissioner for Information and Technology Jessica Tisch.
Officers armed with iPhone will be able to access 911 dispatches, perform criminal background checks, access criminal histories when responding to calls, view video and surveillance photos, and fill out beat reports. The smartphones also make patrolling much safer, as cops responding to a job are provided detailed information about a given address and its potential dangers.
"I truly feel like it's the ultimate tool to have as a patrol cop," said officer Christopher Clampitt. "We get to the location a lot quicker," he said. "By the time the dispatcher puts out the job (on the radio) we're already there."
NYPD dispatches are pushed to the department's 911 app before they reach radios, and can be geofenced to reach only those officers located in a specific neighborhood. Last year, for example, Clampitt and his partner were alerted to, and stopped, a robbery in progress before the dispatcher put word out over radio channels.
The switch to iPhone comes a little over one year after NYPD completed its Windows Phone rollout in 2016. Since then, Microsoft ended support for the mobile platform, leaving New York law enforcement officers with obsolete equipment.