Apple lets public test iPhone Battery Health setting in iOS 11.3 beta 2, issues developers watchOS 4.3 beta 2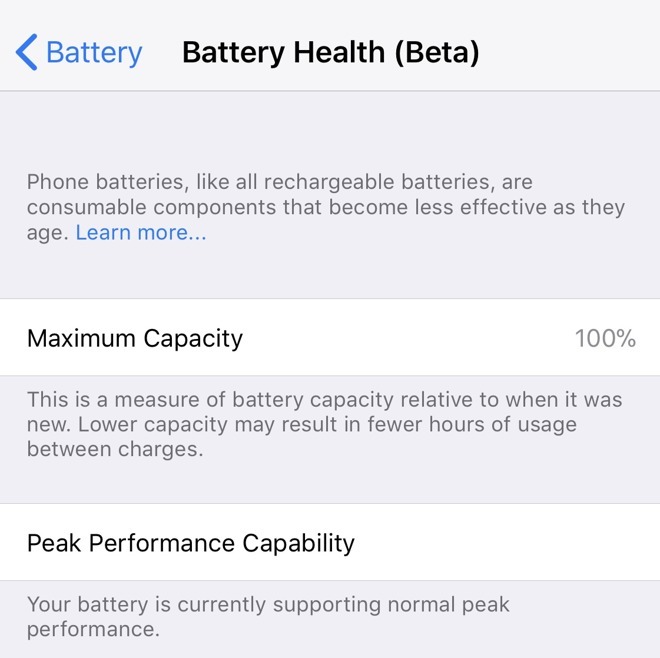 AppleInsider may earn an affiliate commission on purchases made through links on our site.
Members of Apple's public beta program can now test the new Battery Health settings available in iOS 11.3 beta 2 on select devices. In addition, a second beta of watchOS 4.3 was also issued.
The second public beta of iOS 11.3 comes one day after developers were provided with the latest build, identified as 15E5178f. It includes a new iPhone Battery Health section, which lets users check the longevity and remaining capacity of their device's battery.
When a battery's performance has degraded far enough, users can also control the throttling of it, by opting out of performance-slowing features. Apple recommends that such features remain intact, however, as they can help prevent devices with aging batteries from randomly shutting down.
Members of the public beta program were also provided a new build of tvOS 11.3 on Wednesday.
Developers, meanwhile, got their first build of watchOS 4.3 beta 2. It is unknown what changes are found in the Apple Watch update, which is not a part of Apple's public beta program.
iOS 11.3 is scheduled to arrive to the public in its final form this spring, and it's likely that watchOS 4.3 and tvOS 4.3 will arrive alongside it. Beta releases of macOS 10.13.4 are also being tested ahead of a public release.
Beyond the Battery Health settings, iOS 11.3 will also include ARKit 1.5 and a new Health Records function. Other features in the release include support for Advanced Mobile Location Support for iPhone location for first responders, four new Animoji for iPhone X owners, a renaming of iBooks into Books, and an Apple Music music video expansion.