Apple adds live news section to TV app on iOS and tvOS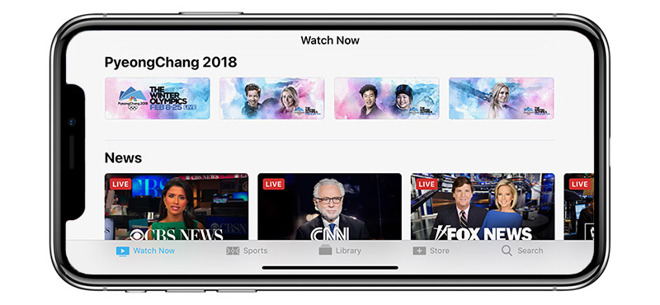 AppleInsider may earn an affiliate commission on purchases made through links on our site.
Apple on Thursday updated its TV app for iOS and tvOS with a live news section, making good on promises last year to deliver live streaming content from a variety of network news channels to the cord-cutting app.
The news option, now available to users with devices running iOS 11 or tvOS 11, features live streaming access to Bloomberg, CBS News, Cheddar, CNBC, CNN and Fox News.
Announced alongside Apple TV 4K in September, the TV app's live news section is similar to live sports capabilities launched with tvOS 11.2 in December. Plans for launching the live sports were also shared in September.
Like sports channels, users can now access live streaming news without navigating to standalone provider apps. Instead, streams are aggregated directly into the TV app and sorted into a special section called "News."
As with other TV app integrations, users must first download the necessary third-party tvOS apps. Previews for each news provider, represented by popular newscasters, are offered as screenshots onto which a bold red icon is overlaid denoting the channel is "Live." Clicking or tapping on a channel will take users directly to that provider's stream or, if that channel's app is not yet installed on an Apple TV or iOS device, TV will direct users to download via the App Store.
Currently, live news is located under "Watch Now" and sits below a special section created for the PyeongChang 2018 Winter Olympics. In the future, a "News" icon similar to the current "Sports" UI button could show up on iOS, offering quick access to live stations.