Apple HomePod shipping estimates slip in US after first reviews go live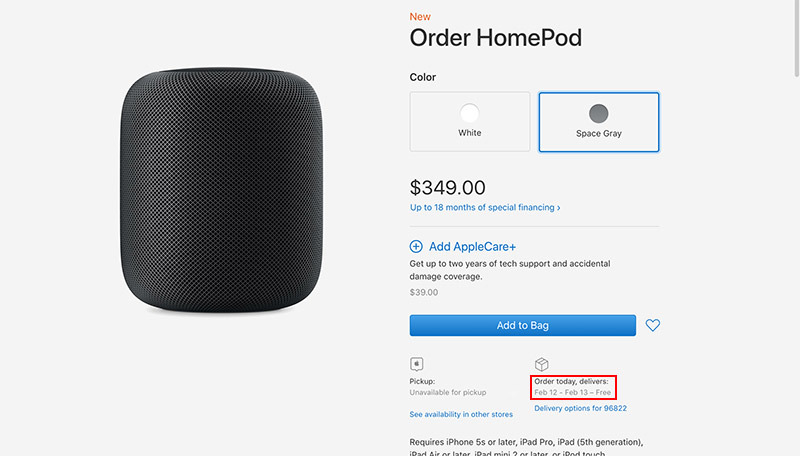 AppleInsider is supported by its audience and may earn commission as an Amazon Associate and affiliate partner on qualifying purchases. These affiliate partnerships do not influence our editorial content.
Apple's online store is showing constrained HomePod supply in the U.S. after early reviews of the device went live on Tuesday, with orders placed today estimated for delivery by Feb. 12 at the earliest.
Prior to Wednesday's slip in availability, American customers were able to preorder HomePod for delivery on launch day this Friday.
As seen in the screenshot above, Apple's online storefront is now forecasting a delivery window between Feb. 12 and Feb. 13 with free two-day shipping. The company is not offering expedited shipping options at this time as HomePod is scheduled to hit store shelves on Feb. 9.
Word of constrained launch day supply arrives one day after a number of major outlets published their respective reviews of Apple's latest gadget. Most critics lauded the speaker's audio quality, a feature advertised by Apple at the device's unveiling, in promotional material and by company executives in subsequent interviews.
While HomePod sounds good, the speaker was unable to address the shortcomings of Siri, Apple's virtual assistant that in many ways lags behind competitors from Amazon and Google. Interacting with the device via its multi-microphone array is a superior experience, reviewers said, but Siri itself disappoints.
Others found the lack of connectivity to outside services a negative. At launch, HomePod is limited to Apple Music, iTunes and podcasts. Users can play music from other services over AirPlay, but the speaker lacks built-in integration present in competing devices like Amazon's Echo.
Today's U.S. preorder stockout follows similar constraints seen in Australia and the UK, where launch day HomePod supply has been sold out for days.