Apple urges users to send money to friends with Apple Pay Cash, upgrade to iOS 11.2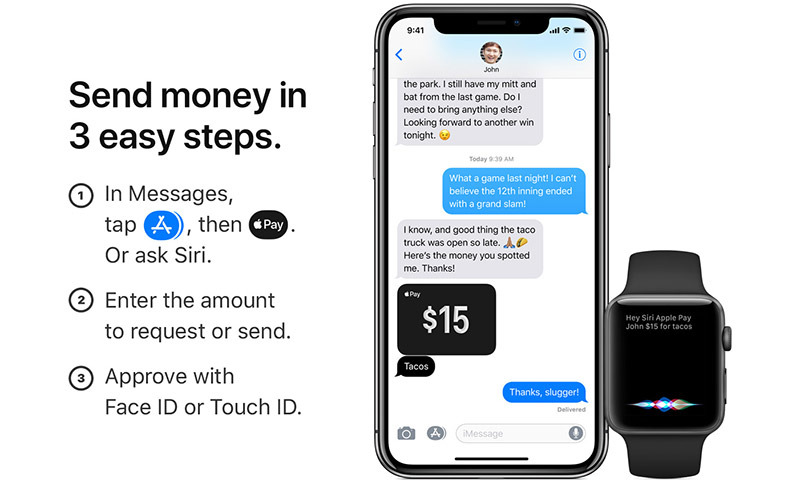 AppleInsider is supported by its audience and may earn commission as an Amazon Associate and affiliate partner on qualifying purchases. These affiliate partnerships do not influence our editorial content.
Apple on Thursday sent an email blast to iCloud users and customers on record advertising the ability to send money to friends using Apple Pay Cash, the company's peer-to-peer money transfer service that was introduced in December.
In its email promotion, Apple touts Apple Pay Cash as a safe, easy and fast method of sending and receiving money from other iOS device owners.
"Now you can use Apple Pay to pay and get paid right in Messages, or by asking Siri. Split a bill. Pay a babysitter. Send cash to your son in college. Just make sure you and your friends are using the latest version of iOS and you're ready to go," Apple says.
The email goes on to detail the service, noting Apple Pay Cash is integrated directly into iOS. Users are therefore not required to download a separate app, and can use cards already provisioned with Wallet.
As Apple explains, money received via Apple Pay Cash is added to an Apple Pay Cash card that users can apply to purchases wherever Apple pay is accepted. Alternatively, users can transfer received money to a bank account if such assets are linked within the Wallet app.
A section at the bottom of the email provides an easy to follow, three-step guide detailing how to send and receive money in Messages from iPhone. The instructions are an abbreviated version of more detailed guides found on Apple's Support Pages covering Apple Pay Cash payments, which explain similar methods involving Apple Watch and iPad.
Finally, Apple urges customers to upgrade to iOS 11.2, a requirement if users want to access Apple Pay in Messages.
Apple unveiled Apple Pay Cash at last year's Worldwide Developers Conference, but the feature failed to make it into the final build of iOS 11 when the OS launched in September. The company ultimately activated the service in December as part of iOS 11.2.