Apple Park now Apple's official corporate address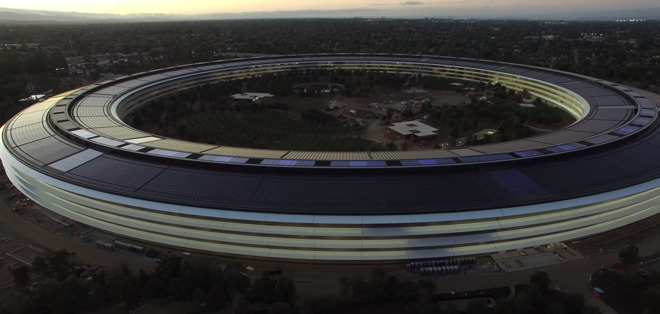 Apple this week changed its official corporate address to One Apple Park Way, continuing the lengthy process of moving an entire workforce from One Infinite Loop to the new Apple Park campus built down the road.
The change was timed to coincide with Apple's recent annual shareholders meeting that took place at Apple Park's Steve Jobs Theater on Tuesday.
Among the first documents to bear Apple's new One Apple Park Way address were forms filed with the U.S. Securities and Exchange Commission. On Tuesday, Apple filed seven Form 4 Statement of Changes in Beneficial Ownership articles notifying the SEC of restricted stock units granted to its board members, each of which listed Apple Park as the reporting person's address.
Previously, all Apple SEC filings cited One Infinite Loop as a point of contact.
On Friday, 9to5Mac also noted the change in email footers included with correspondence sent out to customers. AppleInsider has confirmed the shift in a promotional mailer sent to Apple Music subscribers.
While not substantial in the grand scheme of things (Apple has been moving in to Apple Park for months), the address change signals the company is finally settling into its new digs and is ready to call the Cupertino campus home.
Initially referred to as Campus 2, Apple Park was first unveiled by late company co-founder Steve Jobs in 2011. Construction of the massive campus, including its iconic circular "spaceship" building and surrounding environs, has been ongoing for well over four years.
Last February, Apple announced Apple Park as the official name of its new headquarters, estimating that all 12,000 employees would be moved in by year's end. That guess turned out to be a bit optimistic, as workers are still making the migration.
Most recently, Apple last month received temporary occupancy permits covering five of the 12 sections of the main office structure. The company will likely gain permission to fill the remaining areas in the near future.