AirPlay 2 disappears from newest iOS 11.3 & tvOS 11.3 betas
By Roger Fingas
Tuesday, February 20, 2018, 01:14 pm PT (04:14 pm ET)
Despite prior support in Apple's development track, AirPlay 2 appears to have been removed from the third iOS 11.3 and tvOS 11.3 betas, issued earlier on Tuesday.




Beta testers can no longer take advantage of features like multi-room audio, or including an Apple TV in the iOS Home app, iDB noted. Apple has yet to provide an explanation.

It could be that AirPlay 2 support is being postponed until 11.3.x or later, since it had a rough implementation in recent betas. Alternately it could be reintroduced in upcoming 11.3 beta seeds, and was simply taken out briefly for polishing.

Once it's finished AirPlay 2 should provide an Apple-based alternative to platforms like Sonos or Google's Chromecast Audio. It was originally announced at WWDC 2017, but didn't make it into the initial release of iOS 11 in September.

It also failed to materialize in time for this month's launch of the HomePod, for which the standard was likely conceived.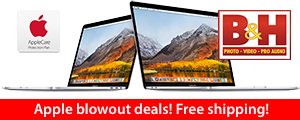 2017 12" MacBooks
Price
Save
1.2GHz/8GB/256GB (Gold)
$799.00+
$500
1.2GHz/8GB/256GB (Rose Gold)
$799.00+
$500
2018 13" Touch Bars
Price
Save
2.3GHz/8GB/256GB (Gray)
$1,649.99+
$150
2.3GHz/8GB/512GB (Silver)
$1,879.00+
$120
2.3GHz/16GB/256GB (Gray)
$1,949.00+
$50
2.7GHz/16GB/512GB
$2,449.00+
$50
2.7GHz/16GB/1TB
$2,849.00+
$50
2018 15" MacBook Pros
Price
Save
2.2GHz/16/256GB/555X
$2,549.00+
$50
2.2GHz/16/512GB/555X
$2,575.00+
$225
2.9GHz/16/1TB/560X
$3,199.00+
$300
2.9GHz/32/2TB/560X (Gray)
$3,999.00+
$700
2.9GHz/32/4TB/560X (Gray)
$5,999.00+
$700
Click here for dozens more configurations
+ Free shipping within the contiguous U.S.
Lowest Prices Anywhere!

13" MacBook Pros
Price
You Save
3.1GHz/8GB/256GB Gray
$1,679.00
$120.00
3.1GHz/8GB/256GB Silver
$1,704.00*
$95.00
3.1GHz/8GB/512GB Gray
$1,849.00*
$150.00
3.1GHz/16/512GB Gray
$2,099.00
$100.00
15" MacBook Pro
Price
You Save
2.8GHz/16/256/555 Silver
$2,199.00*
$200.00
2.8GHz/16/256/560 Gray
$2,299.00
$200.00
2.9GHz/16/512/560 Gray
$2,599.00
$200.00
2.9GHz/16/1TB/560 Gray
$2,999.00
$200.00
3.1GHz/16/512/560 Gray
$2,799.00
$200.00
3.1GHz/16/2TB/560 Gray
$3,899.00
$300.00

*

price with Promo Code:

APINSIDER

prices.appleinsider.com for more configurations