Digital boardgame 'Scythe' nears Mac and iOS release, 'Rome: Total War' for iPhone delayed until summer
Asmodee reveals the current state of its upcoming digital board game "Scythe" arriving soon on Mac and iOS, as Feral Interactive delays the release of the iPhone-compatible version of "Rome: Total War" until the summer.
Asmodee Digital has shown off what to expect when the digital recreation of board game "Scythe" ships in the near future. A Twitch stream hosted by Pocket Gamer earlier today showed off the steampunk title, which will be published on both on Mac and iOS, as well as other digital platforms.
Faithfully reproducing the board game, "Scythe: Digital Edition" places players in the role of a fallen leader attempting to lead their faction to conquer Eastern Europa. To win, players have to increase and use resources, grow their faction with new recruits, construct buildings, and use large machines to take control of the asymmetrical board.
Just like the board game, players start with varying resources, with different abilities available depending on their chosen faction, and a hidden goal they must accomplish. The engine-building nature of the game tasks players with making their faction's actions over time, with a view to becoming more powerful and increasing control of the overall game.
Asmodee plans to include all three physical expansions in the game, with "Invaders from Afar," "The Wild Gambit," and "The Rise of Fennis" to be offered as downloadable content.
For the digital edition, the Automata mode of the game is replaced by AI, offered with a variety of difficulty levels depending on how much of a challenge the player wants. The AI players will evaluate their goals to assign priorities for possible actions, then work down the list from the most important.
Today's stream did show what the macOS version of the game will look like, and while an iOS version was not demonstrated, it is almost certain Asmodee will change the main user interface to best work with a touchscreen.
A release date for "Scythe" has not yet been announced, but the desktop game's appearance suggests the macOS version will launch soon, alongside PC via Steam. The developers advise the version playable on iPhone and iPad will arrive after the PC and Mac launch.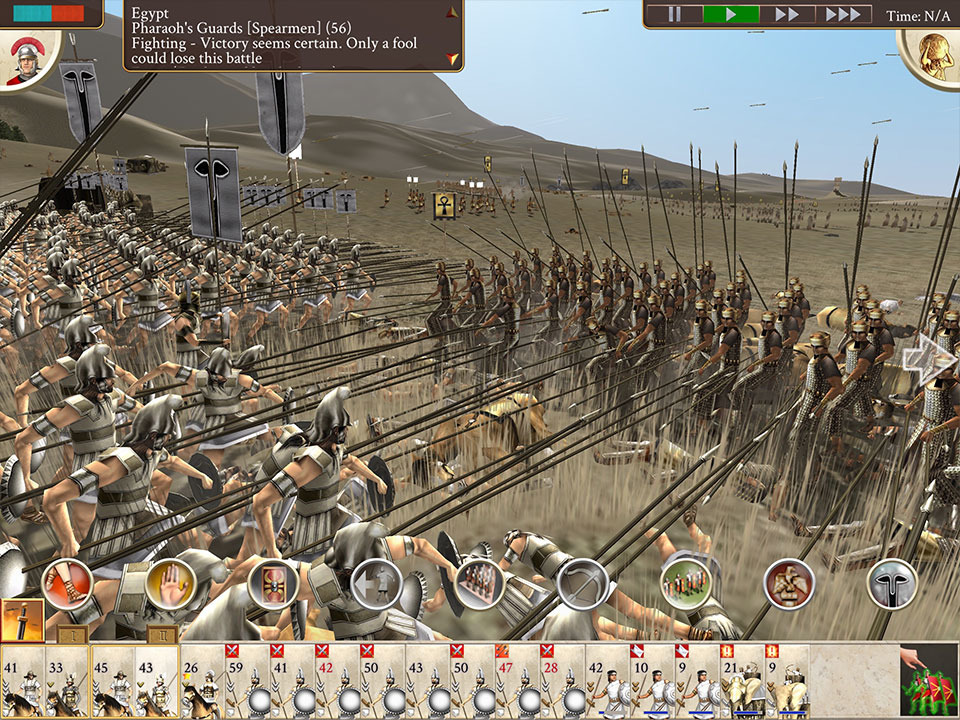 Feral Interactive has confirmed it is still working on bringing "Rome: Total War" to iPhone, but it will ship later than planned. The well-known real-time strategy game by Creative Assembly has been available on iPad since 2016, as well as on Mac, but Feral advises its port to work on the much smaller iPhone display will ship sometime this summer, later than its previous expected release in the winter.
"Rome: Total War" puts players in control of an army, based on the historical warriors that existed during the time of the Roman Empire. In pursuit of expanding and ruling the world's greatest empire over three centuries, players must perform diplomacy, use subterfuge, send assassins to take out important enemies, or prepare to wage war.
The real-time battles require an understanding of historical strategy and tactics in order to defeat opponents. Units can be selected and sent to battle using the touch interface, with players able to zoom the in-game camera close to the action, or wide to see overall battlefield activity.
"Rome: Total War" is already available to purchase from the App Store for $9.99 on iPad, requiring 4GB of storage and an iPad Air, iPad mini 3, an iPad Pro or later device, running iOS 10.2.0 or later. Owners of the iPad version will automatically be able to play the game on iPhone at no extra cost once the port is available, with saved games also able to be played between the two versions.
AppleInsider has affiliate partnerships and may earn commission on products purchased through affiliate links. These partnerships do not influence our editorial content.