Potential US trade war with China speculated to impact Apple, other tech companies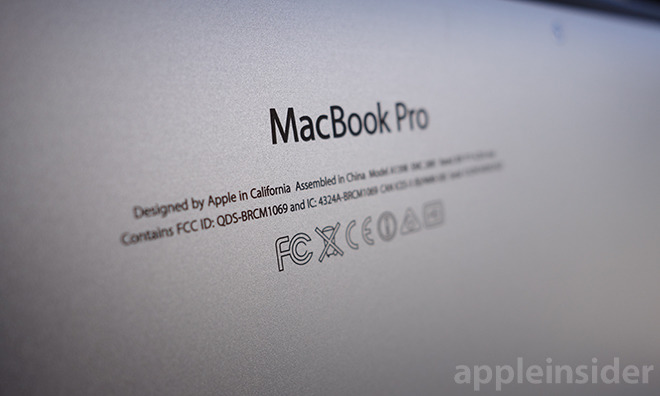 AppleInsider may earn an affiliate commission on purchases made through links on our site.
The White House is reportedly mulling tighter restrictions over Chinese investments and imports into the U.S., conditions that could have a negative impact on the multitude of domestic tech companies manufacturing goods in China.
Citing people familiar with the matter, Bloomberg on Tuesday reports the Trump administration is looking into new trade tariffs on goods produced in China, including clothing and consumer electronics.
The move comes in part as a form of punishment for alleged intellectual property theft, or more accurately fostering a friendly environment to facilitate such theft, on the part of China, the report said.
The U.S. Trade Representative's office is currently investigating the country's IP practices and is expected to deliver its findings in the near future. An announcement critical of China could provide President Donald Trump the momentum needed to push through tougher trade terms, the report said.
Sources claim the tariffs could be imposed alongside restrictions on Chinese investments deemed to pose a national security risk, a case in point being the U.S. Treasury's scrutiny of Singapore-based Broadcom's $117 billion bid for Qualcomm.
If such tariffs are enacted, and depending on their severity and scope, domestic companies that rely heavily on the Chinese supply chain could face an uphill battle. Thanks to cheap labor, government incentives and increasingly advanced technologies, the Chinese manufacturing industry is a vital resource for a wide swath of American electronics producers.
Apple, for example, is well known for building devices like iPhone, iPad and Mac in China through manufacturing and assembly partners like Foxconn. A reminder of the crucial role China plays in Apple's fortune is branded on its products, "Designed in California. Assembled in China."
As noted in a sector-specific follow-up to the original article, Bloomberg, citing customs data, said Foxconn's manufacturing facility in Zhengzhou and plants owned by Taiwanese supply firms Pegatron and Quanta were among the top exporters to the U.S. in 2016. All three companies are in Apple's supply chain, as are a number of other firms with assets in China including Compal, Flextronics, Inventec, Jabil and Wistron.
An executive at an unnamed Apple supplier said that at first blush the situation could devolve into a "large-scale trade war," the report said.
This is, of course, all speculation.
Whether the Trump administration's trade restrictions will apply to U.S. companies importing Chinese-manufactured or assembled goods is unclear, nor is it certain that the purported limitations will move beyond the exploratory phase.
That said, with a reliance on foreign labor and materials, Apple is increasingly at risk in a tumultuous political climate. Just last week, Trump announced intent to levy tariffs on imported aluminum and steel, a decision that could have ramifications for a variety of companies, including U.S.-based consumer electronics OEMs.
Editor's note: Due to its political nature, comments for this article have been disabled.