Watch: Cheaper HomePod rumored to debut this year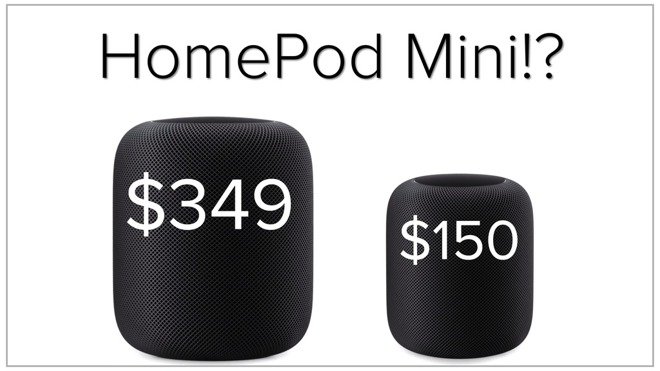 The HomePod is Apple's first step into a world of smart speakers that can do everything from stream music to control all of your smart home devices. The main downside is that it's priced at a hefty $349, more than many people are willing to pay for a smart speaker.
HomePod is loaded with hardware and technology that makes for incredibly clean, clear and consistent audio reproduction, but there's a catch. Siri is unbearably dumb compared to Amazon's Alexa and Google Assistant, which are loaded onto speakers priced from $50 to $130.
Even with its extremely good audio quality, some have called the $349 HomePod overpriced in comparison to its competition. The Economic Daily News this week reported a cheaper version of HomePod is due to arrive in the second half of 2018.
The report said that the lower priced smart speaker could sell for between $150 to $200. This would be a great option for those who really want a central, voice operated hub to control all of their HomeKit accessories and assist them with their daily needs at home.
At this point, it's not clear if the reduction in price will come with a reduction in the sound quality.
In addition to HomePod, the report claims Apple is looking to market a cheaper 9.7-inch iPad model set to cost $259 — $70 cheaper than Apple's current entry-level iPad.
The report also reiterates predictions of a 6.1-inch LCD iPhone variant with an expected retail price of around $650-$750. That model would likely feature the iPhone X TrueDepth sensor array, but at a much cheaper price, thanks to the LCD screen.
Despite Apple CEO Tim Cook saying that the iPhone X has been Apple's strongest seller since release, Apple analyst Ming-Chi Kuo believes that there has been a unexpected reduction in orders for Apple's iPhone X beyond normal seasonal decreases.
Because of that, he predicts that the iPhone X as it stands today will be discontinued in the fall and replaced by a revamped handset and a larger iPhone X Plus, to offset concerns about usable screen area. He also predicts that Apple's low-end MacBook Air model will see a price drop from $999 to between $799 and $899.