Spotify testing in-app voice assistant feature, suggests work on smart speaker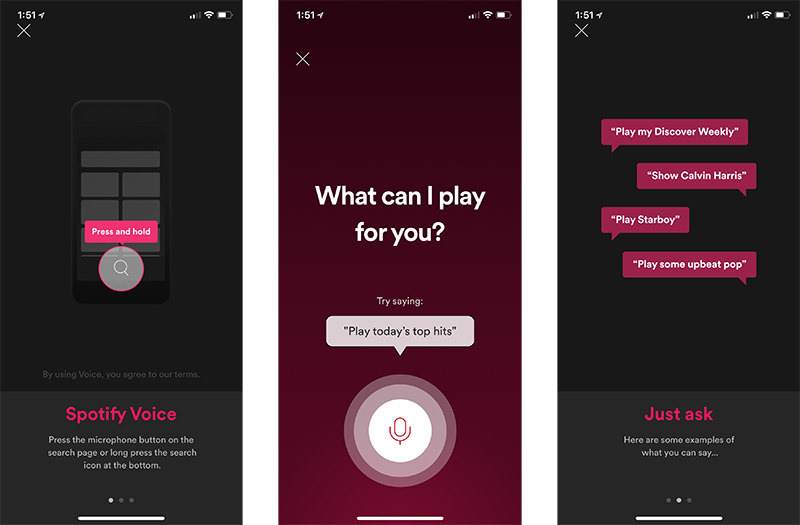 Streaming music leader Spotify on Wednesday began testing out a new in-app voice assistant feature that allows users to quickly find songs, albums, playlists, artists and more with a single tap. More interesting are playback controls that suggest potential integration with smart speaker devices.
Spotify in a statement to TechCrunch said the feature is "just a test for now," noting only a small number of users have access to the functionality. The company hinted there will be more to share about its voice-first project in the future, but declined to elaborate further.
AppleInsider has access to the voice assistant and, as seen in the GIF below, it works quite well.
Spotify's voice search and command feature, simply called "Spotify Voice," is available in the "Search" section of the app. Once enabled, a small button bearing a microphone appears in the lower right corner of the screen. Tapping the icon brings up a basic voice interaction interface similar in style to those seen from Amazon and Google.
The assistant is fairly advanced, with natural language parsing capabilities and speedy execution. For example, we were able to conduct a search and retrieve a predefined playlist for "classical music" using varied requests including, "Play some classical music," "I want to listen to classical music," and simply, "Classical."
Available content is limited, as requests for "Play today's top hits" and "Play something I'd like" both return the same top-rated playlist. That said, a lack of backend support is to be expected considering the "in testing" status of Spotify's technology.
Interestingly, Spotify Voice can skip, replay and pause tracks, though shuttle controls like fast forward and rewind are not. Such integration suggests Spotify is looking to position the tech as an all-in-one solution for third-party, or even its own, speaker devices.
Last month, Spotify posted job listings to its recruitment website seeking engineers, managers and other specialists for what appears to be a new hardware project. The advertisements sparked rumors that the streaming giant is looking to get in on the smart speaker trend kicked off by Amazon's Alexa-powered Echo devices and followed up by products from Google and, most recently, Apple with its HomePod.