Magic Leap opens up AR headset to developers with new SDK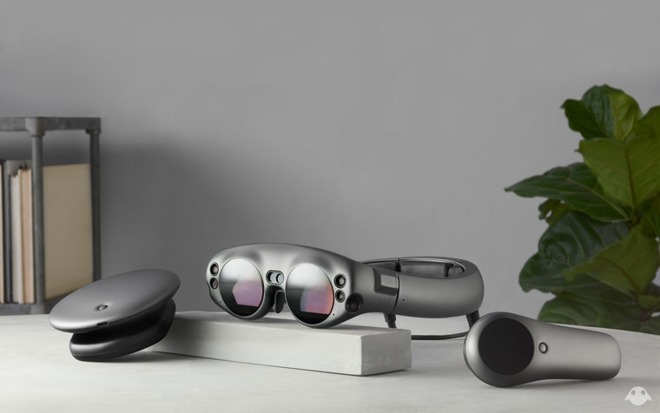 AppleInsider is supported by its audience and may earn commission as an Amazon Associate and affiliate partner on qualifying purchases. These affiliate partnerships do not influence our editorial content.
Virtual and augmented reality company Magic Leap has finally allowed developers to start producing content for its Magic Leap One Lightwear AR goggles and wearable computer, using GDC to launch its developer portal containing a software development kit and development guidelines.
Magic Leap's Creator Portal hosts documents and resources for developers wanting to create AR app experiences for the headset to read and integrate into their software. Requiring registration to access, the portal includes tutorials, reference documentation for the API, sample assets, blog posts, and other assistance to get developers up and running with the device.
The main element of the portal is access to the Lumin SDK, which is offered as a "technical preview" that the download page warns lacks some of the features and functionality of the final release, and may also contain bugs and other defects.
Technical preview packages are also available for use with the Unity and Unreal game engines, allowing developers with experience in the game-creation tools to quickly integrate the SDK into their apps. The features of the engine-specific release include support for hand gestures and key point tracking, detecting the environment as a mesh, detecting environmental planes, image tracking, eye tracking, and other graphical and audio-related items.
A fourth element, Lumin Runtime, is not currently available, but is apparently "coming soon."
The portal also mentions "Magic Leap World," an upcoming marketplace for developers to distribute their apps to other Magic Leap users. As well as providing content to end users, Magic Leap World will also apparently help development team members to collaborate on content ahead of their app's launch.
Long in development, the Magic Leap One consists of Lightwear goggles and a "Lightpack" wearable computer, which will be able to detect and respond to a variety of input modes, including head movements, eye tracking, gestures, and voice control. Few technical details about the hardware have been revealed, but the Lightpack is thought to be similar in terms of power as a MacBook Pro or a gaming PC.
Founded by Rony Abovitz in 2010, Magic Leap has raised approximately $1.9 billion in funding as of the end of 2017. It took five years for the company to release footage claimed to be filmed through a Magic Leap-style device, then announced a partnership with Disney's Lucasfilm in 2016, but aside from a a few select developers, the company has kept the development of the device in-house and in relative secrecy.
Magic Leap already has some competition in the AR market ahead of its expected release at some point in 2018. Arguably its biggest headset competitor is Microsoft, as after introducing HoloLens, it has since worked with third-party vendors to ship Windows Mixed Reality head-mounted displays.
Apple has also stormed to the forefront of augmented reality in recent times, shipping the popular AR Kit framework for iOS developers to add augmented reality to iPhone and iPad apps. The company is rumored to be working on AR glasses or goggles, but in an October interview, Apple CEO Tim Cook's comments indicate there probably isn't an Apple headset launch happening anytime soon.