After $1.9 billion and seven years, secretive Magic Leap teases Lightwear AR headset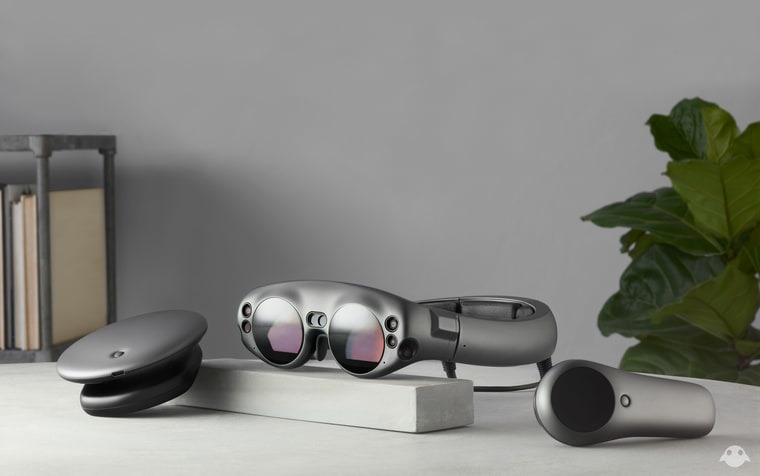 Virtual and augmented reality company Magic Leap has taken the lid off the project that is has been working on for the last seven years, and has debuted the Magic Leap One Lightwear goggles and required wearable computer, with the set to ship at some point in 2018.
The first iteration of the Magic Leap One suite, the company is calling the "creator edition." It will include the Lightwear goggles, a "Lightpack" wearable computer, and a controller. the company claims that the device will respond to "multiple input modes" including head position, eye tracking, voice controls, and gestures from the user.
Magic Leap is promising basically the same that every other virtual and augmented reality headwear company has offered. Brian Crecente, from Rolling Stone's Glixel was invited to try some demonstrations of the technology, and was shown a virtual television on the wall, and persistent objects in an environment that automatically return when the headset is put back on.
Crecente experienced a few set-pieces, but was limited by a non-disclosure regarding specific intellectual properties or exact executions. However, he did spend some time with a virtual human.
"One day, this human construct will be your Apple Siri, Amazon Alexa, OK Google," wrote Crecente. "She won't just be a disembodied voice, she will walk with you, look to you, deliver AI-powered, embodied assistance."
Magic Leap has given very little information on technical specifics, saying that they wanted to hold something back for an official reveal. Allegedly, the belt-worn device is close to the power of a a MacBook Pro or Alienware gaming PC and has discrete graphics. It is not clear what, if any, external interactions that the Lightpack will have with other computers, or may need.
There is no current pricing on the Magic Leap One. The company claims that a SDK will be available for the Magic Leap One in early 2018 — but it previously promised one in 2015 that never materialized.
Magic Leap was founded by Rony Abovitz in 2010. By 2014, it had raised more than $540 million of venture funding, with follow-up rounds pushing that number up to $1.9 billion by the end of 2017.
Not that much news has emerged about the company in its seven years of operation. In 2015, the company released footage said to be filmed through some sort of Magic Leap device. It announced a partnership with Disney's Lucasfilm in 2016, and has a joint research lab in San Francisco.