Video: How to connect your HomePod to your Apple TV or Mac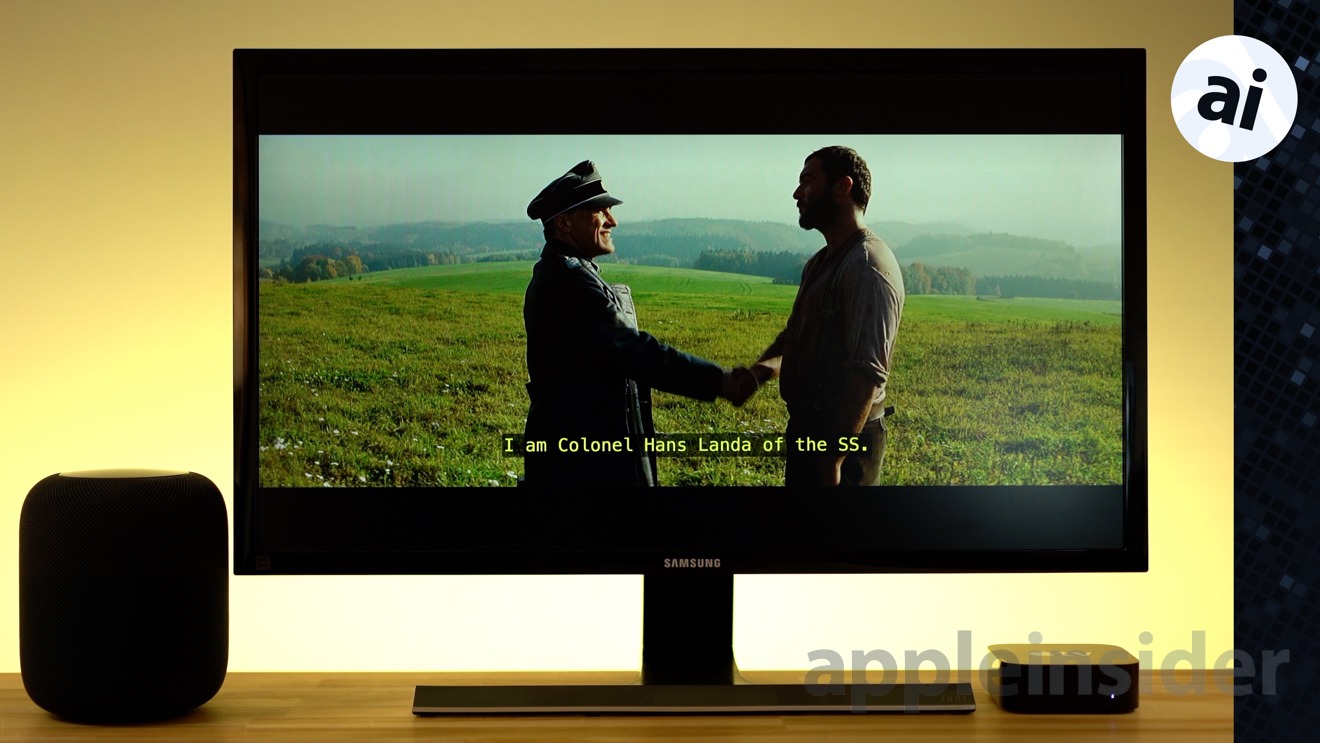 AppleInsider is supported by its audience and may earn commission as an Amazon Associate and affiliate partner on qualifying purchases. These affiliate partnerships do not influence our editorial content.
If you own Apple's HomePod and are looking for ways to get more out of the smart speaker, besides using its built-in service integrations, consider using it with other Apple devices. AppleInsider shows how to use the HomePod to play audio from a Mac and from an Apple TV.
Using an Apple TV or a Mac as an audio source for the HomePod is a handy way to improve the sound quality for media, if audio from the devices is usually piped through lower-quality speakers or headphones. For example, the HomePod is much louder and produces a richer sound when compared to the built-in speaker of the Mac mini.
Streaming from Mac
First, make sure that your HomePod and Mac are connected to the same Wi-Fi network. Click the speaker icon in the menu bar on the Mac, and select the HomePod from the list of connected devices.
Once selected, all music and other audio on the Mac should start streaming to your HomePod.
It is possible to stream to two HomePods from a Mac at the same time, using the iTunes app. Click the AirPlay icon and tick the checkboxes next to each HomePod.
An alternative method is to use the AirFoil app, which performs a similar task but with more options for customization. This also enables the use of the AirFoil "Satellite" app, which allows you to stream to two HomePods from the iPhone.
Streaming from Apple TV
Connecting the HomePod to an Apple TV works best using a fourth-generation Apple TV supporting tvOS 11. While the third-generation Apple TV will work, it will have limited connectivity in comparison to the newer Apple TV models.
On the third-generation Apple TV, head into the Settings, go to Audio, and choose the HomePod as your output.
For fourth-generation models, including the Apple TV 4K, swipe down on the Apple TV remote while playing content to reveal the Info panel. Slide over to Audio, and select your HomePod.
If you have tvOS 11 installed, there's a new shortcut that makes it easy to make the connection, straight from the Home screen. Hold down the pause button on the Siri Remote to bring up the AirPlay menu, and enable the HomePod via this menu.
Extra notes
There are a few Siri voice controls that you can use with the HomePod to manage content playback on a connected device verbally, but they are limited to a few commands. So far this list of commands includes skipping forward and backward during playback, play and pause, and volume adjustments.
There are also a few issues with the implementation of AirPlay preventing this setup from being a good alternative to a traditional home entertainment system. For example, the Apple TV will automatically pause the image to synchronize playback with HomePod, causing a delay whenever you pause and play content.
AirPlay also requires you to manually reconnect to HomePod every time the speaker plays from a different source, including its built-in Apple Music functionality.
These issues, and others, should be fixed once AirPlay 2 is released later this year.
AirPlay 2's introduction will also allow users to pair two HomePods in a stereo setup that can be connected to an Apple TV. Considering the HomePod's incredible sound reproduction, a pair of HomePods used in this fashion may be more usable as a home stereo system replacement once AirPlay 2 ships.