Apple's online store goes offline ahead of 'Field Trip' event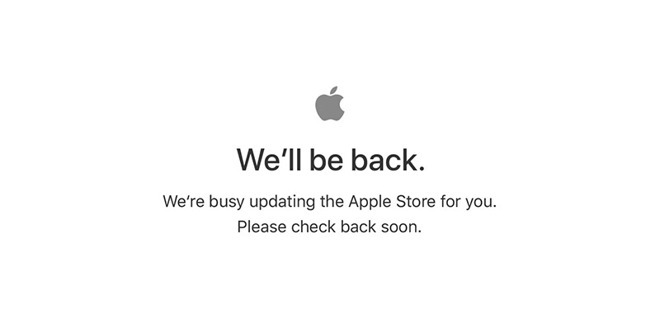 A tradition ahead of major events, Apple on Tuesday took down its online store ahead of its 'Field Trip' presentation, an indication that the company will be making changes to its product lineup, potentially involving new iPads and the Apple Pencil.
Apple's online store went offline early in the day in preparation for the 'Field Trip' event, most likely for the introduction of new devices. Site visitors attempting to access the online store were greeted by the well-known "We'll be back" message written in Apple's bespoke San Francisco font, advising to "check back soon."
Usually the online store becomes available shortly after the product launch event, with major new additions shown on the main Apple.com homepage in many occasions. Today's Field Trip presentation is due to start at 11am eastern time, so the usual Apple event duration of between one and two hours puts the store reactivation at sometime after 12pm eastern.
The event, held at Chicago's Lane Tech College Prep High School, will have a focus on education, with the event invitation advising it will feature "creative new ideas for teachers and students."
Speculation ahead of the event strongly suggests Apple will reveal something related to the Apple Pencil, due to the invitation's drawn-in-pen appearance. Rumors have pointed to a new magnetic system that allows it to attach to the side of an iPad for storage, though other changes to the stylus could be on the cards
Regulatory filings in February also point to two new iPads that are on the way, and one may make an appearance at the event. Current theories about the hardware includes Apple Pencil support, lowering the cost, updating the specifications, and other elements that may make it easier to bring iPads into the classroom.
A refresh of the MacBook range has also been posited, including a Retina display for the MacBook Air and a new 13.3-inch MacBook, though these seem unlikely candidates for this presentation.
It is probable that Apple will talk about its education-centric projects, including the Classroom app for teaching groups of students using multiple iPads. An updated Classroom app is currently in beta testing alongside High Sierra 10.13.4, iOS 11.3, watchOS 4.3, and tvOS 11.3, making an unveiling highly plausible.
Apple will not be streaming the Field Trip event live, but will apparently make a recording of the presentation available after it ends.
AppleInsider will be reporting from the event with a live blog, set to commence just before 11am eastern.