Redesigned Apple Watch with larger screen, enhanced battery life and health features due in Q3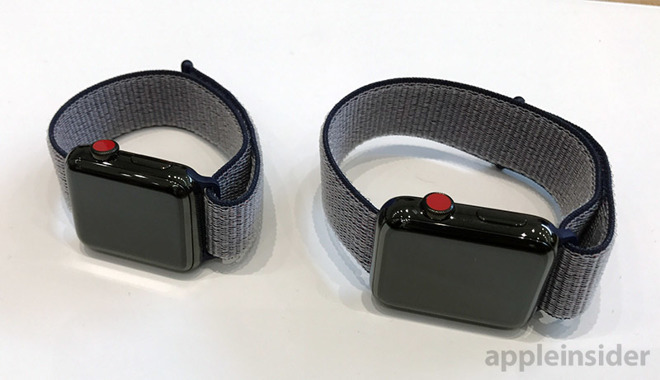 Apple Watch is predicted to get its first redesign since launching in 2015, according to noted KGI analyst Ming-Chi Kuo, who expects the device to also feature a larger display, extended battery life and upgraded health monitoring features.
Ming-Chi Kuo aired his predictions in a note to investors on Tuesday, saying the "Apple Watch Series 4" will boast a "more trendy form factor design" than the rounded square format introduced three years ago and carried through to today, reports 9to5Mac.
Notably, Apple is planning to boost screen size by 15 percent, a major increase that will likely translate to a larger overall chassis. Currently available in 38mm and 42mm flavors, a 15 percent bump would bring display size in "Apple Watch Series 4" up to a respective 1.54 inches and 1.76 inches on the diagonal. If case size increases in step with the screen, users can expect a bump to 44mm and 48mm, respectively, though Apple could conceivably reduce bezel size while retaining existing chassis dimensions.
Whether the enlarged screens will afford more internal headroom for additional components is unknown, though Kuo believes the updated models will feature extended on-wrist life thanks to increased battery capacity. Barring a breakthrough in battery technology, enhanced wear time equates to a larger lithium ion cell, again suggesting "Series 4" will sport a larger form factor.
Kuo mentions enhancements to Apple Watch's built-in health sensors, but fails to detail what changes Apple has in store for the fourth-generation device. As it stands, Apple Watch incorporates a bespoke heart rate monitor, accelerometer, barometer and gyroscope to track a range of biometric data and user movement.
Rumors last year suggest Apple is working on an array of advanced medical sensors for its wearable, including an embedded EKG module and non-invasive glucose monitor. Both technologies are not anticipated for integration in the near future, however, suggesting Kuo's prediction is related to heart rate sensor upgrades.
Finally, Kuo estimates Apple to sell between 22 to 24 million Apple Watch units in 2018, up approximately 30 percent from last year.