Apple CEO Tim Cook discusses education, job creation, more in interview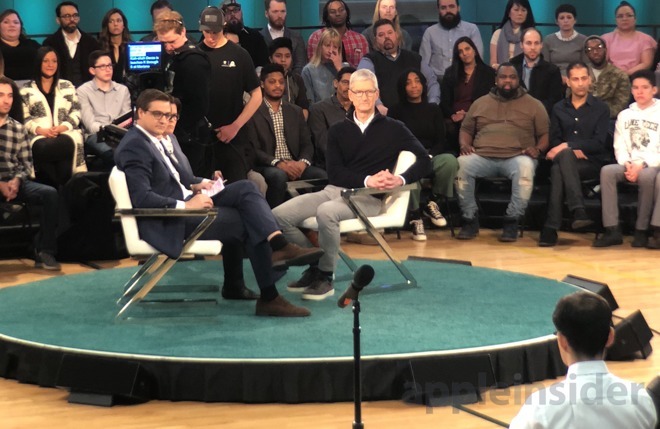 AppleInsider is supported by its audience and may earn commission as an Amazon Associate and affiliate partner on qualifying purchases. These affiliate partnerships do not influence our editorial content.
Last week, Apple CEO Tim Cook sat down with MSNBC and Recode to answer some hard-hitting questions about education, social issues, trade and more. The interview airs today, but AppleInsider was at the filming to provide highlights from the event.
In the special, "Revolution: Apple Changing the World," Cook talked to Chris Hayes and Kara Swisher in a Q&A session delving into a number of hot button topics.
Education is a key focus for Cook, who notes "change needs to happen" at U.S. schools. Helping to push forward that agenda, Apple is boosting its efforts to bring coding into the classroom with new software like Classroom, the Apple Teacher portal and the Everyone Can Create curriculum, as well as hardware including the recently released 9.7-inch iPad.
"I want America to be strong, first and foremost, and I think to do that, we need to code," Cook said. "It is a language and it is everywhere in our life. It is problem solving. You need critical thinking to know what is fake and what is real."
Cook also touched on topics including DACA, U.S. manufacturing, freedom of speech, data privacy, Facebook's Cambridge Analytica scandal and more.
Cook's interview airs in full at 8 p.m. Eastern on MSNBC.