Libratone Zipp: Can this AirPlay speaker best Apple's HomePod?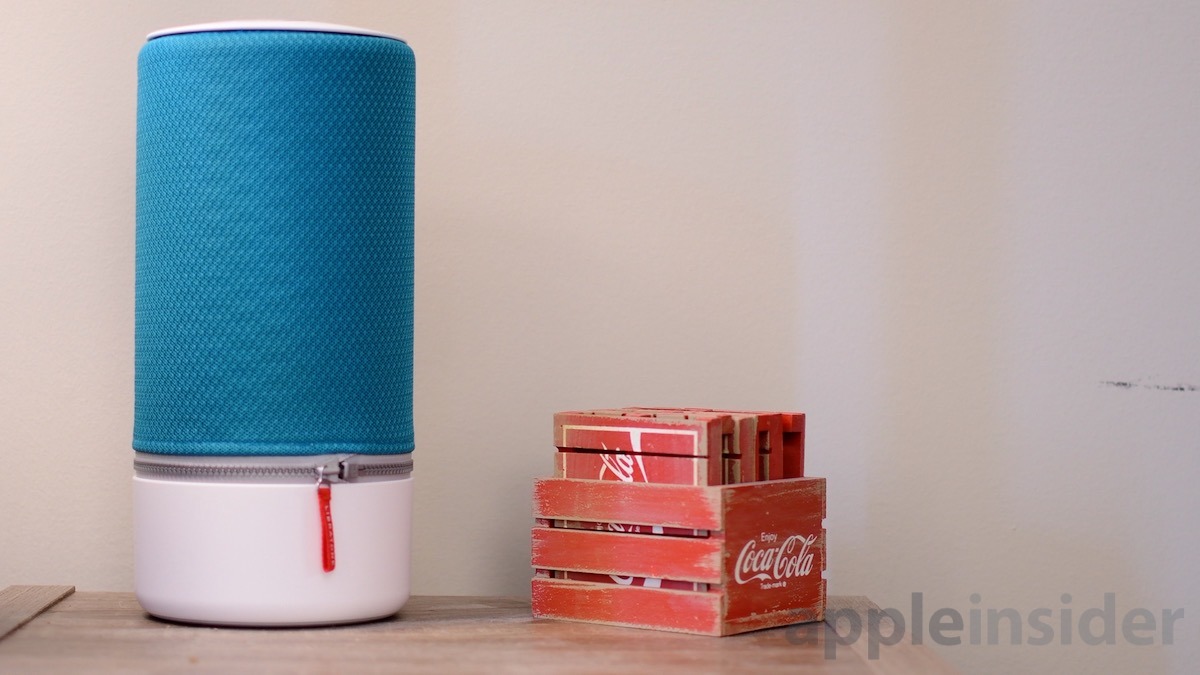 Libratone's Zipp speaker is a customizable and powerful speaker that is sure to liven up any room whether at home or on the go. Its surprising list of features, not to mention inputs, makes it one of the best speakers you can add to your home.
In putting the Libratone's Zipp through its paces, we tested the speaker's design, sound quality, and connectivity. Perhaps more interesting, however, is how Zipp compares to Apple's HomePod, an AirPlay (and soon to be AirPlay 2) enabled device with Siri integration.
Now let's go ahead and dig in.
Check out our in-depth video to see the speaker up close, as well as to hear a detailed sound test.
Design & build quality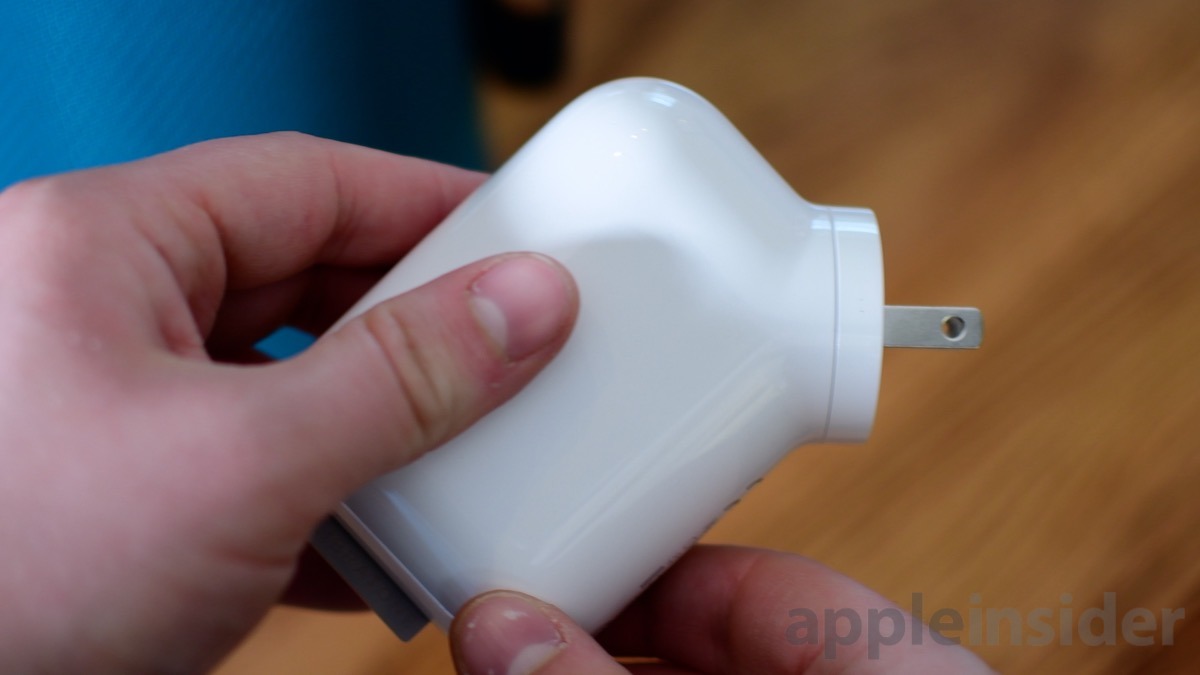 Right out of the gate, the Zipp draws comparisons to the HomePod. Like Apple, Libratone paid attention to the smallest of details. Take the power cord for example. Instead of using some off-the-shelf boring black cable that would mar the overall experience, Libratone opted to design their own nylon-wrapped variant. It uses a barrel connector, which can be handy since it can rotate in any direction. It also has a replaceable end, one that can be swapped for different international plugs.
Zipp is instantly recognizable with its brightly colored cover and logo-emblazoned crimson zipper pull. It has a solid weight, which is mostly a sum of the variety of speaker drives and the powerful internal battery.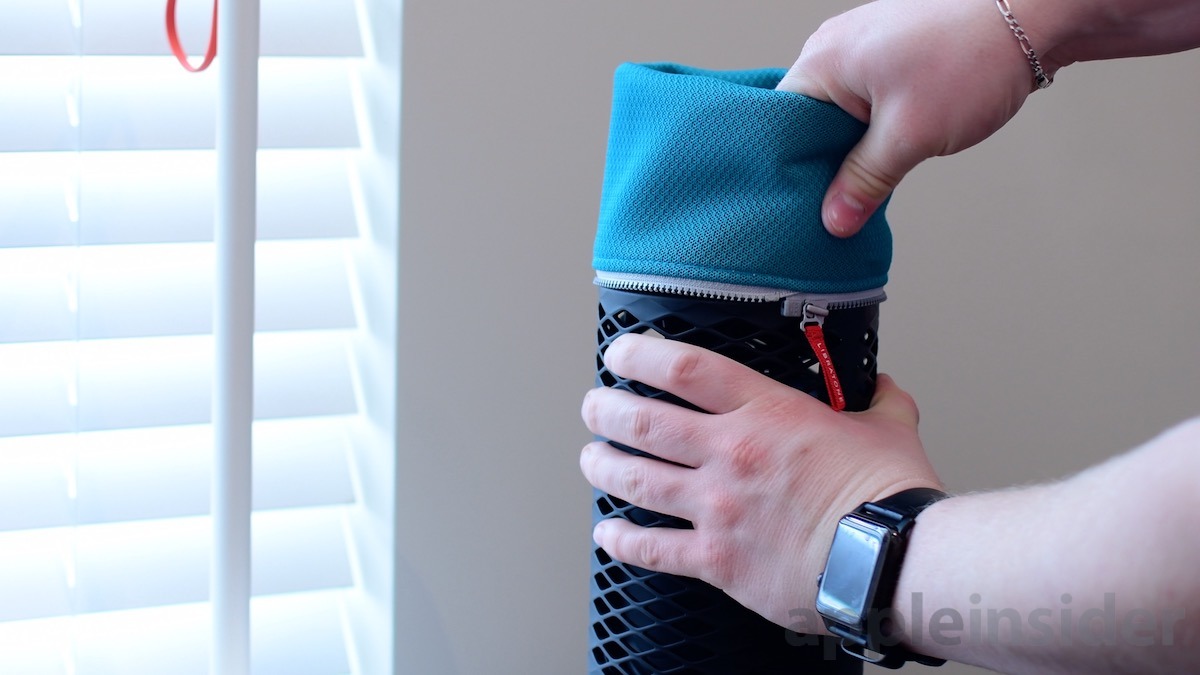 Covering most of the top is a replaceable fabric. It has a few purposes: protecting the top of the speaker from debris, customizing color based on your mood or personality, swapping out if the original is damaged or sullied. The zip closure also happens to be where the Zipp gets its name.
On top of the speaker is a simple light-up touch display used for system control, similar to the HomePod, but with more options. More on that in a bit. The speaker rests on a silicone base that prevents it from sliding around. By the way, if you are wondering, in all our testing, it did not leave any rings on our furniture.
As a whole, the Zipp very much exudes quality. Just on build quality alone, the Zipp comes off as a premium speaker.
Touch controls
Aside from using Siri, the HomePod has three physical controls including a touchscreen on its crest. Zipp easily one-ups the HomePod on this front.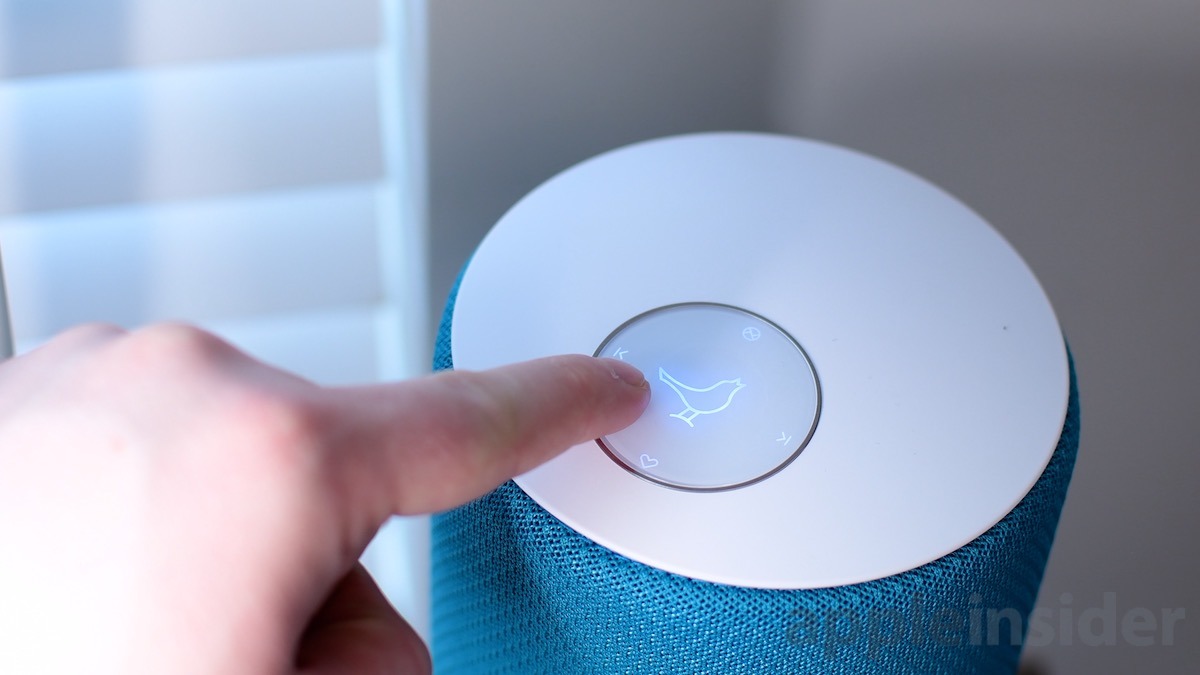 A nightingale, Libratone's logo, is perched in the center of the touch-sensitive control panel, located on the speaker's top. Using the small circular screen, you can tap to play/pause, use the arrows to go forward/back in your tracks, and even choose from one of five customizable favorites.
Our favorite command, though, has to be the hush feature. Too many times am I at my desk listening to music when my girlfriend asks me a question. My usual recourse is to tap the speaker to pause, or scramble for my iPhone to pause it there.
Zipp takes a better approach. Regardless of what is playing, placing a hand over top of the speaker will "hush" the music, significantly lowering its volume. When you're ready, remove the hand and the volume will regain its original level. This is something we use all the time, and wish Apple would perhaps steal for the HomePod.
Inputs
Streaming your tunes is simple on the Zipp. Primarily because of the wealth of options available to stream from.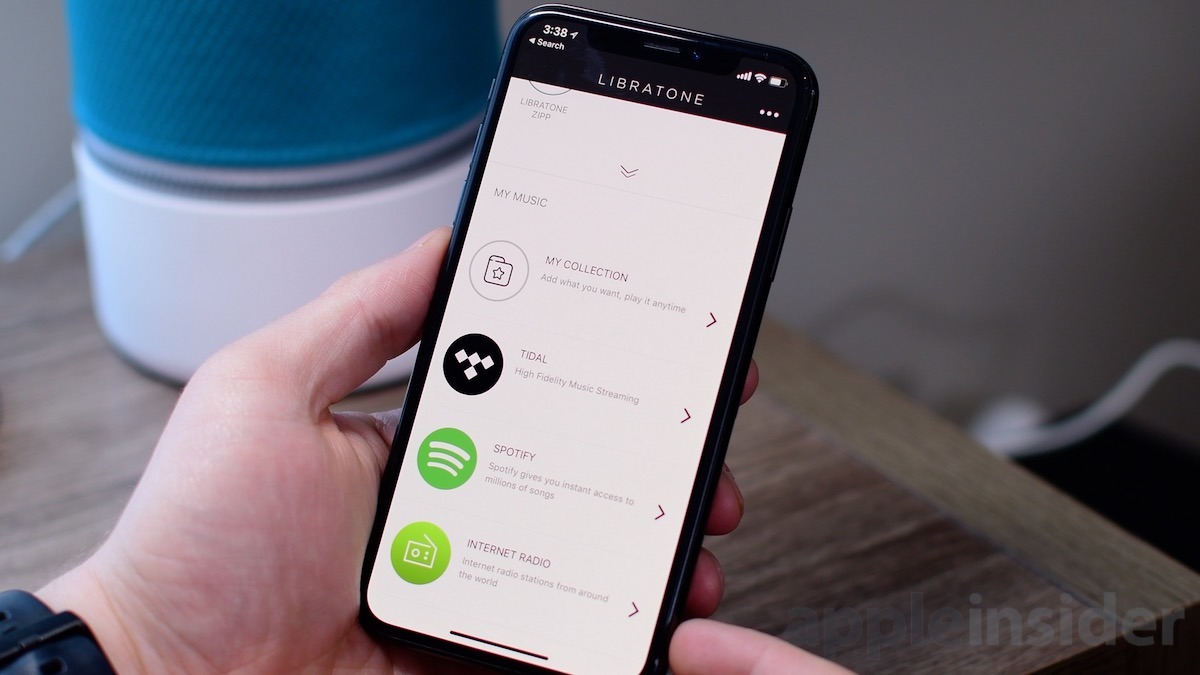 Zipp is a Wi-Fi-equipped speaker, so it is capable of streaming Spotify, Tidal, or internet radio all on its own. No device necessary. Wi-Fi is not a requirement though. Music can also be played over Bluetooth or using the auxiliary audio port located on the back.
Most importantly, at least for Apple users, is support for AirPlay, Apple's high-quality streaming protocol.
AirPlay and AirPlay 2
AirPlay, and Apple's upcoming AirPlay 2, is a proprietary streaming protocol that works over Wi-Fi to deliver audio and video data to compatible devices.
As an example, you can use an iPhone to stream audio or video to your Apple TV. In this case, you can use your Mac, iPhone, iPad, or Apple TV to stream audio to your Zipp.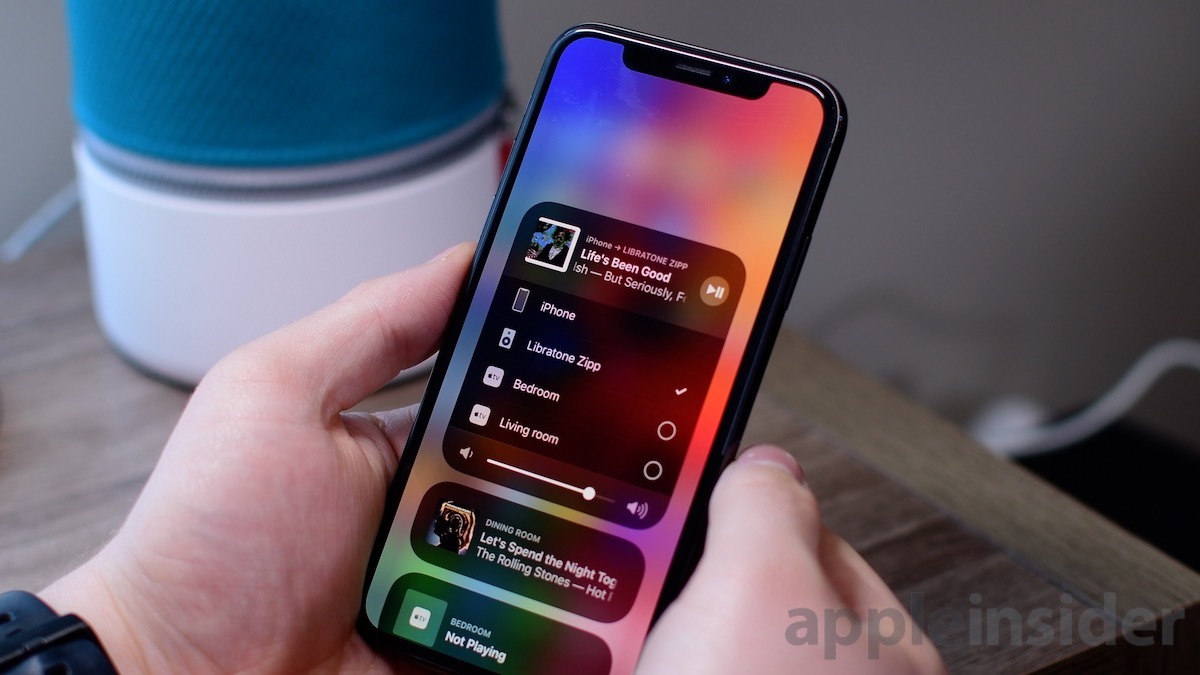 It is dead simple to set up and use. Once the speaker is configured, tap the AirPlay icon in an app or in Control Center and the Zipp will show up. Streaming audio from almost any of your devices is literally two taps away.
AirPlay is also how music is streamed to the HomePod. And like the HomePod, the Zipp will also be upgraded to AirPlay 2.
Apple's next generation of AirPlay, AirPlay 2, brings better throughput and multi-room audio. That means music can be streamed from a device to multiple Zipps, HomePods, Apple TVs, or other AirPlay 2 speakers simultaneously. I have an Apple TV hooked up to a receiver in the living room, my HomePod in the Kitchen, and the Zipp in my office. I will be able to stream content to all these at the same time after the release of AirPlay 2, which is expected mid-2018 with the launch of iOS 11.4.
AirPlay 2 also pulls these devices into the Home app to work with HomeKit. What HomeKit will be capable of with speakers has yet to be seen, but we believe they will eventually be built into scenes. Allowing users to schedule or trigger scenes with music playback.
Audio quality
Any speaker, regardless of how many bells and whistles it's outfitted with, is useless if the sound quality is not up to par.
Luckily, the Zipp excels. 360 FullRoom Sound makes it easy to hear from any direction. A tactic the HomePod also adopts when not placed near a wall. This means wherever the Zipp is placed, it sounds great from anywhere in the room.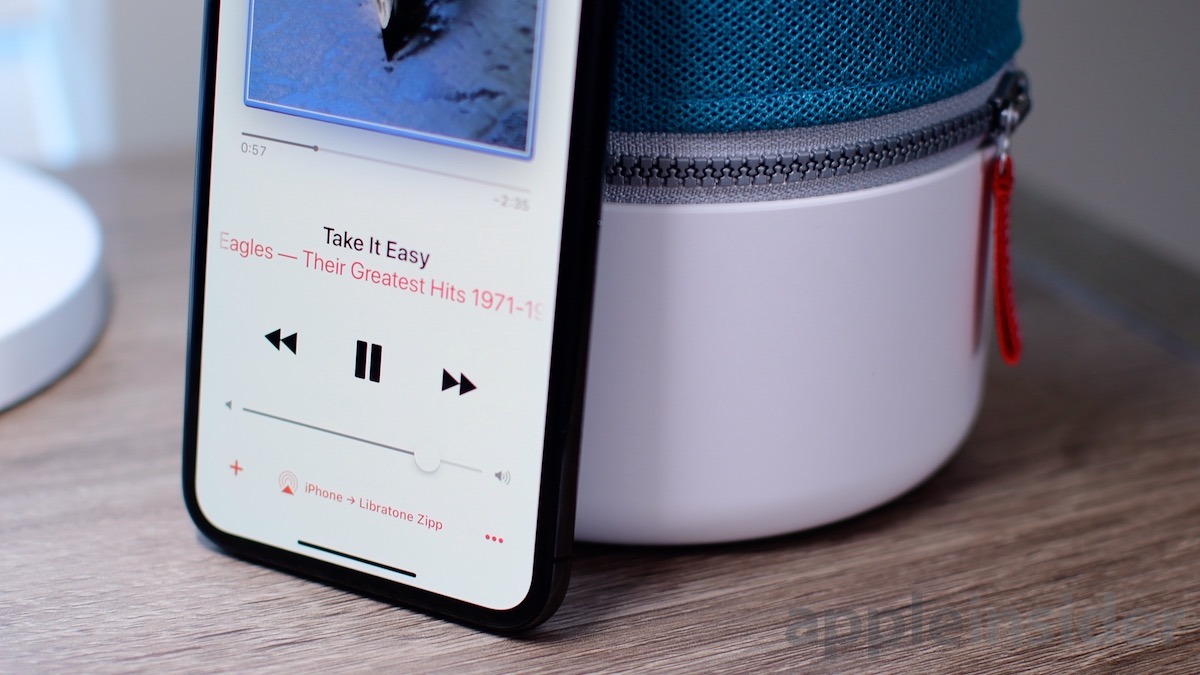 Audio quality usually depends on the method it is played through. For iOS users, the best sounding audio will come through AirPlay. It also supports AptX, which is a high-quality streaming protocol for Bluetooth. This will be useful for Android users.
When judging the audio quality, we tried several different genres of audio. Specifically: instrumental, rap, classic rock, pop, podcasts and movies.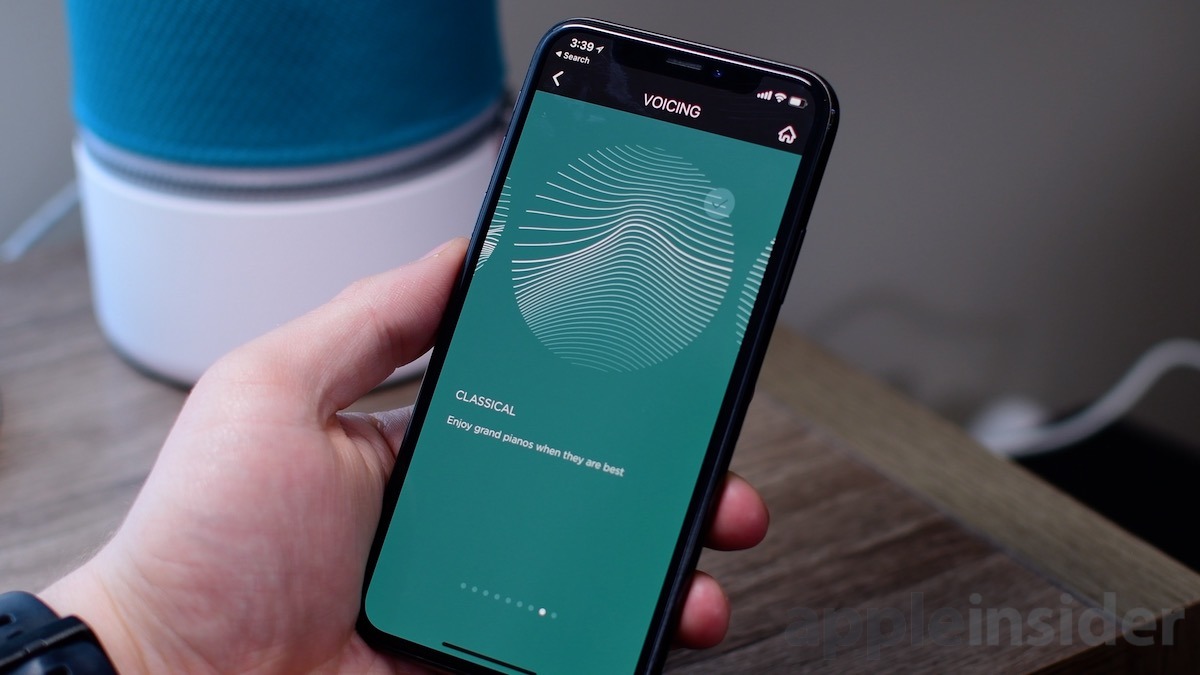 Our biggest takeaway was how well rounded the speaker sounded. Bass lovers may feel a bit underwhelmed, but personally, I preferred them laying off a bit. That isn't to say the bass isn't there, it is, it just isn't overpowering like it is on the HomePod.
It shines most with the clear mids and highs. Even at the loudest volume, there was no distortion in the audio.
What we really enjoyed was the different audio profiles that can be enabled, such as "Rock the House," "Easy Listening," "Movie Mode" and "Speech." This makes a huge difference depending on what you are listening to.
The clear audio is accomplished by a 100-watt Class D amp, a 4-inch woofer, two 1-inch tweeters, and two 4-inch passive radiators. Quite a powerful for package for a portable speaker.
App
Unlike the HomePod, the Zipp has its own dedicated app. It houses a bunch of functionality aside from just setup.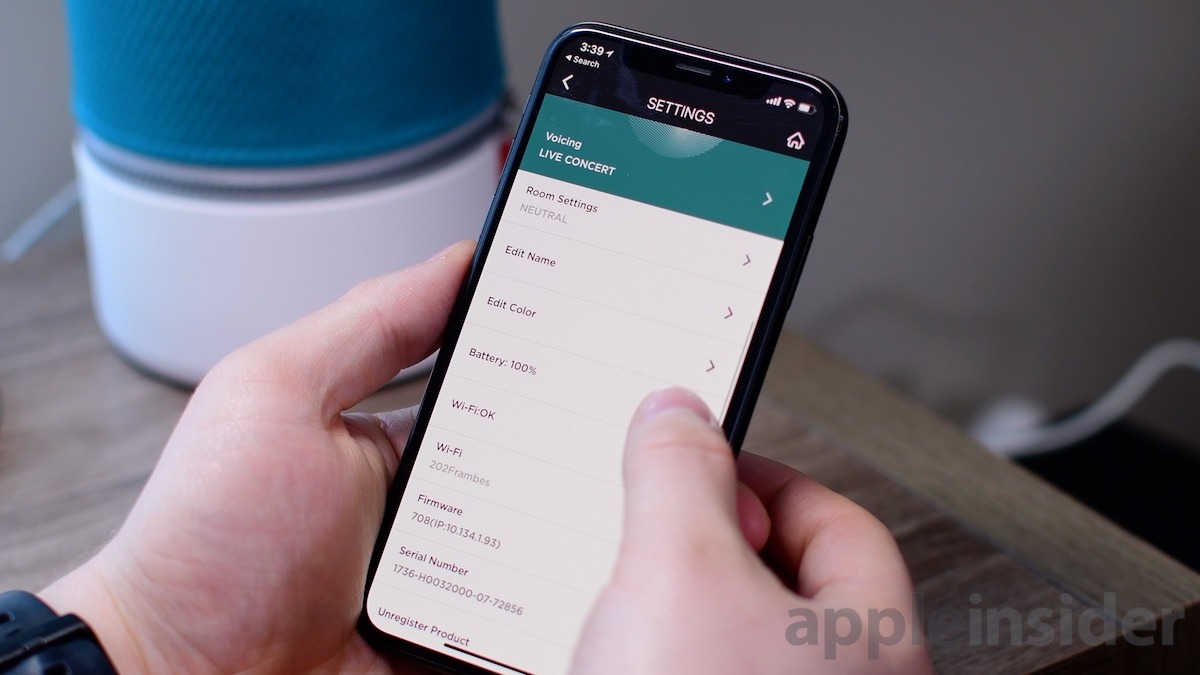 There are a variety of settings, including configuring your Tidal or Spotify account, changing the voice profile, setting its location, changing the name, selecting your favorites or performing software updates.
Information like Wi-Fi strength, battery percentage and sleep timers are also readily available.
We appreciate the little touches too, such as color matching the app and the speaker. If the cover is changed on the speaker, you can choose the color corresponding color in the app to match the new cover.
There is also the ability to create "Soundspaces." Up to six Zipps can be connected together for multi-room listening. No need to wait for AirPlay 2 to launch.
Portability
One rarely sees a Wi-Fi speaker that also is portable. Zipp falls into this category. Take it on the go, and stream over Bluetooth.
There is a leather strap attached to the side (which is removable for when replacing the cover) that makes it easy to carry.
Inside, is a powerful battery that should last about 10 hours. In our tests, with moderate volume, we actually got almost 12 hours of use. This alone is one of the biggest selling points of the Zipp.
Since there is a powerful battery on the inside, why not use it to charge other devices? There is a USB-A port on the rear of the speaker, which is perfect for charging a phone on the go. Basically, by taking the Zipp with you, you always have a spare backup battery.
Zipp vs. HomePod
One thing we wanted to do, was directly compare the Zipp to Apple's latest home speaker. There are many similarities, as well as many differentiators.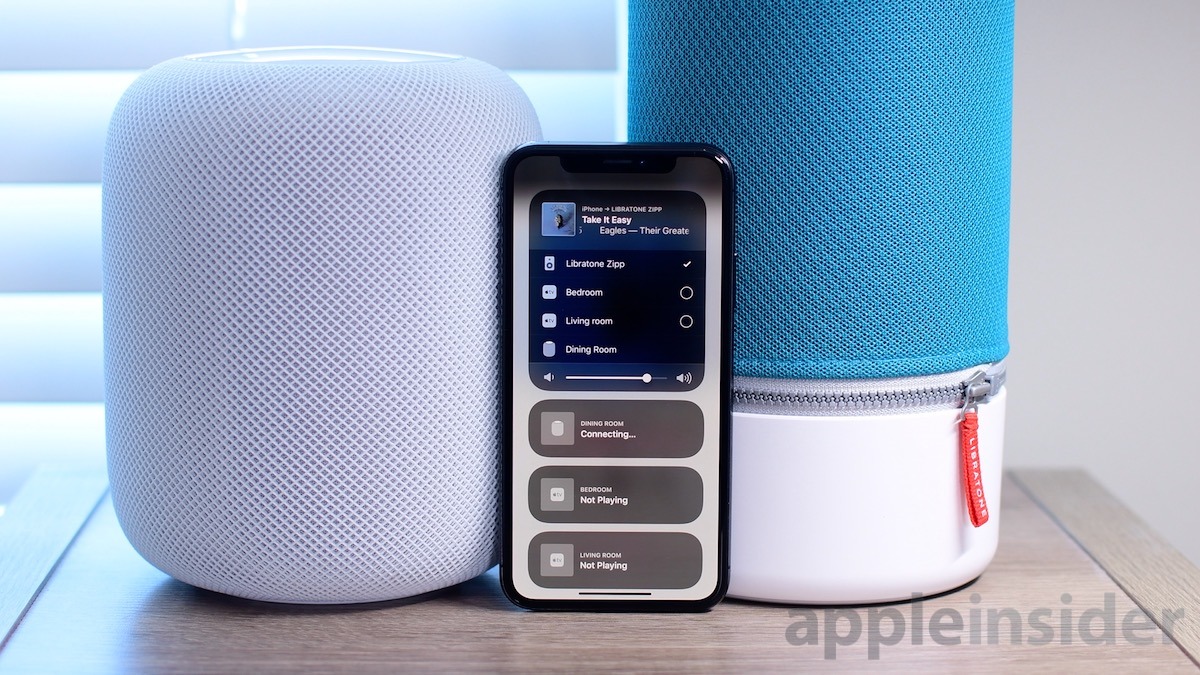 Let's take a care of what is similar first. To start, they both have powerful, omnidirectional 360-degree audio. They both support AirPlay, as well as the forthcoming AirPlay 2. Perfect for any Apple user.
Whether Apple Music on the HomePod or Tidal/Spotify on the Zipp, both are able to stream without the need for another device.
Price is also a bit similar, both aiming for the mid-range market. There are clearly more high-end speakers out there, but both Libratone and Apple are shooting for fairly premium audio at a somewhat affordable price.
This is really where the similarities end.
One big difference is the lack of a dedicated app for the HomePod. The HomePod is required to be configured solely in the Home app, whereas the Libratone provides a dedicated app with a wealth of functionality. It is not only convenient, but many users will find it more accessible as well.
There has been a lot of debate on the audio quality of the HomePod. Most agree it sounds great, though users are split on the heaviness of the bass. Some like the Beats-derived audio, while some, like me, find it a bit heavy-handed. While the Zipp is surely not bass-forward, the different audio profiles make it customizable based on user taste, something sorely lacking on the HomePod.
A neat feature with the HomePod is its intelligence. A built-in accelerometer tells the HomePod when it moves, and it automatically recalibrates the sound each time it does. Zipp isn't quite as crafty, instead relying on the user to set the location manually in the app.
HomePod has the edge when it comes to assistants. Siri comes baked right in, making it easy to control easily with just your voice. Zipp isn't completely by itself though; it has the ability to integrate with Amazon's Alexa.
What we feel really sets the Zipp apart from the HomePod, though, are audio inputs and portability.
Zipp can handle aux cables, Bluetooth, Spotify/Tidal streaming, Internet radio and AirPlay. HomePod can only handle streaming Apple Music or AirPlay. This can be a big decider when looking which to purchase.
Portability is also key. HomePod is limited. Since it requires Wi-Fi, it can't leave your home. It is also tied to a cable, with no external battery available. That means moving it around within a home can even pose challenges. Zipp has a handle, built-in battery and doesn't even require Wi-Fi, making it ideal for home or on the go use.
Zipp for the win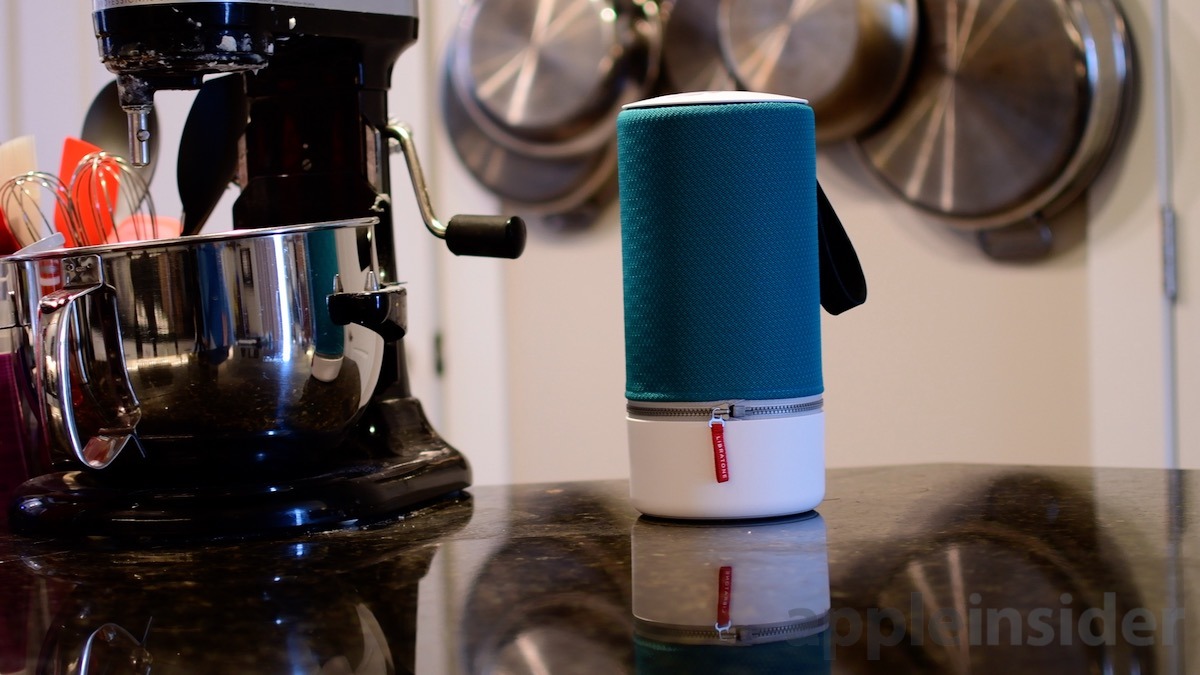 HomePod is a delightful speaker. Apple clearly has gone the extra mile to integrate the speaker into its own ecosystem. However, the way Libratone has outfitted the Zipp with a wealth of features while highlighting the premium audio makes it our personal preference.
Score: 4.5 out of 5
Pricing and availability