iOS 11 now installed on 76% of compatible devices, up 11% since January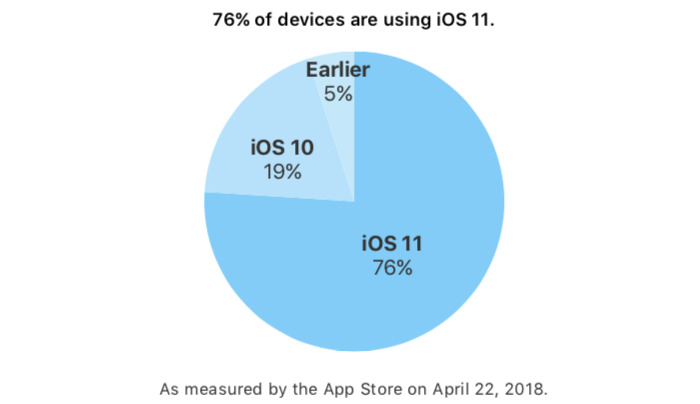 New adoption statistics for iOS published on Apple's developer website reveal iOS 11 is installed on 76 percent of all compatible iPhone, iPad, and iPod Touch models, a share that has increased by 11 percent since the start of this year.
The developer website's chart shows 19 percent of iOS 11-compatible devices are still running iOS 10 compared to the 76 percent running iOS 11 itself. Another 5 percent of devices are noted as running earlier versions of iOS, but this figure was not broken down further.
The iOS 11 adoption rate is up from the 65 percent recorded in January, which also counted 28 percent running iOS 10 and 7 percent on previous operating systems. The month before, iOS 11 was sitting at 59 percent, while iOS 10 and the "Earlier" group scored 33 percent and 8 percent respectively.
The latest result indicates a slight slowdown of installations compared to earlier results, with the adoption rising by an average of just under four percent per month since January. At the time of that result, it was noted the adoption rate was gaining about 6 to 7 percent per month.
The reduced installation rate is likely due to the ever-shrinking group of iOS 10 devices that can be updated, with the rate likely to reduce further in the coming months as iOS 11 installations saturate the pool.
Compared to iOS 10, it seems that the time it has taken for iOS 11 to reach three quarters of compatible hardware has increased. Data published in February last year revealed iOS 10 had reached 79 percent of all available devices.
The adoption rate is published by Apple itself, based on App Store tracking data it collects and can analyze. This makes the figures an accurate representation of the iOS marketplace compared to third-party estimates, which may rely on their own apps installed on a smaller subset of devices, rather than being able to monitor all active devices.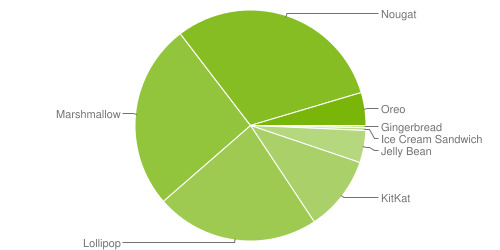 Similar analysis of Android reveals only 4.6 percent of compatible devices are running Android "Oreo," with 4.1 percent using version 8.0, and just 0.5 percent on the latest version 8.1, while the majority of devices are spread across version 7.x Nougat, 6.0 Marshmallow, and 5.x Lollipop.
Unlike iOS, where Apple has control over when and how it distributes updates directly to consumers, device vendors are largely the fragmentation weak point for distributing Android, as the operating system is provided to smartphone producers who create their own customized versions before allowing customers to download the software. This can introduce delays of weeks or even months before end users are able to use the latest Android version, which can be an issue when software updates include security changes.